Introduction
Like the world needs another 7" Android tablet. Well, maybe it does. Or (more likely), it doesn't. No matter where you stand, the Kindle Fire couldn't be less relevant to this debate. It isn't just another Android tablet. It's a hardware Amazon account, 7 inches tall by 5 inches wide. If tablets are for fun and laptops are for work, the Kindle Fire is for shopping.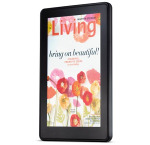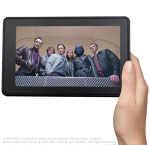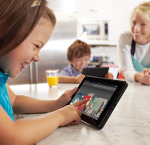 Amazon Kindle Fire official pictures
If you put Amazon and the Kindle Fire in a multiple choice question, the answer won't be A) Because everyone else is doing it. It's more like B) We need to do for music, videos, apps and games what Kindle does for books. Simple as that.
The Kindle Fire isn't about versatility in an ultra-portable form factor. Some tablets are. The Fire isn't desperate to unsettle Apple's iPad. Some Android tablets are. We'll say it again. The Kindle Fire isn't your average Android tablet. In a way, it isn't your tablet. Well, yes, it's yours to have but the content to enjoy on it is Amazon's to sell.
Key features
7" 16:9 IPS LCD capacitive touchscreen of WSVGA resolution (1024 x 600) pixels
Wi-Fi 802.11 b/g/n connectivity
1GHz dual-core Cortex-A9 CPU, PowerVR SGX540 GPU, TI OMAP 4430 chipset
License-free Android-based OS
8GB of on-board storage, free cloud storage for all Amazon content
Weight of 413 grams
Accelerometer
Excellent HTML5 browser
Adobe Flash support, Flash videos up to 720p
Standard microUSB port, mass storage
3.5mm audio jack
Main disadvantages
No 3G
No memory card slot, limited inbuilt storage
Reflective screen of poor brightness
Very limited video codec support
No camera
No physical volume controls
Non replaceable battery
No native Google apps, no access to the Android Market
Some features unavailable without an Amazon Prime account
Video streaming not available outside US
The Kindle Fire is not an e-reader. It's a multimedia device with web browsing and email - and that's a lot more than an e-book reader. Yet, the backlit LCD screen is obviously no match for e-ink. The Kindle Fire is touted as a reading device - as much as it's for Internet browsing, listening and watching. If it's mags and comics, we'd agree. For e-books, any other Kindle would do a much better job. The Fire is actually for users who have a Kindle already. It's an addition - not a replacement - to any generation of Amazon's e-ink devices.
An older-gen Kindle e-reader and a Fire combined cost less than most tablets out there. The Kindle is so cheap because it lacks many basic features. The sub-200 dollar price tag is meant to encourage Amazon subscribers to keep on shopping for music, video, apps and games as they've been for books on their Kindle readers.




Amazon Kindle Fire live pictures
On the other hand, the shocking lack of features (in what's technically an Android tablet) is meant to discourage bargain-hunters who have no intention of ever buying Amazon's content.
The Kindle Fire is not competing with Samsung, LG or any other maker of Android tablets. Amazon's profit is not in the hardware they ship, they sell digital content. Amazon is not racing with Apple's iPads and iPod Touch. They're after Apple's iTunes.
We know this doesn't make the Kindle Fire's limitations more palatable. But maybe it helps have the right kind of expectations about the device. The Fire is a nice and easy gadget, which is meant to bring a huge catalog of digital content a click away. Not the dirty cheap tablet some may have been hoping for.
D
Root it, replace stock OS with Android 4 ICS and you get almost a desktop system! Only things to repent for is GSM support, camera & MIC :(
S
Main disadvantage of Kindle fire is , it dont have camera
M
With standard software it's not a fully-functional Android tablet. But it's obvious that so popular device will get unoficcial pure Android ;-)