User interface 101 (continued)
Extended Spotlight search
Spotlight has been updated too – it now has shortcuts for search in your default internet search engine (Google/Yahoo/Bing) or Wikipedia. If you wouldn't bother to open Safari you can type your search in Spotlight and tap on Wikipedia or Google. Safari will open automatically and will run that search.
News settings and security options
Let's see what's new in Settings. The guys over at Apple aren't the kind to let you meddle deep inside your phone but still there are a few new tweaks inside.
It seems the Cellular Data on/off switch is now available on every iPhone, regardless of your carrier or country. It's nothing new, but it now works properly.
There is a new security option for locking your phone too – you can now choose between a simple (4-digit) and a long alphanumeric lock code. We guess this makes some of you feel much safer.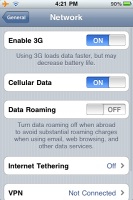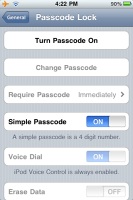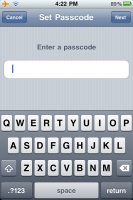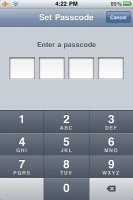 The Cellular Data option • new passcode settings
The iOS 4 now offers dedicated options for the location services. You can now enable or disable the access of apps to location-based services per app from one central location.
Changeable search engine
As we mentioned in the Spotlight, you can set your preferred search engine in the Safari browser. The available options are Google, Yahoo and Bing.
Bluetooth keyboard support
The last piece of new stuff is in Keyboards. You can now choose your preferred keyboard layout: QWERTY or QWERTZ, for example. What's more, you can set the layout of the Bluetooth keyboard you're pairing.
There is also limited dictionary functionality. It becomes available when you choose a specific secondary keyboard – we've so far confirmed only Chinese Simplified. Then under after the keyboard settings you'll get a new option for a custom dictionary – a place where you can enter custom words that are off the approved punctuation or whatnot.
Other than all that, iOS4 looks just like the previous releases except for a few updated icons here and there. By the way, the new Calculator icon – it's a total WinMo 6.5 rip-off.