Gallery displays Albums, Events, Faces and Places
If you use iPhoto software on any of the Apple computers, you are now able to sync your Events, Places and Faces image holders. In iPhone's gallery you will notice four tabs available at the bottom – Albums, Events, Faces and Places.
As usual, Albums holds all of your synced, downloaded and captured images.
Photos in Events and Faces can be uploaded only if you've pre-created them on your computer with iPhoto photo organizer. Unfortunately, you can't populate them with photos from your iPhone's camera.
All geotagged photos (saved from web or shot with the iPhone) appear in Places where they show up as pins on a map. Tapping a pin shows a small thumb with basic information.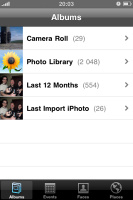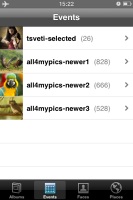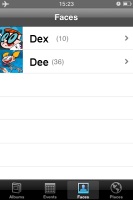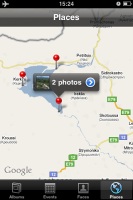 The new Events, Faces and Places tabs in the Gallery
iPod can finally manage playlists
The iPod player was treated to only one, but important upgrade. You are now able to create, edit or delete playlists.
After you've created a playlist, you can add or remove tracks from it anytime you want directly on your iPhone. There is no need to sync with iTunes.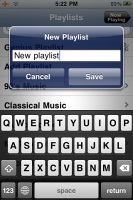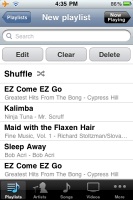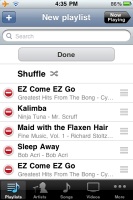 Creating and managing playlists
Yes, we know it's an option available on almost every other phone, but we are happy to see Apple finally respond to users.
iPhone 3GS gets touch focus in video recording, digital zoom also available
iOS 4 brings digital zoom up to 5x to all iPhones. Unfortunately, it only works in still camera mode. We find it rather useless honestly – at least in still imaging where the camera already maxes out the resolution of the sensor. Digital zooming usually makes much more sense in video recording.
Anyway, the camcorder has touch focus in video capture enabled instead. It works before and during the actual video recording. This lets you quickly focus on the objects of interest and helps minimize the blurry clips.
Apple obviously decided to stick to manual focus instead of implementing the continuous auto-focus we saw in the Sony Ericsson Vivaz. But this has its pros – you won't rely on the automatic algorithm and hope it will focus on the right spot, but make sure focus is locked where you want it with a single tap.
Under iOS 4, the shot-to-shot time in the 3GS camera seems to improve – it's nearly twice as fast as before. Unfortunately, the iPhone 3G is a different story – the shot-to-shot time is almost doubled.
Connectivity – connect a Bluetooth keyboard
Apple has added support for pairing a Bluetooth keyboard with your iPhone. It's very easy and takes only a few taps.
Depending on what keyboard you have connected, you can choose its default language and layout from the keyboard menu (Settings – General – Keyboard).
Final words
We hope this is enough to keep you warm while you're waiting on our full iPhone 4 review. We've covered most of the new software stuff available on iPhone 3G and 3GS but the iPhone 4 brings about even more new features – HD video recording, video calls, a three-axis gyro sensor, LED flash, etc.
Back to our story, the iOS 4 is a step in the right direction. It's by no means revolutionary, compared to what contemporary smartphones can do. But it finally brings some long overdue features like homescreen wallpapers, accelerometer lock, multitasking, SMS search and character counter, threaded email, a common email inbox, iPod playlist management, etc.
There are still things missing though – tighter social networks integration, richer lockscreen functionality, dropdown with quick toggles for Wi-Fi, Bluetooth and other features, and even custom SMS tones, if you like.
The iPhone is what it is. No other phone could've gotten away with omitting features that everyone takes for granted. So, where do we go from a Number Four that has so much to offer? We're curious to know. It won't be long we hope. And by the way, applicants for the next iPhone killer are welcome again.