Moving up the ranks
Apple iPad mini 2 review: Moving up the ranks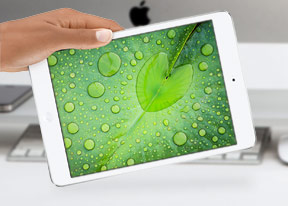 Final words
Ever since we saw the original Apple iPad mini, we've been hoping for a Retina screen for this wonderful compact tablet. Now that it has it, it's everything we expected it to be. A high-quality screen with immaculate sharpness makes a world of difference and the all-new chipset inside makes sure everything runs equally fast or even faster than before, even faced with the increased demand of the quadruple pixel count.
Of course, there are many new software features as well, but they are all iOS7-specific so the older mini got them, too.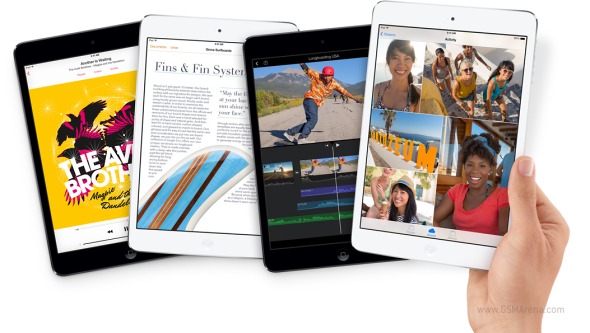 The Apple iPad mini 2 is an excellent compact slate and it left us all happy. It's one of those rare products that's easy to recommend. The iPad mini 2 has been manufactured to amazingly high standards and every single feature that it has works flawlessly and exactly as advertised. Moreover, the Apple AppStore is the richest source of tablet-tailored apps around and that alone promises you long hours of fun. We couldn't possibly find anything to hold against it - expect of course, its price.
We know, Apple's products have never been for the price-conscious. To start with, at $399/€389/£319, the iPad mini with Retina screen is already a screamingly expensive piece of gear, as far as compact tablets go. And that's for the Wi-Fi only 16GB version. And 16GB simply don't cut it these days. It is high time Apple makes 32GB the base storage capacity for its new devices (without changing their price points).
On our 16GB review unit, we found ourselves in constant daily shuffle of deleting one app so we can free space for another - and that's even before we uploaded any of our own music and videos to it and before we started recoding 1080p videos with its camera.
What's worse is that the storage upgrades are nothing but a rip-off. Apple is free to set its product base prices as high as it wants. After all, only they know what it costs them to develop, manufacture, sell and support these devices. But charging extra $100/€90/£80 for a mere 16 gigs worth of extra storage is preposterous in times where that kind of money would get you not one, but two 64GB Class 10 microSD cards.
Now that we got that off our chest, we'll have a look at what else the compact tablet market offers as an alternative to the pricey Apple iPad mini 2.
First of all, we can't miss to mention the original iPad mini, which would still be available alongside the second generation. It's one of the ways to buy yourself a cheaper access to the amazing tablet apps that the AppStore offers. Prices start at $299/€289/£249 for the 16GB version, but unfortunately there is no 32GB option. The good news for the price-conscious is that the older iPad mini looks just the same and feels even better thanks to its lower weight.
The first gen would also offer much of the same performance in graphic-intensive games as there are 4 times less pixels to push. The bad news, of course, is that the screen is not even close to the new iPad mini. Wi-Fi speeds are also supposedly twice as lower, too, but that's hardly a deal-breaker.
Moving away from Apple's own camp, we end up in Android territory. Android tablet manufacturers have been prolific. This year we are seeing more and more cheap tablets hitting the stores. But the Apple iPad mini deserves better counterparts than those. So we'll only stick to mentioning the top-tier compact tablets running Android.
And with the mini's screen specs, there is not much competition either. First, there is the latest Google Nexus 7 (2013), which is made by Asus. Then comes the Amazon Kindle Fire HDX.
Both weigh about as much as the iPad mini 2, but both have their screens stretch only up to 7 inches in diagonal. The both have the same screen resolution of 1200 x 1920 pixels, which translates into 30%+ less pixels than the mini 2. But since their screens are physically smaller, they offer the same pixel density so they are as sharp as Apple's slate.
The Nexus 7 would happily match anything the iPad mini 2 can throw at it and even one-ups it with wireless charging. The Amazon Kindle Fire HDX is a bit more humble in the camera department with its 1.3MP camera and it doesn't have access to the Google Play store either, but you get all the benefits of Amazon's rich content ecosystem. Both cost about the same with prices starting at $229/€229 for the 16GB version, storage upgrade to 32GB worth $40/€40.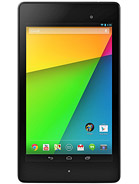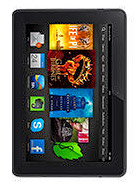 Asus Google Nexus 7 (2013) • Amazon Kindle Fire HDX
The LG G Pad 8.3 is also worth mentioning here. It packs the same resolution as the other two tablets, but has it spread a bit thinner on an 8.3" diagonal. Besides, it offers equally competitive specs - it even has a built-in GPS chip which none of the others have, unless you jump for the more expensive Wi-Fi+Cellular versions. It comes with a microSD slot so you can expand the available storage as much as you like. The LG G Pad 8.3 build quality is quite good too, with almost the entire back made out of metal. Price-wise though, the LG G Pad 8.3 is a bit more expensive than the other Android tablets - it costs $349.99/€300.
That said, the price premium of the LG G Pad 8.3 over the two other tablets is nowhere as high as that that of the iPad mini with Retina screen - especially if we only compare the prices of the 32GB version.
Still, there is a reason why Apple can afford to charge such a price premium. And that's the fact that the user experience on the iPad rules.
The sheer number of Android sales may already be ahead of the iPad's, but manufacturers still can't get the tablet experience on Android right. Unlike on the 10-inch iPad Air, interacting with iOS7 on the iPad mini 2 doesn't feel as a blown up iPhone, it actually feels just right. In fact, after putting down the new iPad mini, picking up the iPhone 5/5s was not a joyful experience - the screen felt and looked inadequate, shockingly small.
But anyway, it is not an Android tablet that most owners of the original iPad mini are probably considering as an option. They'd most likely stick around and, honestly, they would be right to do so. Apple has a religiously loyal customer base and for a good reason. For those who still have their doubts, we can confirm that the iPad mini with Retina screen is as good as the amazing iPad Air in every possible aspect. What's more, it costs less and the 7.9" screen size is spot-on for enjoying all the apps and content the ecosystem has to offer.
So, if you have already decided to part with that sort of cash, the meaningful choice is really between the new iPad mini and the iPad Air. You can go left or right, but never wrong. In fact, picking the mini over the iPad Air seems to make a lot of sense.