User interface
The Nexus 7 tablet was introduced alongside Android 4.1 Jelly Bean, and is the first tablet to support Google's latest Android build. It features Google's project Butter, which is a series of performance optimizations which allow all UI animation to run at a consistent 60fps, rather than show the occasional choppiness.
As a result, we have the fastest and most fluid versions of Android to date. Check it out for yourself in our quick video of the device in action:
This unlock isn't as flexible as some of the custom solutions we've seen - for now, there are only two unlock actions that can't be customized and you can't just tap anywhere and drag like you can on most Android lockscreens.
Other options include face, PIN and password unlock, as well as tracing a pattern.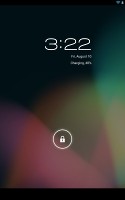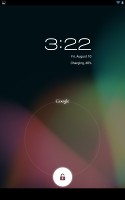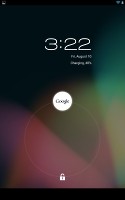 The Jelly Bean unlock screen: slide up for Google Now, anywhere else to unlock
The default Jelly Bean homescreen shares many similarities with the one we were first introduced to in Ice Cream Sandwich. Long gone are the days of contextual hardware controls - everything is done on the display itself.
There are still the usual five homescreen panes, none to be added or removed.
A portion along the bottom of the display has been reserved for three on-screen buttons - Back, Home and Recent apps. Effectively, it can be said that the total screen estate of the Nexus 7 is reduced by the reserved icon area, as it is always visible - even on the lockscreen (the icons disappear, but the black bar where they reside stays).
Above the row is the favorites tray. The Nexus 7 allows up to six shortcuts to be placed within this dock, surrounding the app drawer shortcut in the middle. Any of the six shortcuts can be customized by dragging icons into and out of the tray, and you can even create folders by dragging icons on top of one another.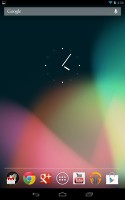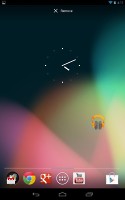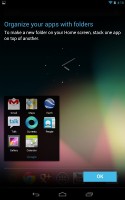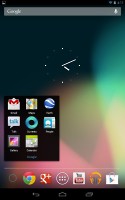 The default homescreen • You can drag shortcuts to and from the favorites tray, and even create shortcut folders
Another permanent fixture is the Google Search bar at the top of the screen, which stays in place as you scroll the homescreen panes.
The improved notification area is another Jelly Bean highlight. It features a redesigned clock and date icons in the top left, followed by a larger Settings icon. The clear notifications button has also been refreshed and it looks much sharper now.
The updates here don't end with the looks either. Select app notifications have gotten really smart, not only delivering you the notification, but also providing you with several options for interaction.
Besides the usual swipe to remove functionality, notifications can be expanded by dragging downwards with two fingers to reveal additional information. For example, you can view meeting or message reminders directly in the notification area, and even email the recipients directly from within the notification bar. Viewing Google+ photos or captured screenshots can also be done with this gesture.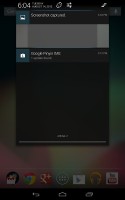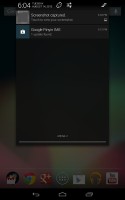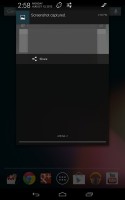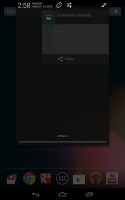 The notification area allows you to expand items • You can dismiss notifications by swiping them left or right
The app drawer is pretty much the same as it was in Ice Cream Sandwich. It features two tabs - Apps and Widgets - that feature side-scrollable pages. If you scroll past the available apps you automatically move into the Widgets tab. There's also a shortcut next to the tabs, for quick access to the Android app market.
Apps and widgets are ordered alphabetically and there's no other sorting option or a way to manually rearrange them.
Placing a shortcut or widget works as you would expect - you press and hold to grab it and then position it somewhere on the homescreen. While you're dragging, an Uninstall field will appear along the top of the screen, where you can drop widgets into to remove them.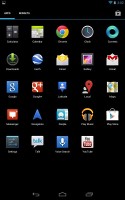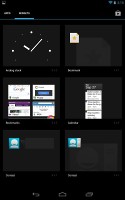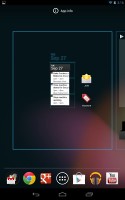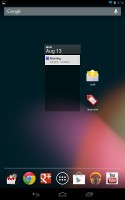 The app drawer houses both shortcuts and widgets • Placing a shortcut on the homescreen
Besides being resizable both vertically and horizontally (some can be resized only in one direction), widgets in Jelly Bean automatically adjust their size to fit where you want to put them. This is especially useful on a homescreen filled with widgets. Also, if you drag one widget on top of the other, it will make space for itself by forcing the icons underneath to rearrange.
To resize a widget, you tap and hold on it and then release it. Four handles will appear on its sides, allowing you to change the widget's size in the direction you want.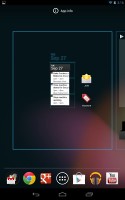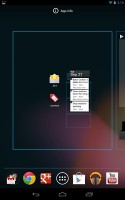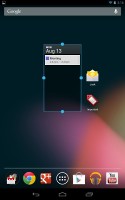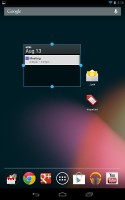 When placing a widget, icons located underneath will automatically rearrange to make room • Resizing a widget
Folders are created much in the same way as in the shortcut dock; you simply drag one shortcut on top of another. By default, a new folder won't have a label, but you can name it by opening it and tapping on the "Unnamed folder" label. Opening a folder expands it only as much as needed to fit the icons inside.
The folder icons are circular with the shortcuts inside lined one behind the other as if looked at an angle (complete with perspective). They are lined up in order, so the first shortcut in the folder will be the only one clearly visible, with the rest falling behind progressively smaller and more obscured.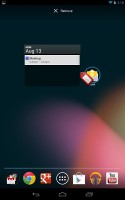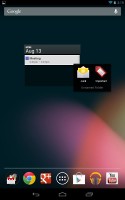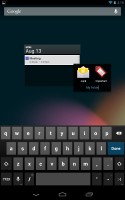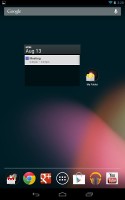 Folders can be created by dropping icons on top of one another • Renaming a folder
The Recent apps button brings up a list of your recently-accessed applications. It displays thumbnails of the applications which you can press to open quickly, or swipe to the side to remove.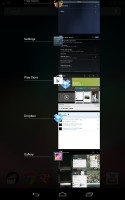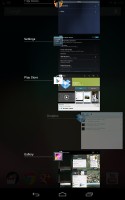 The Recent apps list • Dismissing an app
Google Now
Google Now is perhaps the most notable of the Jelly Bean updates. In the simplest of terms, it is Android's version of Siri for iOS, but much more integrated into the operating system. Besides being able to talk to it, Google Now will learn from your usage patterns, and display relevant information. For example, if you search for a particular sports team frequently, Google Now will display upcoming games you might want to watch.
The service interacts with you by generating cards, which give you short overview of information it believes is relevant to you right now. Going to work in the morning? Google Now knows this and lets you know there's a big traffic jam on your usual way to the office, so it offers you a re-route. This extends to a multitude of other areas, including weather, traffic, public transit stations, and nearby points of interest.
Check out its promo video:
Google Now looks set to be an integral facet to Android builds from now on, although its worth really depends on how much you use it. Occasional web surfers may not get as much as those who won't leave the house without their Nexus 7.