Asus at IFA 2015
Asus Zenfone Zoom, Zenfone Max, ZenWatch2: Asus at IFA 2015
Asus Zenfone Zoom hands-on
The Zoom is on its way to European markets but we got a sneak peek. The phone is built around a 13MP camera with a 10-element Hoya lens with 3x optical zoom. The lens is a periscope type, which means the mechanism is entirely internal and nothing sticks out when you zoom in.
This mechanism allowed Asus to make the ZenFone Zoom as thin as it is – at 12mm it's a good deal thinner than the Galaxy K zoom (one of few comparable phones), though it still feels pretty chunky. The metal unibody weighs 185g, surprisingly not the heaviest phone we've handled despite the extra weight from the zoom mechanism.
The back of the Zoom does have that characteristic "camera phone" hump that reminds us of the Lumia 1020, though here the camera module isn't nearly as prominent.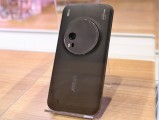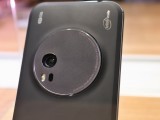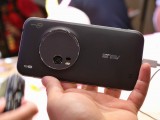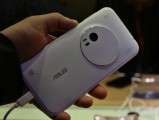 The camera hump doesn't protrude far from the body
The 3x optical zoom can be digitally extended to 12x, another mode fuses four photos into a single 52MP Super Resolution shot. Asus says the camera is great at shooting up close too – getting to 5cm (a couple of inches) of its subject for macro shots.
The camera has a Panasonic SmartFSI image sensor and optical image stabilization and laser autofocus for accurate focus locks in just 0.2 seconds. A dual-LED, dual-tone flash promises accurate rendering of colors and especially skin tones.
If you look on the side of the phone you'll see an unusual dual shutter key arrangement. Unusual for phones that is, on camera's it's much more common – having a separate still and video shutter key.
Keep in mind that the zoom mechanism limits how wide the aperture can be. Smartphone modules have gotten to f/1.8, but the ZenFone Zoom ranges from f/2.7 to f/4.8 (depending on the zoom).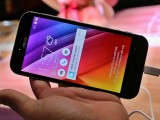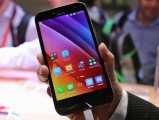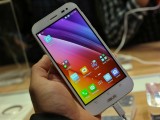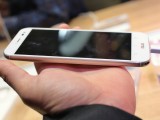 A 5.5" 1080p screen and Intel chipset are ZenFone 2 staples
The phone part of the Asus ZenFone Zoom is more casual. It's built on a ZenFone 2 base meaning a 5.5" 100p screen, quad-core Intel processor with 4GB of RAM and Android with ZEN UI. We found the ZenUI camera app more interesting, mostly for the Manual mode that gives you control over shutter speed, exposure value, white balance, ISO and other settings.