Asus at IFA 2015
Asus Zenfone Zoom, Zenfone Max, ZenWatch2: Asus at IFA 2015
Asus ZenWatch 2 hands-on
The Asus ZenWatch 2 is also coming to the old continent soon. The new model did not make the jump to a round screen, sticking with the more practical (though arguably less attractive) rectangular shape. It's an AMOLED screen that comes in 1.63" and 1.45" sizes.
The metal body of the phone is 49mm and 45mm respectively and with a metal wrist band has a pleasant weight to it (many smartwatches are too light for fans of traditional timepieces). Asus had a dizzying array of body color (silver, gunmetal and rose gold) and strap combos.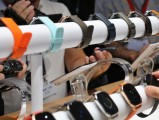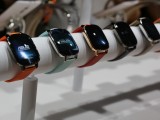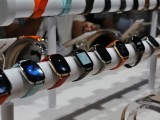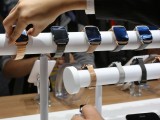 So many combinations are possible
As we said, the stainless steel link bracelet is really nice. It comes in the same color options as the watch body. The leather straps offer different colors and while Asus intended them for more fashionable situations, the leather quality was a bit of a letdown.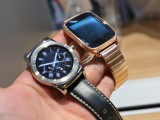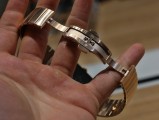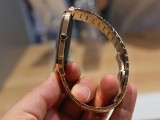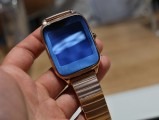 The steel link bracelet was our favorite
There's a premium leather strap embossed with a diamond pattern and studded with Swarovski crystals. It was a little kitschy for our tastes, but we can easily see other people making it work with the right outfit.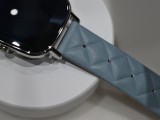 The Swarovski-studded leather band
Finally, there are rubber bands for those who plan on using the ZenWatch 2 to keep track of their runs. We'd never pick a rubber band as our only one, it just makes the watch look cheap. Still, we know better than to try sweating with a leather band (it ruins it quickly).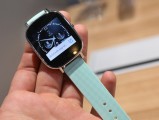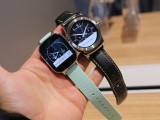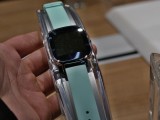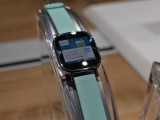 The rubber band doesn't look great
Speaking of exercise, the watch has a built-in pedometer (with "industry-leading" accuracy) but lacks a heart rate monitor. It is IP67 rated so running in the rain is certainly no issue, though it's not enough for swimming.
Asus has provided a number of software feature alternatives to what Android Wear provides natively. The Wellness manager is just one, there's also the Smart Assistant and Business Helper (these partially rely on Zen software).
The ZenWatch Message is a watch-to-watch communication tool with a decidedly Apple flavor, though stock Android Wear has similar functionality too (and works with non-Asus watches). In case you haven't heard, the ZenWatch 2 and other Wear watches can now link up with iPhones too.
Anyway, Asus is promising two days of battery life on a single charge. Thanks to improved battery charging times you can get a day's worth of juice in just 36 minutes with the magnetic charger.