Design
There really is no way around it - the gamer aesthetic is an acquired taste. And the ROG Phone has plenty of it. To be fair, its lines and various orange accents are what we would describe as a rather tame gamer look. Still, if nothing else about the ROG Phone, its nature and pricing manage to put off certain tech enthusiasts, the look might just manage to push people past the edge. We can't say we don't understand. Compromising on looks in a personal laptop for the sake of better performance and at the cost of a few weird glances in public is one thing, but having to endure the same every time you whip out your phone just takes things to the next level.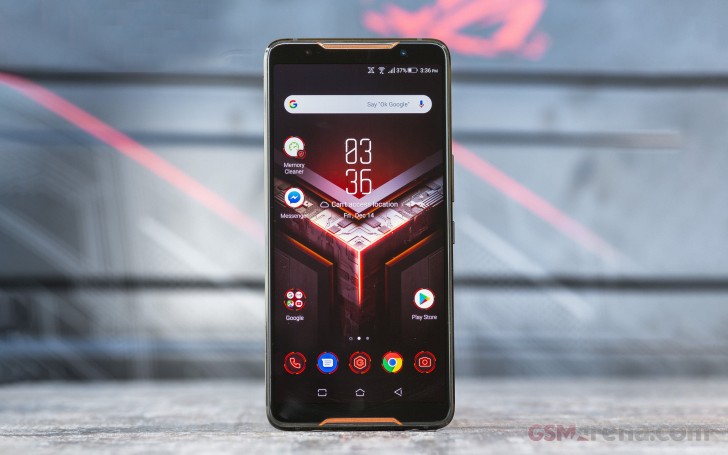 But, we digress. Like we already mentioned, the ROG phone is nothing but a niche product, a tech showcase even. So, it is kind of part of its job description to be as bold and "out-there" as possible, proudly waving the "gamer" banner. Proudly wearing the "war paint" of its pedigree.
Exploring certain finer details of the ROG Phone design, it really seems to strike a nice balance between the aggressive "strong" and sharp "gamer" lines, like the elevated bump on the back, cleverly concealing the beefy internal cooling solution and the conventional phone design with rounded corners. Frankly, after a while, the look grows on you and since the in-hand feel, aided by the rounded edges and glass back is perfectly mundane, the ROG Phone is not that hard to get used to.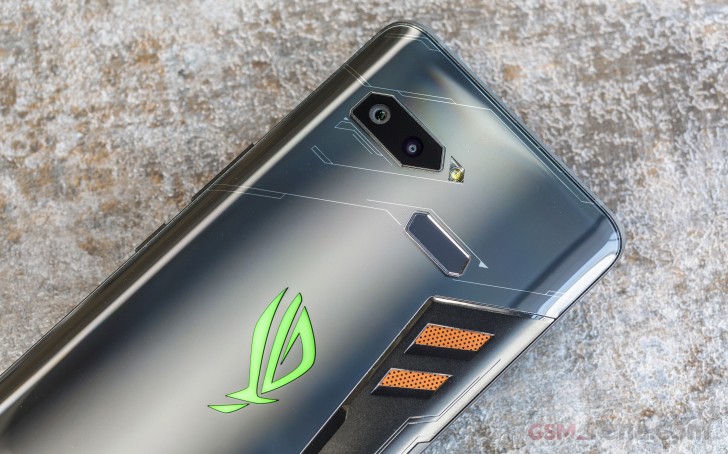 Even the ROG Aura RGB logo looks mostly dignified when off. Our point here being that Asus was apparently aware of the stigma surrounding the gaming aesthetic and at least tried to moderate things a little bit.
Since we already mentioned the ROG Logo, it leaves little to be desired as far as RGB implementations go. It can shine really bright if that is your thing and offers a full -color spectrum to choose from. Light modes include Static, Breathing, Strobing and Color Cycle.
There are two separate profiles available depending on whether you have the ROG "X Mode" performance toggle turned on or off. The latter affects other visual elements of the phone as well, but more on that in the performance section.
The ROG Logo can also pull double duty as a notification LED, although there is a conventional RGB notification LED on the left side of the earpiece on the front of the device as well.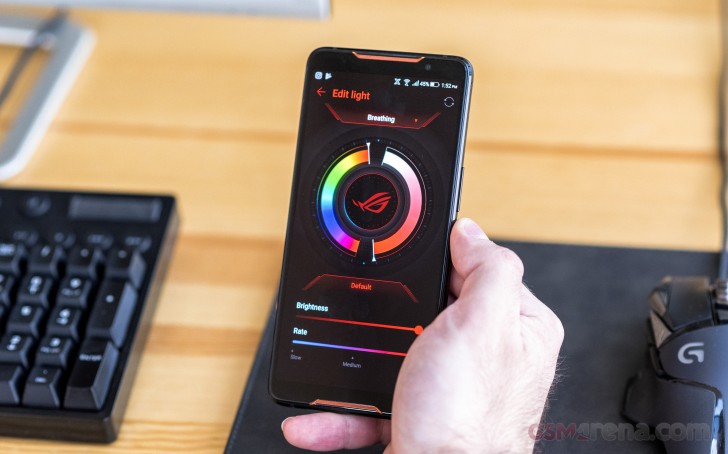 Asus has even included some Aura sync capabilities for the LED, but they do appear to be limited to only syncing the lighting effects of two or more ROG Phones and not any other compatible peripherals. We might be mistaken on that one, since we don't actually own any other Aura compatible gear to test with, but the menu texts seem to suggest as much. Still, this is one better than Razer's implementation on the Razer Phone 2. That being said, Razer does offer a hex code input for the light color which is missing in the current Asus implementation for whatever that's worth.
Other than that, the Aura logo is obviously a battery hog and we don't really feel the need to discuss it any further. While we are touring the back of the phone we would, however, like to point out what clearly looks like an exposed piece of a perforated copper heat spreader, poking through one side of the phone. Looking at the Asus blow-out renders, we can't really say whether this particular area is an actual cooling surface. It doesn't really get that hot and the snap-in fan accessory doesn't really cover it or vent it in any particular way. Even if it is just for show, we still appreciate the attention it brings to what is clearly a very advanced internal cooling design. More on that in the performance section.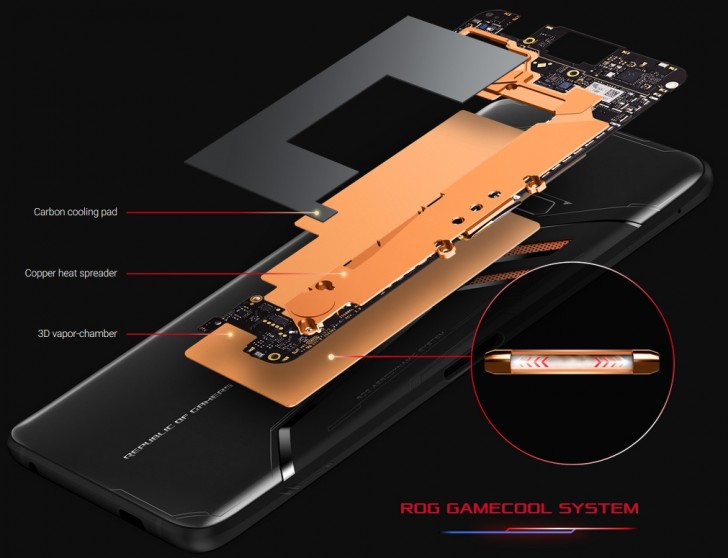 Before we move on to controls, Asus should be commended on the excellent build quality and premium bill of materials on the ROG Phone. The entire body feels rock solid and very premium. On the front, the display is covered with Corning's latest Gorilla Glass 6, while the back uses Gorilla Glass 5 for its curved surface. The back is complete with nickel-copper detailing in a shape Asus refers to as "Tactical Knife" design. The frame is solid metal.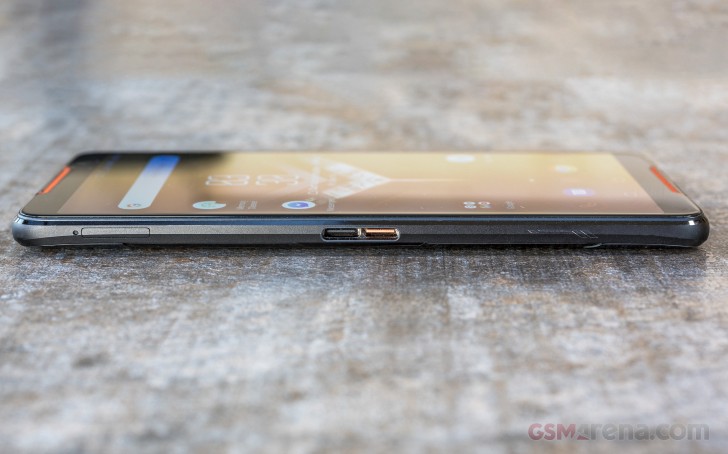 Overall, the 158.83 x 76.16 x 8.65mm body of the phone feels really solid and we can't stress that enough. Granted, a not insignificant part of that feeling could stem from the 200g weight of the unit. Still, with those materials, quality, internals, including a beefy 4,000 mAh battery, this is kind of expected. And since the ROG Phone is meant to be heavily accessorized, you can pretty much count on a regular workout.
One last thing we do feel like we should mention is that the official ROG Phone website does toss around the words "water-resistant" on occasion. Yet, the official specs sheet doesn't mention any formal ingress rating. Frankly, with so many exposed ports, nooks, and crannies, we can't really imagine how the ROG Phone would fair if exposed to any amount of liquid.
Controls
One quick look at the I/O on the ROG Phone is pretty much a dead giveaway that we are not dealing with a conventional device here. Of course, we are referring to the side connector, or Side-mount connector, as Asus calls it. We might as well start the controls tour there.
Like the name suggests, it is a proprietary interface used for connecting certain accessories, like the included fan attachment and, as well as the available TwinView Dock and Mobile Desktop Dock. Looking at it closely, however, quickly reveals that it is not entirely proprietary after all. In fact, the top part of it is simply another USB Type-C connector. It can actually be used interchangeably with the bottom one which in itself opens up the room for quite a few ergonomic and quality of life improvements especially while holding the phone horizontally.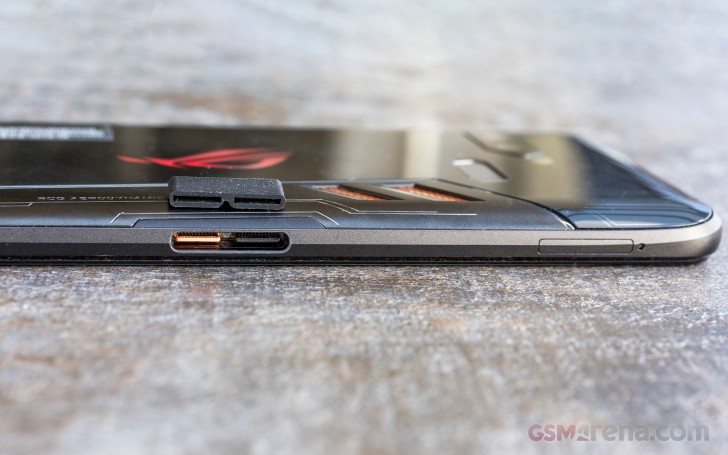 Digging a bit deeper, it turns out the second Type-C connector does behave a bit differently than the main one, especially power-wise, but not in a way the end user is likely to notice. Well, certain third-party Type-C dongles we tried did seem to favor the side port more. The differences in the secondary port do, however, enable certain fun experiments, like plugging a Type-C cable from one port to the other, which effectively makes the ROG Phone charge itself. And before you ask, no, it's not a source of infinite power but simply a really slow and potentially battery-degrading way of wasting a perfectly good charge simply for the sake of memes.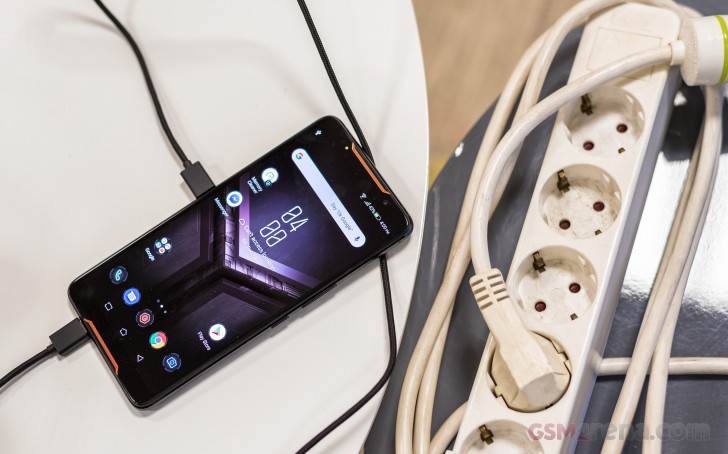 The second part of the connector is indeed proprietary, although it does appear to be nothing more than a Type-C connector made a little bit narrower on both sides. This acts as a great and simple measure against plugging a Type-C cable in there. A good thing too, since we can only imagine the wiring behind that almost standard port is definitely not within the USB specs.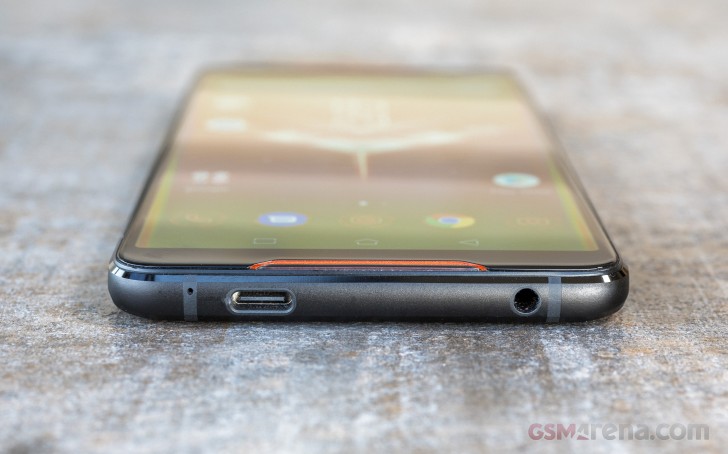 This adjacent, standard plus non-standard expansion port design (not the specific Type-C one seen here, of course) is quite common in the PC realm and its a really versatile and elegant way of providing more I/O without the need for a lot of extra space. A vital consideration of a handset. When not in use, the port can be plugged up with a rubber plug which is included in the box.
Moving on to the fingerprint reader, which we do have a few things to say about. Unfortunately, not really pleasant. First off, the placement is all wrong - way too high and offset pretty awkwardly. Then there is the shape, which we can take or leave on its own, but the fact that the recess around the reader is so deep and the opening is quite narrow does make placing a bigger finger in there quite awkward.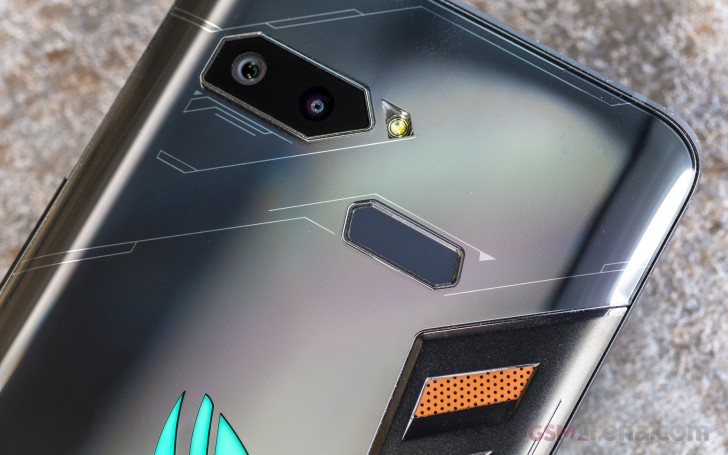 Last, but not least, even when you do manage do mush your index finger far enough in the reader, it is neither the most accurate nor the fastest fingerprint scanner out there. Plus, during the phone's initial setup process, the fingerprint manager did manage to get stuck in an infinite loop of constantly asking for a new print, so Asus clearly has some issues in this department. Thankfully, face unlock is available and really seamless, accurate and fast.
Just to finish off the port count, there is a trusty old 3.5mm audio jack on the side of the phone. It actually has a bit more to offer beyond its unassuming appearance, mostly in the way of audio quality. The included DAC inside the ROG Phone is capable of pushing out Hi-Res audio 192kHz/24-bit as well as DTS (Digital Theater System) Headphone:X 7.1 virtual surround sound for headphone support.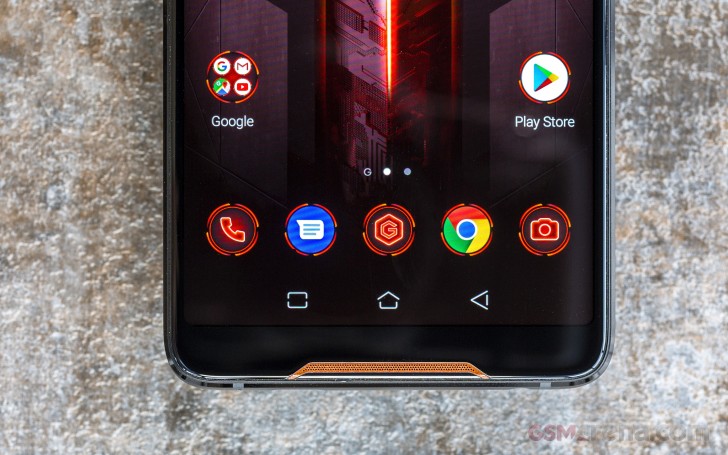 While on the subject of audio, the ROG Phone has a front-facing stereo speaker setup with two separate NXP 9874 amplifiers. These are pretty beefy and sound really good, but more on that later. There are a total of three microphones on the ROG Phone, but only one of them is used for actual recording. The pair on the top and right side frames are simply there for noise-canceling.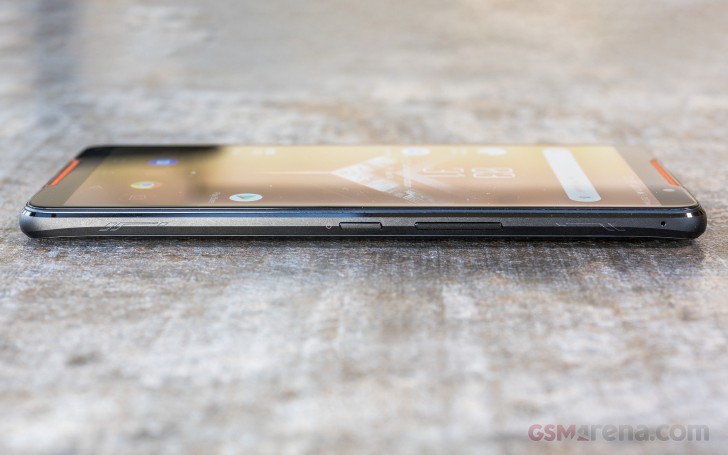 Moving on to buttons, the ROG Phone has a pretty standard layout with the power and volume rocker both on the right-hand side. The hight and spacing are both correct, but both buttons are frankly ruined by their thin profile as well as extreme mushiness. There is practically no tactile feedback to them, which is very unfortunate.

In fact, the sub-par feel of the actual buttons becomes even more apparent once you get to try the ROG Phone's Air Triggers. Asus actually implemented a duo of touch-sensitive modules on the right frame of the phone and one on the left. On the one hand, these are leveraged for "squeeze" gestures, if that is your cup of tea. Much more interesting, though, is the ability to map the left and right triggers to any on-screen controls. Any action that normally requires a screen tap can be offloaded to one of the AirTriggers instead.
This functionality is actually just one bit of a potent input mapping system, as implemented on a system level within the ROG Game Genie platform. We will get into more detail when we discuss the GAMEVICE controller, as well as docking the phone and using it with a mouse and keyboard, where the system really comes into its own and shows its potential.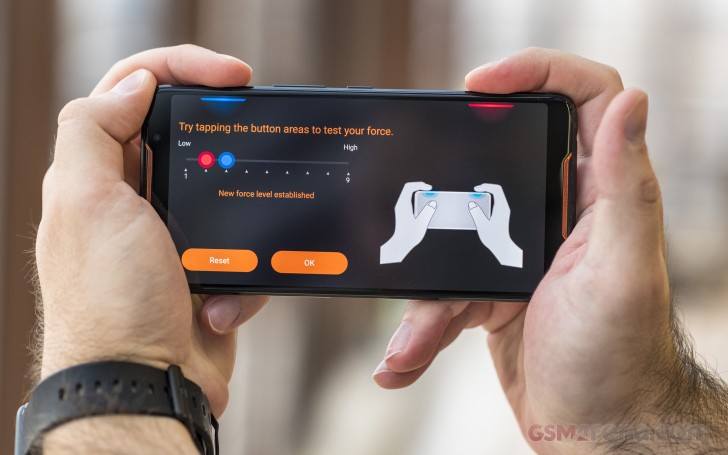 The whole setup works shockingly well. In fact, so much so that we frankly consider it cheating for the most part, as far as competitive mobile gaming is concerned. Even if you don't spring for any of the other available ROG Phone accessories that enable broader remapping functionality, the pair of AirTriggers alone offers an enormous edge in games which everyone plays on a touchscreen.
The technology itself is ultrasonic and really responsive. Asus claims response times as low as 10ms and actuation forces of just 20g. The latter can actually be adjusted via the settings menu, just in case you prefer to tap the frame of the phone a bit harder. The whole system is really well thought-out and implemented, especially considering this is the company's first go at it. The ultrasonic sensitive areas even feature small textured segments, stenciled right on the metal frame. Colour us really impressed.
But the thing that really ties the AirTriggers experience together is the taptic feedback. In fact, the ROG Phone has a superb taptic engine. It can produce subtle yet deep and very reassuring vibrations. In fact, we would even go as far as likening the Asus taptic implementation to Apple's as an industry benchmark - that's how good it is.
Connectivity
The dedicated connectivity section has mostly taken a back seat in our reviews lately mainly since most important connectivity aspects are already plainly visible in specs. Those that aren't, like subtle differences in USB implementations or network and SIM handling are usually very difficult to catch or explain on a per-market basis.
That being said, the ROG Phone is so packed to the brim in this department that we just had to dedicate a couple of paragraphs to it. First up, starting with network connectivity, Nano SIM slots on the ROG Phone are full-featured for simultaneous 4G and up to Cat.18 (1Gbps) and Cat.13 (150Mbps) upload and download speeds, respectively. 5CA 4x4 MIMO up to 1.2Gbps. The works.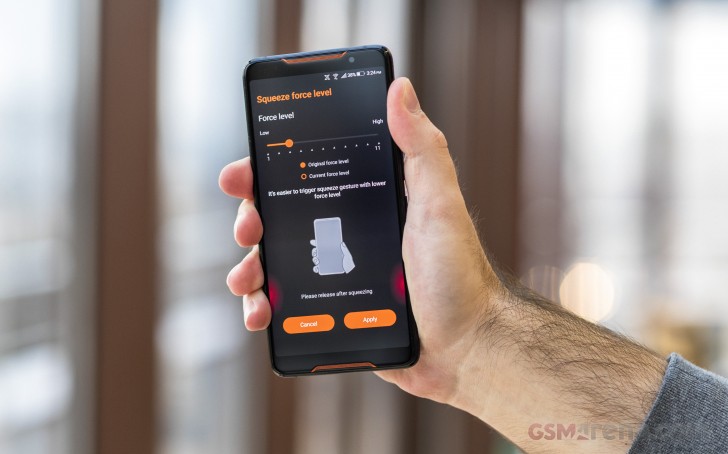 Then there is conventional Wi-Fi 802.11a/b/g/n/ac, Dual-Band 2.4 and 5GHz, of course. Plus, on top of that, the ROG Phone has support for the new 802.11ad 60GHz standard. It is great for short-distance ultra fast and low-latency connections, which its wireless display accessory actually leverages masterfully. NFC and an FM Radio receiver are simply icing on the cake at this point. Especially when you take into account the high-end audio output via the 3.5mm jack, we already mentioned and all that Type-C and custom port expandability going on.
The only really notable omission here seems to be a microSD slot. Still, you do get 128GB of storage in the entry model ROG Phone and a whopping 512GB in its more expensive sibling. And you also get a nice bonus 100GB of free Google Drive storage for a year.