Android Nougat with a dash of Zen
The Zenfone 3S Max is the first Asus phone to come with Android 7.0 Nougat out of the box. Of course, there is still Asus ZenUI 3.0 skin on top, along with the usual assortment of Asus applications.
The integration of Nougat features within ZenUI is pretty seamless, for most parts. You get the updated notification system with the option to quickly reply to incoming messages. You can also edit the quick toggles but ZenUI has always had this feature so there's nothing particularly new about it. What is new is the design, with a new interface for choosing the toggles, which opens within the notification menu itself instead of sending you to a separate screen as with previous versions of ZenUI. The toggles themselves look different, with a new animation and translucency effect.
You also get multi-window feature, allowing you to run two compatible apps one below the other simultaneously. Considering the size of the display, it is not an enormously useful feature though. The phone also lets you double tap the multi-tasking key to quickly switch to the previous app.
Other Nougat features include ability to change DPI setting to make UI elements smaller or larger, JIT compiler for faster app installs and updates, and Unicode 9.0 emoji set. Features such as Vulkan API, however, will not be present due to lack of hardware support.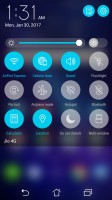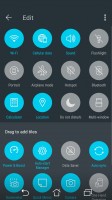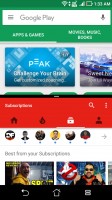 Quick toggles • Quick toggles • Multi-window
Asus also tacks on many of its own features. The touch gestures allow you to double tap to wake up the phone and turn off the display and drawing letters on the lockscreen to directly open the apps, e.g., drawing C to launch the camera app from sleep. The phone also supports motion gestures, and lets you mute the phone by flipping it over. You also get a one-hand mode that lets you quickly double tap the Home button to shrink the display size for one-handed use.
Other ZenUI features include a highly customizable launcher with ability to adjust everything from themes, icon packs, icon size and grid, fonts, scroll effect, etc., Easy mode for a simpler interface, Kids mode that locks out all but select apps, and more.
Of course, being an Asus phone means there is also a big chunk of bloatware installed on the phone, both from Asus and third-party developers. The Asus apps, in particular, are infuriating as they add little to the phone's experience and mostly just take up space or nag you with annoying notifications.
You also get all of Facebook's apps pre-installed and they even update themselves on their own in background without your permission, regardless of whether you use them or not. Of course, you can't just simply uninstall them. It's just really frustrating because the other parts of Asus software are quite good and if only the company learned some restraint in packing as many useless applications as it can into its phones then it would be a lot better.