Software
The ZenFone Max M2 comes with stock Android 8.1 Oreo. Our review unit was still running the October 1 security patch, which means ASUS is now four months behind on simply the security patches, let alone Android 9 Pie, which is still M.I.A. This isn't Android One, so there are no guarantees of timely software updates, or getting updates at all. While ASUS does release an update every now and then, it's the lack of timeliness and consistency that's the issue.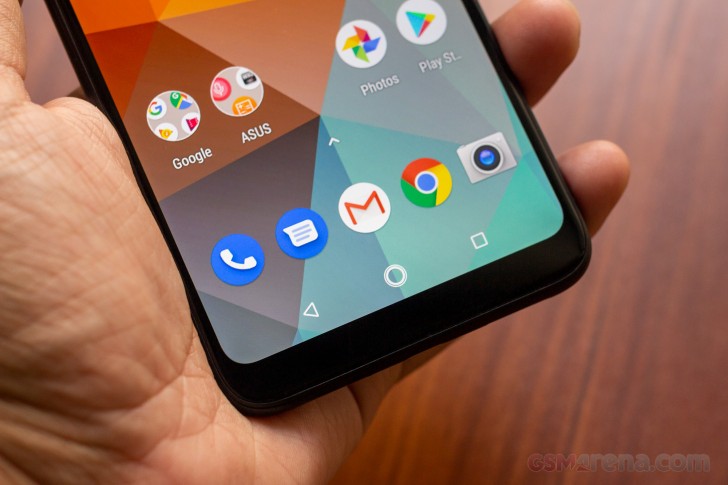 Software-wise, there really isn't a lot to talk about. If you've ever used stock Android Oreo in the past, you already know what to expect. To ASUS's credit, even though this isn't Android One, the company has left the OS build more or less untouched. There are some custom features, such as the double tap to turn off and wake the display, and a mode that keeps the screen on while you're looking at it but apart from that the UI is unapologetically stock Android. For those who appreciate it, this would be the perfect device.
Having said that, while the UI is clean, it's also littered with minor issues everywhere. The battery percentage icon still gets truncated at the bottom. This was an issue we pointed out in our Max Pro M2 review back in December and exists even on the Max M2. There are also other issues, such as the icons in the status bar all being weirdly different sizes. One time the Bluetooth icon decided to stay on even after Bluetooth was disabled and the phone had to be restarted to get rid of it. The UI still doesn't look good when you reduce the size from the settings, and some apps develop weird alignment issues, such as the Camera. All of this just points to lack of attention to detail and polish in the UI, which coupled with the slow update cycle means you will be stuck with these issues for months before seeing a fix. Assuming they actually notice any of it.
Speaking of bloatware, while there isn't a ton of it on the device, ASUS does force Facebook, Messenger, and Instagram on you. As you'd expect, you cannot uninstall these apps. Considering the privacy allegations surrounding the company, we think it would be wise if ASUS looked for other partners for its side income. Shipping your phone with Facebook bloatware is not a good look for any company in 2019.
Performance
The ZenFone Max M2 is the first device we have tested that runs on the new Snapdragon 632 chipset. Performance-wise, the phone is decent, but it is slower than both the more expensive Max Pro M2 and last year's Max M1.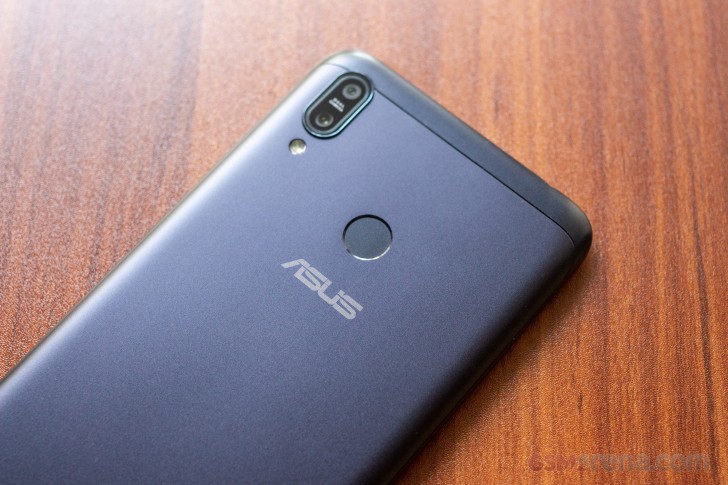 Fortunately, this difference isn't hugely noticeable in everyday use, at least now when the phone is fairly new. Over time, the more powerful devices should feel noticeably better with more demanding apps but it will be a while before that's an issue.
Gaming performance was adequate. Playing a few rounds of PUBG at the lowest graphical setting resulted in a perfectly playable experience. It's no ROG Phone but for the sort of games people usually play it has enough power.
The phone does fall short when it comes to multimedia performance. Although the display is pretty large, the low resolution makes videos appear a bit soft. The loudspeaker quality is also not great, with about 50% volume sounding decent but beyond that, it becomes a bit unpleasant. Fortunately, the phone does still have a standard headphone jack so you can just plug those in without needing a dongle. Or you can use a Bluetooth headset and the phone does support aptX, aptX HD and LDAC.
On a side note, the phone does support the appropriate Widevine DRM for HD playback in video streaming apps. However, Netflix does not yet support HD playback on this device and at the end of the day, regardless of what DRM version you support, it depends upon the streaming service to enable HD playback on your particular phone's model.
GeekBench 4.1 (multi-core)
Higher is better
Realme U1
6004
Realme 2 Pro
5531
Xiaomi Redmi Note 7
5411
ASUS ZenFone Max Pro M2
5169
ASUS ZenFone Max Pro
4910
ASUS ZenFone Max M2
4744
Xiaomi Mi A2
4625
Xiaomi Mi A2 Lite (Redmi 6 Pro)
4388
Realme 2
3881
ASUS ZenFone Max (M1) (ZB556KL)
2434
GeekBench 4.1 (single-core)
Higher is better
Xiaomi Redmi Note 7
1650
Xiaomi Mi A2
1617
Realme U1
1567
ASUS ZenFone Max Pro M2
1465
Realme 2 Pro
1462
ASUS ZenFone Max Pro
1340
ASUS ZenFone Max M2
1257
Xiaomi Mi A2 Lite (Redmi 6 Pro)
881
Realme 2
790
ASUS ZenFone Max (M1) (ZB556KL)
667
AnTuTu 7
Higher is better
Realme U1
144436
Xiaomi Redmi Note 7
139075
Realme 2 Pro
132958
Xiaomi Mi A2
130927
ASUS ZenFone Max Pro M2
124039
ASUS ZenFone Max Pro
115509
ASUS ZenFone Max M2
103243
Xiaomi Mi A2 Lite (Redmi 6 Pro)
77964
Realme 2
75434
ASUS ZenFone Max (M1) (ZB556KL)
57845
GFX 3.0 Manhattan (1080p offscreen)
Higher is better
Realme U1
22
Xiaomi Redmi Note 7
22
Xiaomi Mi A2
22
Realme 2 Pro
21
ASUS ZenFone Max Pro M2
20
ASUS ZenFone Max Pro
16
ASUS ZenFone Max M2
10
Xiaomi Mi A2 Lite (Redmi 6 Pro)
9.9
Realme 2
9.3
ASUS ZenFone Max (M1) (ZB556KL)
7
GFX 3.0 Manhattan (onscreen)
Higher is better
Xiaomi Mi A2
21
Realme U1
20
Xiaomi Redmi Note 7
19
ASUS ZenFone Max Pro M2
19
ASUS ZenFone Max M2
19
Realme 2 Pro
18
Realme 2
16
ASUS ZenFone Max Pro
15
ASUS ZenFone Max (M1) (ZB556KL)
14
Xiaomi Mi A2 Lite (Redmi 6 Pro)
9.4
GFX 3.1 Manhattan (1080p offscreen)
Higher is better
Xiaomi Redmi Note 7
15
Xiaomi Mi A2
15
Realme 2 Pro
14
Realme U1
13
ASUS ZenFone Max Pro M2
13
ASUS ZenFone Max Pro
10
ASUS ZenFone Max M2
6.9
Xiaomi Mi A2 Lite (Redmi 6 Pro)
6.5
Realme 2
6.1
ASUS ZenFone Max (M1) (ZB556KL)
4.6
GFX 3.1 Manhattan (onscreen)
Higher is better
Xiaomi Mi A2
14
ASUS ZenFone Max M2
14
Xiaomi Redmi Note 7
13
Realme U1
12
Realme 2 Pro
12
ASUS ZenFone Max Pro M2
12
Realme 2
12
ASUS ZenFone Max (M1) (ZB556KL)
9.9
ASUS ZenFone Max Pro
9.7
Xiaomi Mi A2 Lite (Redmi 6 Pro)
6.1
Basemark X
Higher is better
Xiaomi Mi A2
21378
Xiaomi Redmi Note 7
21201
ASUS ZenFone Max Pro M2
19320
Realme U1
17290
Realme 2 Pro
14576
ASUS ZenFone Max M2
11449
ASUS ZenFone Max (M1) (ZB556KL)
7606
Realme 2
6703
Basemark OS 2.0
Higher is better
Realme U1
2307
Xiaomi Redmi Note 7
2260
Xiaomi Mi A2
2240
ASUS ZenFone Max Pro M2
1993
Realme 2 Pro
1911
ASUS ZenFone Max Pro
1893
ASUS ZenFone Max M2
1708
Realme 2
1039
ASUS ZenFone Max (M1) (ZB556KL)
895
3DMark SSE 3.1 Unlimited
Higher is better
Xiaomi Redmi Note 7
1409
Xiaomi Mi A2
1380
Realme 2 Pro
1291
Realme U1
1133
ASUS ZenFone Max M2
579
Realme 2
497