Phonebook in need of refreshing
The phonebook is one part of the interface of the BlackBerry Curve 8900 that won't get a wow out of users. Looks are very basic reminding us of older Windows Mobile versions but the virtually unlimited capacity and good organization make it a pretty decent performer. Still a new paintjob would have been welcomed and some extra functionality not completely inappropriate.
The contacts get listed alphabetically in one of those black and white lists that we warned you about. You can search a contact by gradually typing the desired name like on almost any other phone, only this time it's much faster and easier with the QWERTY keyboard.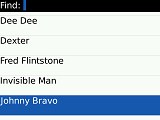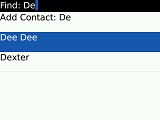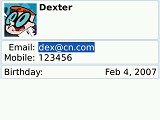 The phonebook of the Curve 8900
Editing a contact gives you a vast number of fields which are organized in several sub-groups. You can also replicate some of the fields (those that you are going to need to anyway) as many times as you like.
Telephony: smart dial rocks
The BlackBerry Curve 8900 performed well in its main duty - making calls. We didn't experience any problems with reception, or in-call sound quality.
While that might be perfectly expected and doesn't bring any bonus points, the Smart dialing is certainly a great asset. With the QWERTY keyboard at hand you may never want to use your phonebook for dialing numbers again.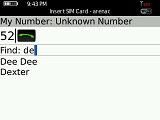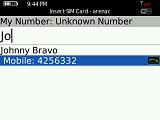 The smart dial works like a charm
All you need to do is punch a few keys on the homescreen and the names that have the typed letters will appear on the screen instantly. You can then select them with the trackball and initiate a call - it doesn't get any simpler than that, does it?
The BlackBerry Curve 8900 fared decently in our traditional loudspeaker test. It went away with a Good score, indicating a fairly low risk of missed calls though nothing outstanding. More info on our loudspeaker test as well as other results can be found here.
| | | | | |
| --- | --- | --- | --- | --- |
| Speakerphone test | Voice, dB | Pink noise/ Music, dB | Ringing phone, dB | Overall score |
| Nokia E63 | 64.6 | 62.1 | 69.0 | Below Average |
| Nokia E71 | 68.0 | 66.5 | 76.2 | Good |
| BlackBerry Storm 9500 | 75.8 | 65.0 | 72.7 | Good |
| BlackBerry Curve 8900 | 75.7 | 66.6 | 75.3 | Good |
| Samsung M8800 Pixon | 75.7 | 69.6 | 82.1 | Very Good |
| HTC Touch HD | 77.7 | 73.7 | 76.7 | Excellent |
Messaging the BlackBerry way
The BlackBerry Curve 8900 can handle all common types of messages - SMS, MMS and email. It also has the BlackBerry instant messenger preinstalled.
The Curve has a fairly simple and easy to use organization of the messaging department and all messages are composed through a common editor.There is a counter at the top indicating the remaining characters to 160, and another one showing the number of parts the message will break down to for sending.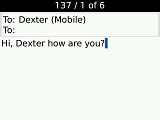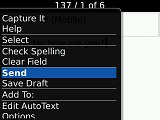 The messaging department is pretty well organized
Emailing also has a remarkable set of customizable options, probably one of the best in business. However just out-of-the-box you can only set up BlackBerry Internet Service email accounts on the Curve 8900. This means that without a proper Blackberry service plan, the handset is just a plain no-email device. There are quite a lot of carriers globally that do not support BIS yet. But then again, you would hardly be buying a Blackberry device if you don't intend to use the Blackberry services.