Respectable 12MP camera
TCL went with a well-known camera sensor in for the BlackBerry KEYone: the Sony IMX378 sensor is the same one found in the Google Pixel. While this is bit of a surprising choice of camera sensor for a BlackBerry, our expectations from the KEYone's camera performance have shot up significantly. Of course, we won't get the Pixel's fancy HDR+ algorithm here.
In the most recent years, phone makers have stopped racing toward higher megapixel counts and instead focus on the overall performance. For contrast, the BlackBerry Passport had a 13MP camera while the Priv had an 18MP sensor.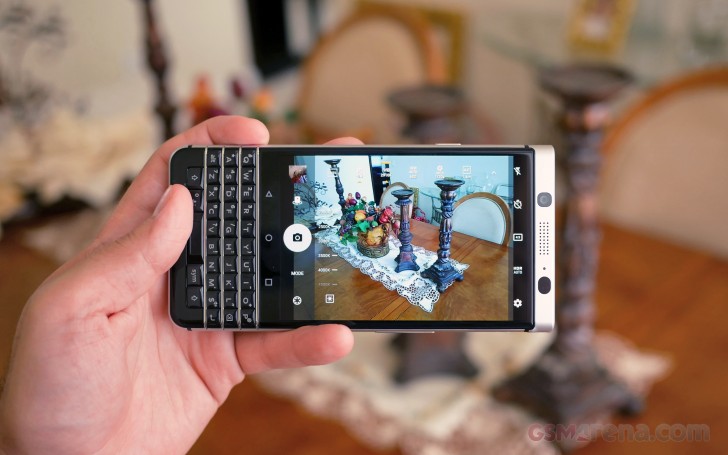 Still, the camera looks similar to the Pixel's on paper as you get the same aperture at f/2.0 and the same size pixels at 1.55 microns. You also get PDAF and a dual-tone LED flash.
Although the images didn't come out looking like the Pixel's, the KEYone really surprised us as a very respectable shooter with almost no waiting time between snapping photos.
Right off the bat, you should know that the BlackBerry KEYone's camera is set to an aspect ratio of 3:2 to optimize the use of the display. Unfortunately, this would mean that all photos taken in the default 3:2 aspect ratio are cropped from the native 4:3 sensor and do not offer the advertised 12MP resolution.
The interface and stability of the camera app is much improved over that of the BlackBerry Priv. BlackBerry and TCL have put a lot of effort into the camera experience and it surely shows. The viewfinder app has many features and settings that should satisfy even a seasoned photographer.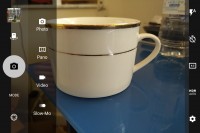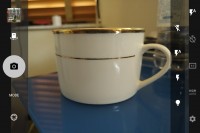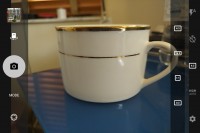 Camera modes • Flash options • Crop factor
New to the KEYone is proper manual controls: enter the camera settings to toggle it. Manual mode lets you control focus, ISO, shutter speed, white balance, and an exposure compensation dial is also included. Alternatively, you can run manual mode in full-auto which helps you see what settings the camera will use for the scene you want to shoot.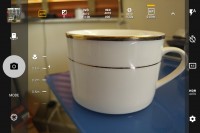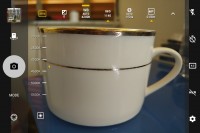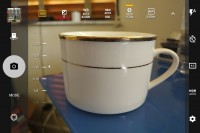 Manual adjustment of: focus • white balance • shutter speed
There are two HDR modes to choose from, though we'd recommend you leave it in HDR Auto, which raises some shadows and brings down some of the overexposed highlights. Using full-on HDR mode may not yield the best results for some as it really tends to oversaturate colors and makes a mess out of the exposure.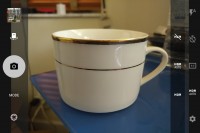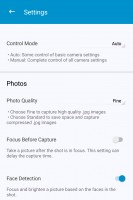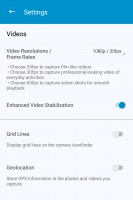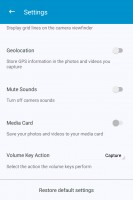 HDR modes • Camera app settings
Since photos and videos have different fields of view, we also appreciate the dedicated video viewfinder in the camera app. From here, you can choose between several video modes. You can choose any combination of 720p, 1080p, and 4K with either 24fps, 30fps, or 60fps with the exception of 4K @ 60fps. One other thing worth noting is the field of view is noticeably reduced when opting for "enhanced video stabilization". Video Stabilization is not available in neither any 4K mode nor 1080p @ 60fps.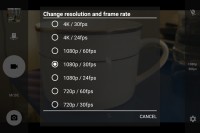 Video viewfinder • video shooting modes
We saw a strange occurrence on the camera that happened when focusing on an off-centered subject. The subject focused just fine, the thing is, once the shutter button was pressed, the focal point shifted back to the middle of the viewfinder. Not a huge deal, but worth keeping an eye out for.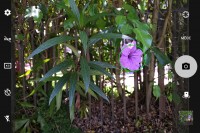 Off-center focus will reset after pressing the shutter key
When taking photos at night, a crescent moon shows up in the corner which tells the user it's really going to try to get the shot. Even without a steady hand, photos generally look okay without major blurring. It looks like while this mode is enabled, the camera is constantly stacking images into a buffer to greatly reduce the risk of shaky-looking photos.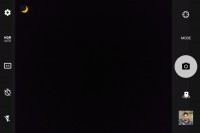 Night mode logo will show in corner
Unfortunately, the noise is still abundant when taking night shots, thought that's expected with any smartphone camera that cranks the ISO up past 1,000. The night mode notification even appears with the selfie camera.
Here are some stills taken with the BlackBerry KEYone. We took shots with both HDR-Off and HDR-Auto. The general consensus is that you might want to leave HDR set to "Auto".
We're not sure what is being done in the background of these photos, but the BlackBerry KEYone's HDR Auto mode works quite well. That's considering the fact that turning HDR off doesn't do the phone any favors when it comes to dynamic range: shadows appear too dark if you don't use HDR at all.
Don't count on HDR Auto working well with moving backgrounds like swaying trees in the wind, as anything in motion appears with a double-outline since HDR Auto mode stacks multiple images together.
Dynamic range is generally quite good in HDR Auto mode, a slight boost in saturation helps the photos look more vivid while shadows are raised and highlights are brought down to a level where we can see the blue of the sky next to the clouds. Turning HDR all the way ON sometimes results in an unnatural looking image and requires a steadier hand.
Details could look better, though. We find that a lot of the finer details shine through as noise when zooming in on the pixels. Where we would like to see improvement is in color reproduction. Colors seemed dull in comparison to the scenes we stood in front of to take these photos. Another opportunity for improvement in the camera is in detail reproduction and in fine-tuning the HDR Auto mode.
Low-light photography
Finally, when taking a look at low-light photography, the KEYone doesn't disappoint, but it doesn't impress either. HDR On does a much better job (over HDR Auto) of correcting exposures when taking low-light photos.
Low-light photography's biggest enemy is noise, and the KEYone does a pretty decent job at suppressing it, though at the expense of fuzzing over details and foliage. Overall, the camera wasn't too shabby with taking photos at night. Just remember to take at least two to make sure you get at least one without camera shake. The photos are good enough for social media, just don't crop too far in. Otherwise, if you use a tripod you'll surely fare better results.
Notice the foliage in the trees looks quite messy, though it's not unusual for photos taken with 1,000+ ISO. Meanwhile, the shadows in the buildings are raised up a bit and really makes the image look better.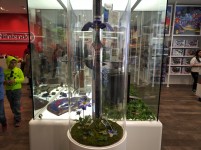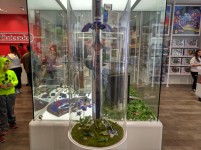 Low light indoor HDR: Auto • On
8MP selfie camera
The KEYone's selfie camera doesn't perform miracles, but the quality of image that comes from the workhorse's selfie camera are decent enough. Thankfully, the HDR modes available in the main camera are also available in the front-facing one. A certain drawback that we see on quite a lot of phones lately is that fixed focus of the front camera is not tuned at an arm's length but further back so your face will come out slightly out of focus while the background is perfectly fine.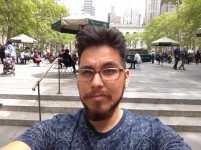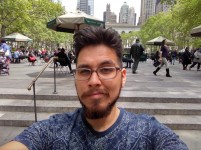 Daylight selfie - HDR: off • Auto
When it comes to HDR selfies, we recommend you leave it on Auto as well. Turning HDR all the way on leaves selfies looking a bit too processed. Meanwhile, leaving HDR off might cause some highlights to overtake some parts of the photo and tend to leave shadows darker than they should be.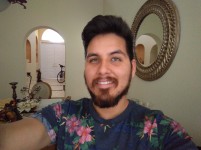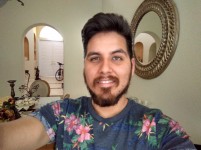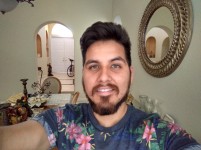 Indoor selfie - HDR: Off • Auto • On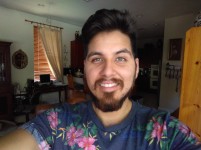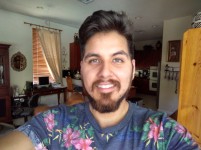 Indoor selfie 2 - HDR: Auto • On
Low light performance is not very good, though we've seen much worse low-light selfies before. Forcing HDR On causes the selfie to take upwards of 5 seconds to capture while using the screen's flash feature. This feature resulted in selfies with blown out highlights on my face. Despite this, the selfie camera is still good enough to use in a pinch, though the low-light selfies from your next fancy dinner setting won't look very good.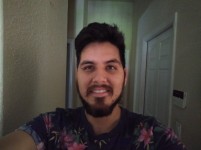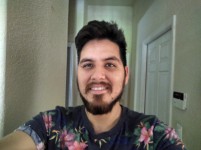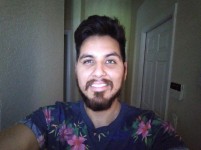 Indoor low-light HDR: Off • On • Selfie Flash
Our final recommendations for HDR mode on the BlackBerry KEYone: Don't use HDR On unless it is dark and only use HDR Auto in well-lit environments for camera shots or selfies.
Panoramic photos
Panoramas look pretty good on the KEYone as long as you are not trying to catch something placed closer to the camera, like a fence in our case, which didn't do well with the stitching.
We took these panoramas holding the phone in portrait mode which yielded panoramic photos 3,904 pixels tall. The KEYone uses a similar mechanism that the Google Pixel uses for panoramic shots: dots on the screen. Personally, we prefer the shoot and sweep motion rather than lining up dots.
Video recording
The KEYone features several different video modes including 24fps, 30fps, and 60fps options with varying resolutions. You can shoot 4K at 30 or 24fps, and you can shoot 1080p (or 720p) video at 24, 30, or 60 fps.
4K video weighs in with a bitrate of about 41-42 Mbps. Meanwhile, 1080p video clocked in at around 20 Mbps. All video modes record in 96kbps samples at 48kHz. Also, as is the case a lot of the times, switching to 60fps modes from 30fps brings smoothness at the expense of picture detail.
4K videos are sharp and display lots of detail. Dynamic range is not bad at all, though, if you want to shoot 4K video well, you'll need to use a tripod or invest in a handheld smartphone gimbal.
You'll notice there's some really apparent shake in the 4K samples, this is because the KEYone doesn't feature any optical image stabilization, which really could have helped it here. What the KEYone does feature is EIS in most of the more conventional shooting modes. Video stabilization is not available in 60fps modes or 4K modes.
Otherwise, video stabilization is good and you don't get the "Jello" effect that was apparent when using it on the Google Pixel. Then again, the Google Pixel did a much better job at stabilizing the frame while walking, which is the main reason you see the "Jello" shake.
Dynamic range is a lot like still photos: the camera will do generally well in areas with bright light, but won't do well when trying to capture scenes with bright light and shadows as well. You can see an example of dynamic range in the last sample. We also are pleasantly surprised that we didn't see any focus hunting during any of the video samples. Overall, TCL and BlackBerry have built a good camera into the KEYone.
As always, you can download the real video samples from the following links: 2160p @ 24fps (~76MB), 2160p @ 30fps (~74MB), 1080p @ 30fps (~36MB), and 1080p @ 60fps(~37MB).