Final words
Conceived as a more affordable alternative to the Z30, the BlackBerry Leap doesn't really manage to exceed the sum of its parts. On the other hand losing the AMOLED panel for a traditional LCD screen and employing the older Adreno 225, allowed the new handset to bring the price down and bring much of the same experience at a more attractive price point.
All things considered the BlackBerry Leap is a capable chap, perfect for messaging, decent at snapping pictures and great at browsing and organizing tasks. It's also got the business appeal which is part of the BlackBerry DNA that will get the right kind of attention at a business meeting. Yet in this day and age, the €230 that the Leap goes for can get you a lot of smartphone so mainstream appeal will likely be out of reach.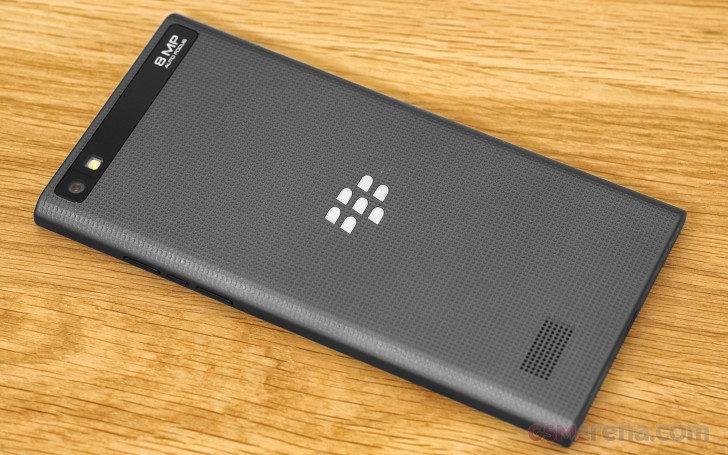 Despite the promises made, the BlackBerry Leap is far from ideal mid-ranger when it comes to running Android apps - it's got both limited compatibility and sub-par performance for the class. So if you are of the app-crazed type that thinks this might be a great chance to get the best of both worlds you should move along - there's nothing for you to see here.
Key test findings:
Great quality build by BlackBerry, but chubby and heavy design
Display shows high contrast but poor outdoor visibility
Battery life is poor at 45 hours, disappointing standby endurance
BlackBerry 10.3.1 is great, gesture-driven, offers great app starter pack with useful tools such as office package, organizing apps and voice-guided online navigation
Below average benchmark performance, although we tested with Android benchmarks
Very good speaker loudness and sound quality
Very good audio output quality
Camera photos offer great detail, contrast and dynamic range, but are oversaturated
The 1080p video are the same as still images - great detail and contrast, oversaturated colors
But as always the best way to illustrate a handset's strengths and weaknesses is to compare it to its peers.
If you are after the BlackBerry brand and don't mind switching to a smaller screen, the pioneer BlackBerry Z10 matches the Leap spec-for-spec and can be found at far lower price. Availability for this one is limited at this point of its life cycle, but if you manage to find it, it's certainly a better place to start with BlackBerry 10 OS.
If BlackBerry isn't a must, you can have a look at the Android camp and the Sony Xperia Z1 Compact. Costing the same as the Leap this one offers a Snapdragon 800 chipset and 20.7MP camera in a waterproof body - far exceeding the value for money of the Leap.
The Motorola Moto G (2014) is also is another interesting droid that costs about €50 less than the Leap, while offering superior performance and full access to the Google Play catalog. It doesn't have the innovative gestures of the BlackBerry OS 10, but its near-vanilla Android experience is appreciated by many a fan.
If you are willing to get another less popular platform a chance, you should check out the Lumia 830. Its price has settled at about €240, which nets you 5" IPS 720p display, a quad-core processor, 16GB of storage, LTE connectivity and a premium 10MP ZEISS camera with optical image stabilization and some PureView tech. Choosing between that one and the Leap is about picking which platform you prefer and whether you value camera over messaging or the other way around.
So the BlackBerry Leap might not be the value-for money hit that will tempt thousands of Android users to switch, but it's not without its niche. Those that aren't installing too many apps and would appreciate a new experience then you might give it a second look. And if you are BlackBerry faithful that's yet to experience the full-touch version of BlackBerry 10, the Leap is a decent starting point.