Introduction
Samsung brought a range of new Android devices to CES with LTE and Super AMOLED being the central themes to all of them. All major carriers (AT&T, Verizon, Sprint and T-Mobile) got in on the action. Most of the gadgets were GSM-flavored, but all of them had voice call capabilities to go along with their blazing fast data, even the tablet.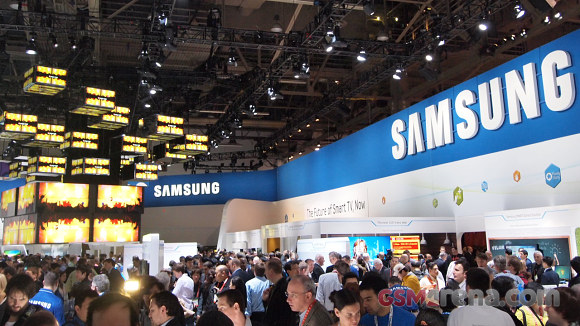 Okay, let's do a count and see if everyone's here.
On AT&T's side of the table, there's the Samsung Galaxy Note I717 "phoneblet", the eco-friendly Samsung Exhilarate and the Samsung Galaxy S II Skyrocket HD, a Skyrocket i727 with the Galaxy Nexus screen.
On Verizon's side, there's just the Samsung Galaxy Tab 7.7 LTE I815, which takes up two seats with its roomy 7.7" Super AMOLED Plus screen.
Then there's the Samsung Galaxy Nexus LTE for Sprint, which as the name suggests packs LTE connectivity in addition to the usual CDMA and EVDO. Other than that, there's no difference between it and the other CDMA Galaxy Nexus, the i515 for Verizon.
T-Mobile is also getting a new phone - the Samsung Galaxy S Blaze 4G. It packs a 4" Super AMOLED screen and a Qualcomm S3 chipset with two 1.5GHz CPU cores. It's the one exception to the LTE rule, relying only on HSPA+ (which T-Mobile says can deliver up to 42Mbps downlink speeds).
Most of these devices should already be pretty familiar, so let's start with the Samsung Skyrocket HD. It features a 4.65" Super AMOLED screen with 720p resolution, up from 4.5" Super AMOLED Plus screen with WVGA resolution for the regular Skyrocket. The rest is the same - 1.5GHz dual-core processor, 8MP camera with 1080p video and LTE connectivity.
Anyway, the other new device is the Samsung Exhilarate. It's made of 80% recycled materials, AT&T advertise it as "the first 4G LTE smartphone built to meet many environmental and sustainability standards". It's got a 4" Super AMOLED screen and eco-saving software features.
The third device for AT&T, the Samsung Galaxy Note I717 brings its usual assets - a 5.3" Super AMOLED screen with 800x1280 pixels resolution and the S Pen - but also LTE connectivity and a different chipset than the international version (this one uses two CPUs at 1.5GHz).
The Samsung Galaxy Tab 7.7 LTE I815 has a name long enough for two devices and a screen to match that. LTE connectivity is in tow, but it offers CDMA too - for both data and voice.
We've already met the Samsung Galaxy Note I717 for AT&T and the Samsung Galaxy Tab 7.7 LTE I815 for Verizon but we went on a second date and we have new photos to share. Join us on the next page.
D
I hope/wish,Samsung Galaxy S3 is 3D Full HD Super amoled PLUS display (960 x 1280pix) resolution and over 350PPI.
D
then you havent seen seen samsungs series nine laptop its the best looking laptop on the earth :) and their leds tvs are awesome :) i dont know why gsm arena didnt talk about it.
?
thanx to the gsmarena for this review