Chinese makers have dominated the Southeast Asian market in Q2 of 2019, netting 19.0m of the 30.7m total phone shipments, Canalys reports.
Samsung retained its leading position, moving 7.7M devices but was followed closely by Oppo with 7.3M. vivo managed 4.1m and Xiaomi was fourth at 3.7M. Realme entered the top five for the first time with 1.6M.
The Southeast Asian market is dominated by the mid-to-low-end smartphones - 75% of it consists of sub-$200 devices, which puts makers such as Apple far out of the picture. It's also notorious for its lack of brand loyalty.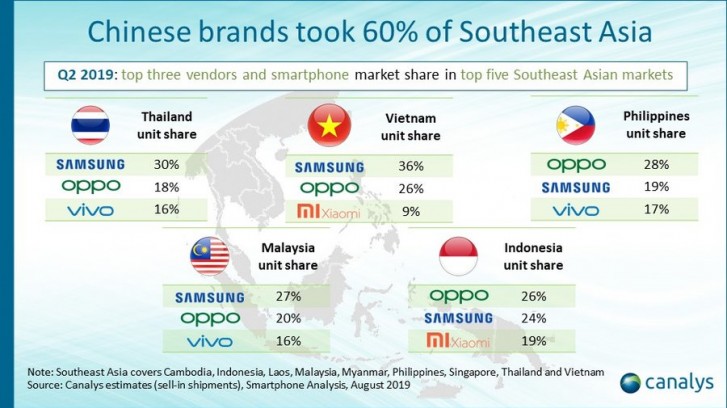 Looking at the breakdown of the market, Samsung is still the leader everywhere but in Indonesia, where it's a close second, and in the Philippines, where it's a distant second.
Samsung's new-look A and M series have helped it achieve a 5% increase in shipments. The maker chose Thailand to host the global launch of its Galaxy A line, clearly acknowledging the importance of the Southeast Asian market.
?
Huawei and Honor are big in Malaysia; this report is really off... iPhones are dying as while u still see people using it, they r old models n when they upgrade they go Android
?
number 1 in philippines is Cherry Mobile
T
In my observation, a lot of Filipinos use the following brands (in no particular order) -- Oppo, Vivo, Samsung, Nokia, iPhone, Huawei and Xiaomi with some few using Sony, LG and locally-rebadged Cherry and MyPhone. Most people obtain phones throu...