Vanilla Android 10
The Fairphone 3+ runs on what is essentially a stock Android 10 ROM. AOSP fans will surely appreciate the clean out-of-the-box experience.
Android 10 is on the announcement list for this new Fairphone 3+ model, as well. It comes preinstalled for new users and their Fairphone 3+ users, but will also be made available to existing Fairphone 3 owners, starting September.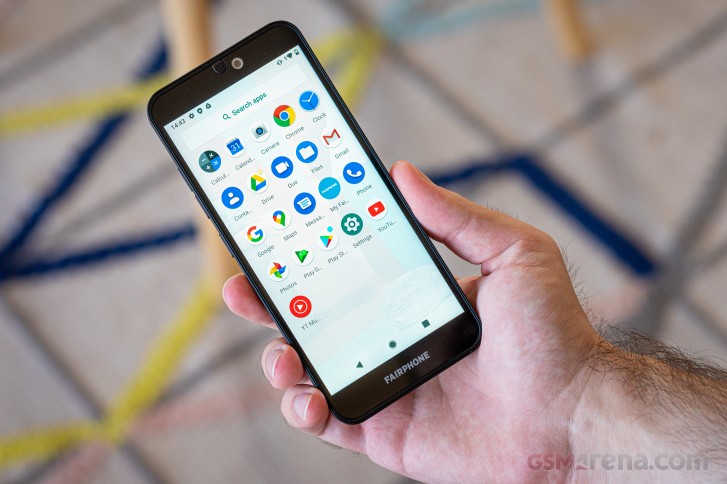 After all, prolonged customer and software support are a key part of the Fairphone sustainability plan. One that seems to be well on track, with the 2015 Fairphone 2 still actively supported and support for the original Fairphone 1 from 2013 ending as late as 2017.
Benchmarks
With just a Snapdragon 632 at its disposal, the Fairphone 3+ is hardly a powerhouse. That's kind of a given. This particular Qualcomm chip has been superseded by more modern solutions. A few generations of those, in fact.
GeekBench 5.1 (multi-core)
Higher is better
OnePlus Nord
1953
Realme 6
1726
Google Pixel 4a
1626
Realme 6i
1349
Xiaomi Redmi 9
1325
Xiaomi Redmi Note 9
1292
Fairphone 3+
1240
Samsung Galaxy A21s
1100
GeekBench 5.1 (single-core)
Higher is better
OnePlus Nord
610
Google Pixel 4a
553
Realme 6
548
Realme 6i
388
Xiaomi Redmi 9
362
Xiaomi Redmi Note 9
361
Fairphone 3+
272
Samsung Galaxy A21s
184
Even so, the 14nm part is modern-enough to be still competent, where it matters. Its overall connectivity support is competent, and the 4x1.8 GHz Kryo 250 Gold & 4x1.8 GHz Kryo 250 Silver CPU, plus Adreno 506 GPU combo are still well capable of delivering a smooth everyday experience.
AnTuTu 8
Higher is better
OnePlus Nord
312794
Realme 6
288931
Google Pixel 4a
268714
Realme 6i
202275
Xiaomi Redmi 9
201829
Xiaomi Redmi Note 9
200414
Fairphone 3+
143378
Samsung Galaxy A21s
107157
Of course, you can't expect it to keep up with some of the more demanding modern games out there. The Adreno 506 wasn't a particularly impressive performer when it came out, and modern mobile graphics have outpaced it since. Even so, casual games are well within reach. Most game engines on Android are optimized to the point where even significantly older hardware can deliver an adequate experience.
GFX 3.1 Manhattan (1080p offscreen)
Higher is better
OnePlus Nord
38
Realme 6
31
Google Pixel 4a
30
Realme 6i
16
Samsung Galaxy A21s
9.4
Fairphone 3+
7
Motorola Moto G7
6.9
Xiaomi Redmi 7
6.9
GFX 3.1 Manhattan (onscreen)
Higher is better
OnePlus Nord
34
Realme 6i
31
Google Pixel 4a
27
Realme 6
27
Samsung Galaxy A21s
19
Xiaomi Redmi 7
14
Fairphone 3+
6.6
Motorola Moto G7
6.4
The vanilla Android ROM is definitely helping the Fairphone 3+ remain snappy and responsive in day to day operations. We never noticed a slowdown or other hiccup in our initial hands-on experience with it.
The reality is that even with its older hardware, the Fairphone 3+ likely has more than enough performance for most of its target users. Plus, it's not like anyone expects ultimate value performance out of a brand that has very clear and straightforward priorities set out in a whole different direction.
Camera
In a market constantly pushing boundaries with camera performance and numbers, having a single snapper is a bit of a handicap. That's the position the Fairphone 3+ finds itself in. Even after its camera upgrade, you still get just a single 48MP snapper on the back and a 16MP one on the front.
That being said, devices like the Google Pixel have proven that with the right kind of software magic, anything is possible. Hardly what we can expect here but let's not scratch the Fairphone 3+ based on camera numbers alone.
On a hardware level, the new camera is using a S5KGM1SP03-FGX9 48MP main sensor here, behind an f/1.79 lens. This is a Quad Bayer sensor so it natively produces images in 12MP.
During our initial hands-on session with the Fairphone 3+, we did manage to take a few quick shots.
We didn't neglect the selfie camera either. This one captures stills in the full, advertised 16MP resolution.
Feel free to pixel-peep and judge the quality for yourself.
Remember, there is a potentially unique upgrade decision to be made here for any existing Fairphone 3 users.
Final thoughts
Fairphone's products are so uniquely positioned that buying one is a decision largely separated from the phone's charasteristics itself. It just can't be judged by the same standards that we use for the other phones that we review here.
If you share Fairphone's mission of treating fair everyone involved in the manufacturing and our environment as a whole, the Fairphone 3+ might make all the sense in the world for you.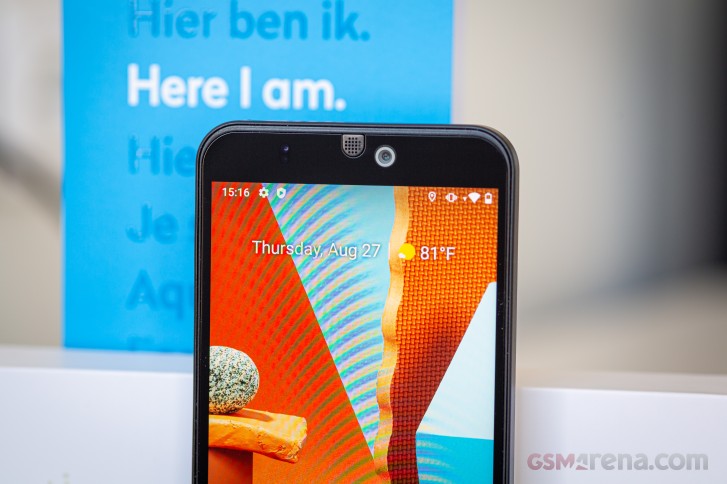 There are certain elevated costs associated with running a sustainable and ecological business of any variety. Fairphone also has to tackle the realities of research and development for a unique product and low-volume, responsible manufacturing and distribution. There is also the matter of costly long-term support, which is a cornerstone to the whole business. Technical support, no less. As far as expensive endeavors go, this one is pretty high up there.
That reality, in itself, makes what Fairphone is doing admirable. The company's latest Fairphone 3+ launch is perfectly in keeping with its core values.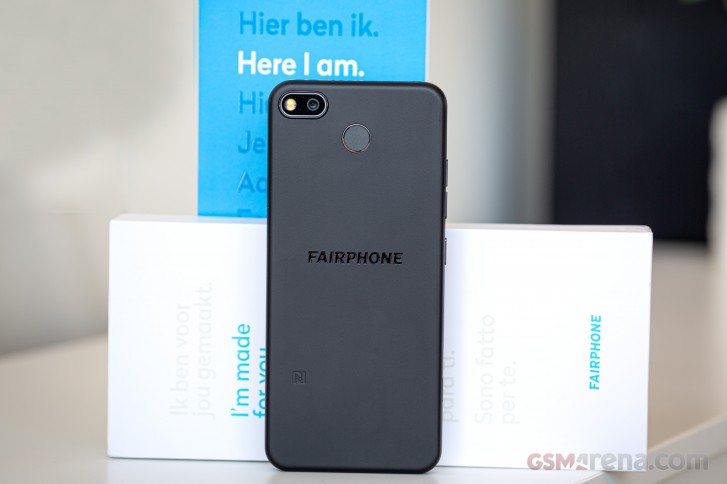 Even with the latest hardware upgrade, the Fairphone 3+ is hardly universally desirable. It remains a niche product and that's perfectly fine since it's not the point.
Fairphone has its sight set a lot higher, aiming at goals like fair compensation for workers in China, fair-trade gold, fair cobalt and conflict-free tin and tungsten. Recycling and sustainability. Above all else, Fairphone's key immediate ambition is to convince as many users as possible to keep their devices for as long as five to seven years at a time, reducing its carbon footprint by as much as 28 to 42%. Regardless of whether those are its own products, specifically crafted to aid the process or any other piece of tech, headed to an inevitable landfill. If you share the same goals and believe in them deeply enough, the Fairphones look like a great means to an end.
Special thanks to Box.co.uk for providing the review unit.