Fitbit Sense, Versa 3, and Inspire 2 appear in leaked renders with button-less design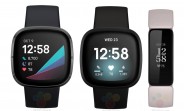 Fitbit unveiled the Versa 2 smartwatch last August, and the company will soon follow it up with Versa 3, that's appeared in leaked renders.
The Versa 3 has a squircle-shaped display, and the homescreen in the renders confirms the smartwatch will come with heart rate monitoring and step counter, which is commonplace in smartwatches these days.
Around the back, the Versa 3 has a heart rate sensor and charging pins, and there are a microphone, location and 50M icons below, which confirm voice controls, built-in GPS and 50 meters water resistance, respectively.
The source also leaked renders of the Fitbit Sense and Inspire 2. The Fitbit Sense looks similar to the Versa 3 but is costlier. Its homescreen confirms the step counting, sleep tracking, and heart rate monitoring features.
Its back - which is home to the heart rate sensor and charging pins - has four icons, two of which confirm built-in GPS and 50 meters water resistance. The other two hint at temperature measurement and ECG. There's no microphone icon here like the Versa 3, which means the Fitbit Sense either doesn't support voice controls or the company decided to not put one. The latter is possible since the Fitbit Sense is costlier than Versa 3.
The Inspire 2, which is a successor to the Fitbit Inspire announced last March, has a rounder design compared to its predecessor, and the renders confirm it will feature heart rate monitoring. Other features of this smartband are currently unknown, but you can expect it to come with basic fitness tracking.
The renders of the Versa 3 and Inspire 2 also reveal that the company has ditched the physical buttons and opted for a button-less design. Unlike their predecessors that had physical buttons on their left sides, these devices have an indent instead for what could be a touch/pressure-sensitive area. The same goes for Fitbit Sense.
There's no word from Fitbit about these three wearables yet, but since their official-looking press renders are out, it shouldn't be too long before the US-based company makes them official.
Source (in German)
f
syncing is the biggest problem of the fitbit(versa3) that why i never use it..
M
Fitbit has many users in Iran. but unfortunately they blocked Iran's IPs and users couldn't connect to the Fitbit app. its disappointing.
?
Me also i will never never go to Fitbit anymore.Synching is so difficult and the sleep tracker cant track your sleep if you dont sleep for more than 3 hours. where us my Samsung Active 2 can track your sleep even you sleep for 30 minutes.
ADVERTISEMENTS