Flashback: the Nokia Lumia 800 was created by transplanting WP7 into Nokia N9's body
Last week we covered the Nokia N9 story, this week we said goodbye to Windows for phones. This makes it the perfect time to look at the life of the Nokia Lumia 800 – the first Windows Phone handset from the Finns.
We mentioned that the first Lumias reused the N9 polycarbonate body, but the truth runs deeper than that – the "Sea Ray" phone was originally a CDMA version of the Nokia N9 intended for Verizon and Sprint. Nokia was exploring a collaboration with Qualcomm (and other chipset makers) as it thought having wide choice of suppliers will give it leverage during negotiations.
Plans changed completely in early 2011 – the Sea Ray became the Lumia 800. It was chosen as the Texas Instruments chipset was already swapped out for a Qualcomm Snapdragon, that was just about the only chipset that the young Windows Phone OS supported.





Size (and looks) comparison: Samsung Omnia W vs. Nokia Lumia 800 vs. Nokia N9
The 3.9" AMOLED screen was swapped out for a 3.7" panel to accommodate the Microsoft-mandated capacitive navigation keys. This also killed the selfie camera (which was in the bottom right corner on the N9).
Microsoft was very strict about the hardware features a phone need to have before it could get a Windows Phone license. This meant a Snapdragon chipset, a screen with WVGA resolution, the navigation keys and a camera shutter key. This matched up well with the N9 hardware, but it was already falling behind in specs. Also, these were billed as "minimum requirements", but since no one used more powerful hardware for WP7, it may have been more of a technical limitation.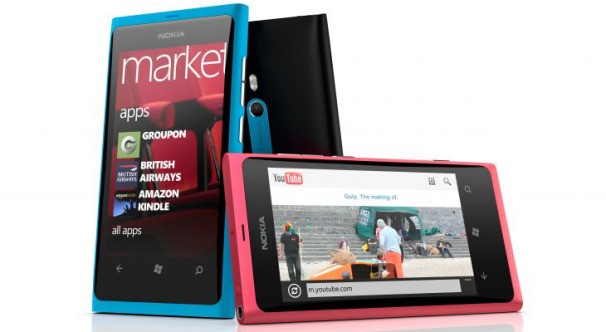 It's a little strange that the phone launched with Windows Phone 7.5. What happened to 7.0? The thing is, Microsoft had a very short time to develop the OS and it was competing against Android and iOS, which had 3-4 years to polish their platforms by that point (not even counting the development time before the first consumer products launched).
WP7.0 lacked many features and wasn't ready for prime time. WP7.5 brought in basics like copy and paste, multitasking and Wi-Fi tethering. The young OS showed a lot of promise, in the Lumia 520 flashback we lauded it for how fast it ran on slow hardware (well, slow for Android).
The Metro UI (later renamed) was based on tiles – a mix between shortcuts and widgets. Tiles were animated and could show several pieces of relevant info. Both users and developers had fun with that.
Our favorite though sadly forgotten feature of the OS was Hubs. The Pictures hub, for example, pulled photos from the phone, Facebook and Windows Live, creating a combined gallery of your offline and online photos.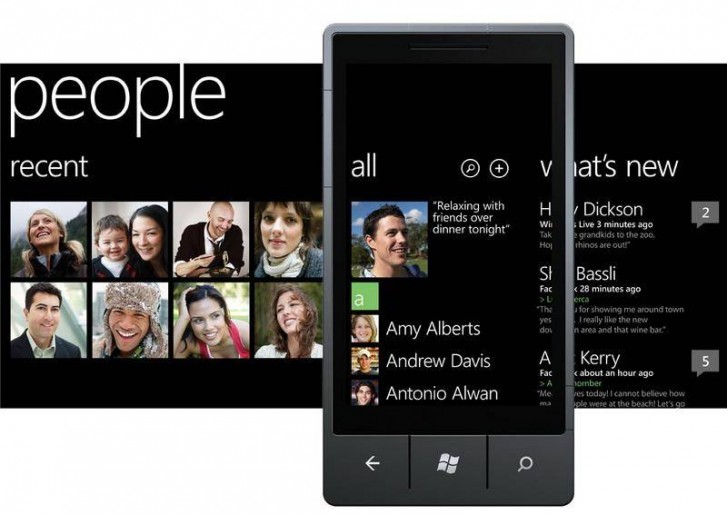 Even better was the People hub, which was more than a mere phonebook – here you could see status updates from Facebook and Twitter, without having to open the Facebook or Twitter apps. That's what hubs were, combining related functionality (e.g. gallery or messaging) in one convenient place, instead of having you constantly jump between several different apps.
Microsoft saw what other makers did to Windows Mobile and to Android, so it forbade them from creating custom skins for Windows Phone. That meant that HTC and Samsung couldn't push Sense and TouchWiz, which is at least a small part of the reason neither company cared much about the platform. Not a problem for Nokia, which worked closely with Microsoft on the design.
Still, Microsoft secured a popular game in an attempt to promote the WP7 platform – Angry Birds came to WP7 – developed by fellow Finns from Rovio.
Angry Birds turned 10 this week, by the way. More joined in, WP7 was getting a new popular game every week for a while, including Doodle Jump and Plants vs. Zombies (remember those?).
The phone got a good start, but ultimately it didn't sell well, despite becoming popular in Finland and the Netherlands and Germany. Even so, it couldn't stop the slide of Nokia's market share.
The Nokia Lumia 800 was not perfect, but it was a very polished effort, considering that it was the first of its kind. The OS showed promise, but had a lot of growing to do and it would eventually outgrow this Lumia – Microsoft's stringent specification guidelines meant the phone didn't have the processing power for the newer Windows Phone 8.
?
I wish nokia 1520 with 8gb ram and borderles display
P
Shifted to the 950 after they quit support on the 800. Bought a new phone about 1 week ago, first not Nokia (I count the 950 as one) since my first phone. First android, I'v had a corporate Apple and Blackberry. Within 2 days the android got me annoy...
a
"Microsoft was very strict"
ADVERTISEMENTS