The Samsung Galaxy S10 is the Korean giant's upcoming flagship device, which is already well rumored around these parts. The latest piece of news is an alleged filing for a Samsung Galaxy S10 Plus device that is being certified for the Russian market.
The listing doesn't reveal any new specs about the flagship, but we do see three different model numbers signifying variants of the Galaxy S10 Plus: SM-G975F / DS SM-G975F / SM-G975X. In the past, all "Plus" variants have usually ended in "5", so we'd expect the regular Galaxy S10 model to be SM-G970x (where the "x" depends on the region). As for what the actual "X" variant represents is unknown at this time.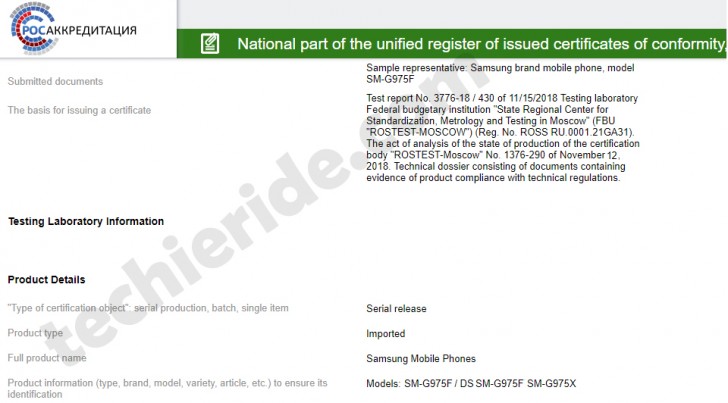 Source: Techieride.com
It's still too early to tell the final specs and design of the Galaxy S10, but rumors so far have suggested that the S10 will come with either a Qualcomm Snapdragon 8150 or Samsung's Exynos 9820 depending on the region. Other rumors include 5G connectivity, a 512GB storage option, and analysts claim that a fully-loaded tier will have a doubtful 12GB of RAM.
Perhaps since the 5G version is said to have a ceramic back, this could be the "X" variant that we saw in the certification document. Otherwise, the Galaxy S10 will have an updated array of multiple cameras. The S10 Plus is said to have a display between 6.4-inches and 6.7-inches diagonally.
As for a release date, Samsung usually releases the Galaxy S device sometime between February and April. We can always expect a release at the MWC in Barcelona (which usually takes place in late-February), but lately we've noticed a trend of bigger smartphone makers holding major events independent of a huge trade show. My guess is we'll see Samsung announce this guy in New York City.
Source | Via (Translated)
Man of course they are worst but they are at top positions but not number one. Thats belongs to glass sandwich pixel 3 xl. Never in my life saw anything worse. Even toshiba G450 looks gazzilions times better.
No no no my friend. S9 is fine with me i mean its back i hate curved fronzt screen but back panel is fine. But Note 9 is curved which i really dislike and the weird T camera position or like a brick from tetris no thanks.
D
Sometimes what is old is very good yet simple which to some of the so-called "NEW GEN PEOPLE" somehow is like a stick up their hole but I don't understand why...
ADVERTISEMENTS