Google has now officially rolled out the Play Store design to everyone across all Android devices. The design saw a softer release a couple of days back where it was rolled out for some devices but is now available to all.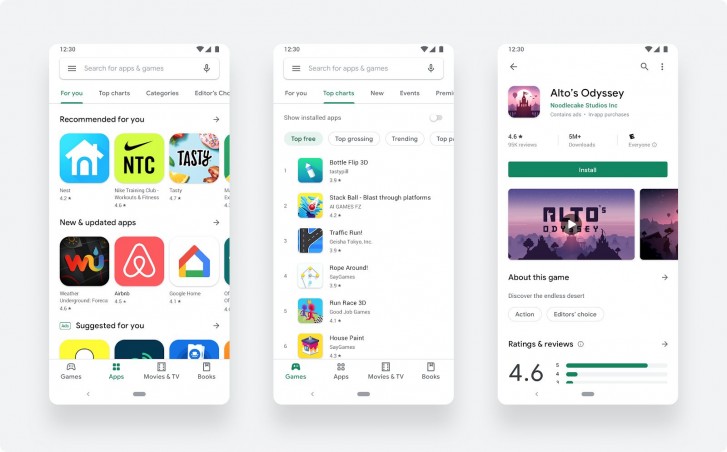 The new Play Store design is based on the revamped Material Design that was showcased during Google I/O last year. Over the months, Google has slowly but surely been implementing it across all its properties and it's finally the Play Store's turn to get the makeover.
The main change in the design is the repositioning of the navigation tabs. Previously, these were located at the top and were designed back when phones used to be smaller. However, on bigger phones these are harder to reach. The new Material Design suggests placing important navigation tabs at the bottom (similar to iOS) and so now the main app categories are at the bottom. On tablets, the categories appear on the left in landscape mode.
The sub categories are still at the top but these aren't as frequently used so it's less of a hassle. You can no longer scroll sideways to move through them, which is good since the app already has a lot of side scrolling elements.
Apart from that, the app is now primarily white, with the categories only adding slight accent colors. While this does make the app look overwhelmingly bright, a uniform white design will look much better when flipped to black using the dark mode in Android Q.
Other changes are more subtle, such as more spaced out elements, no segmentations between items, increased white space and a new typeface (Google Sans), which gives the app overall a fresh and modern look.
The update is now out for everyone so if you have an Android device launch the Play Store to try it out for yourself.
P
Fazool useless new design same as previous playstore no major changes...NO DARK MODE etc
?
You're right. Play Store is better.
ADVERTISEMENTS