Update: The 13MP image was captured with the front-facing camera of the Sony Xperia X. Clues were abundant - so much so that we resorted to deliberately asking you to ignore them, but those who called our bluff were right.
Today, we got to spend some quality time with a high-end smartphone, which has already been announced, but is yet to launch on the market. And we're not going to tell you which one it is. Instead, we'll let you ponder on it for a while.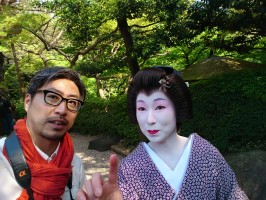 Guess the phone that took this shot
The piece of evidence we're ready to give you is a camera sample. Its full native resolution is 13MP - and as you can see, its image quality is quite high. We have not resized it but we've stripped it of all identifiable information.
The other bit that you need to know to make the hunt more interesting is that the photo originates from a high-end phone, which doesn't come from a Chinese brand. And no, we're clearly not referring to the HTC 10 - that would have been way too obvious.
Try disregarding the subjects of the photo as using them for clues might take you in the wrong direction. Instead, just focus on the tips we gave you above.
Hit us up in the comments with your thoughts on which smartphone that might be and whether you like the image quality as much as we do. The big reveal will take place sometime tomorrow and we'll update this article.
?
I answered LG X cam. While there was no mention of the word, flagship, from top to bottom of the whole article, I guess I overlooked a clue stating "that the photo originates from a high-end phone." At least during my search, I was ignoring anything ...