Design
Handling the Honor 8X feels very familiar. This is not necessarily criticism in any way, but it's also not particularly exciting either. Measuring 160.4 x 76.6 x 7.8 mm and tipping the scale at 175 grams, the Honor 8X sits pretty nicely in the hand. Not really thick or particularly heady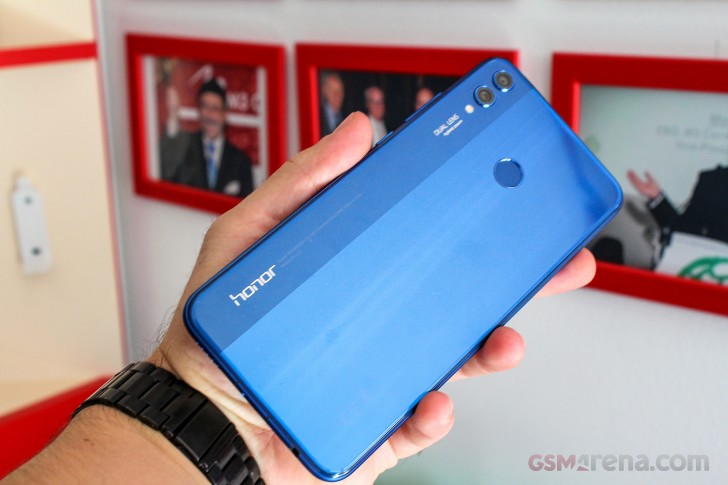 The body feels quite sturdy, but at this price point, some corners have obviously been cut. Instead of Gorilla Glass, the back of the phone is made of plastic. The latter is definitely more prone to scratches, so a case is advisable. On the flip side, however, the back plate does feature a rather interesting design that kind of grew on us quickly. The left portion of the area, housing the dual camera setup features a different texture and a less-glossy finish. A nice little detail to set it apart from the Huawei/Honor crowd. There are a total of four available color options, including Black, Blue, Red and Pink.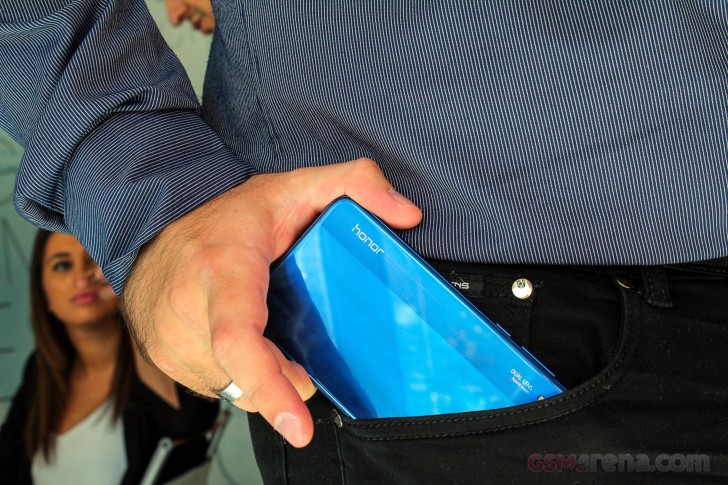 The fingerprint reader occupies its typical position on the back side of the Honor 8X. It is a really snappy and accurate reader too, boasting unlock speeds as low as 0.3 seconds. In case fingerprints are not your biometric cup of tea, Honor has also included face unlock. However, that does take twice as long, averaging around 0.6 second unlocks.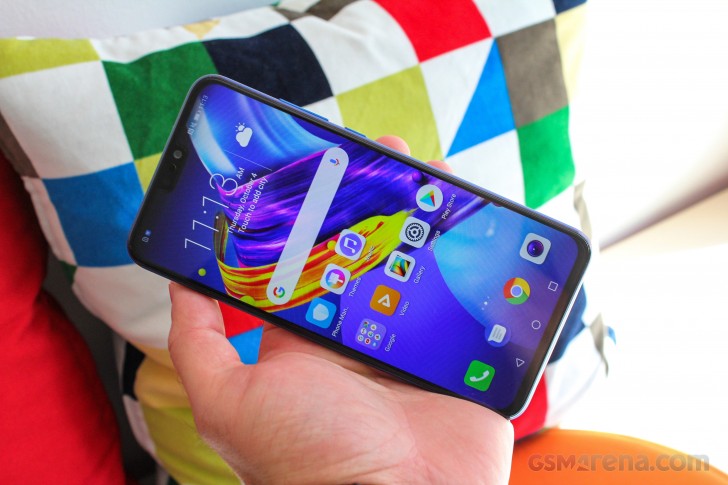 Of course, making a huge "slab" like the Honor 8X entirely from plastic is not really a great idea, in terms of durability. Luckily Honor opted for the better approach of sandwiching a metal main frame between the front and back panels.
That way, even though the Honor 8X is clearly part of the trendy, extra-tall smartphone crowd and made with a lot of plastic, it has little to no flex.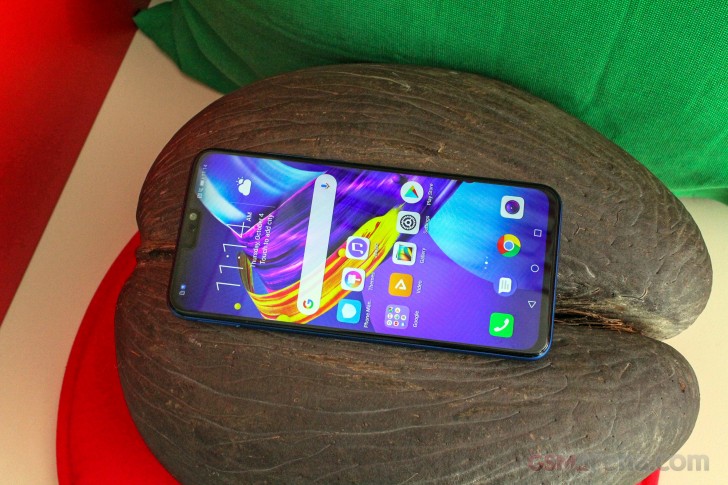 The front of the Honor 8X also offers little in the way of surprises. It is nice to see a fair bit of bezel-slimming effort on Honor's part. Especially at this price point. The same goes for the display notch. Don't get us wrong, the way it cuts into content is still pretty annoying, but it does appear to be relatively smaller than the cut-outs on some of its Huawei and Honor siblings.
On to a quick tour of controls then. Nothing out of the ordinary, really. On the right - a power button and volume rockers. Both nicely textured, well defined, satisfactory "clicky". No complaints there. On the left - a tray, sitting quite flush with the rest of the frame. Though, it is just a bit off, in terms of color.
Nitpicking aside, we really appreciate the fact that said tray can house a duo on Nano SIM cards, as well as a microSD card, all at the same time. No hybrid setups and compromises in sight. The top side of the Honor 8X is practically empty, only housing a small secondary microphone. On the bottom - the main microphone, single speaker and a 3.5mm audio jack. Pretty great setup, only partially spoiled by the choice of a dated microUSB 2.0 port. Still, reminding ourselves of the price tag make this a lot easier to swallow.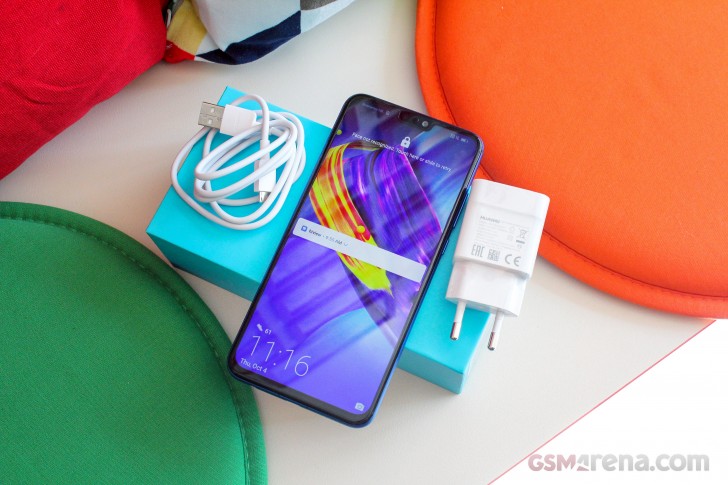 Plus, if you're not really in a hurry while charging or transferring data, the interface is still plenty fast. Speaking of charging, Honor or rather Huawei, judging by the branding on the unit we encountered, also includes a nice thick USB cable and a standard 10W (5V@2A) wall adapter in the box.
Display
We do feel obliged to say a few words about the Honor 8X's display as well. Although it's not really overly impressive in any particular way. We still find 1080 x 2340 pixels to be perfectly adequate on a 6.5-inch diagonal. The LCD looks sharp and detailed, but you do have to check back in the full review for particulars, like brightness, contrast and color accuracy.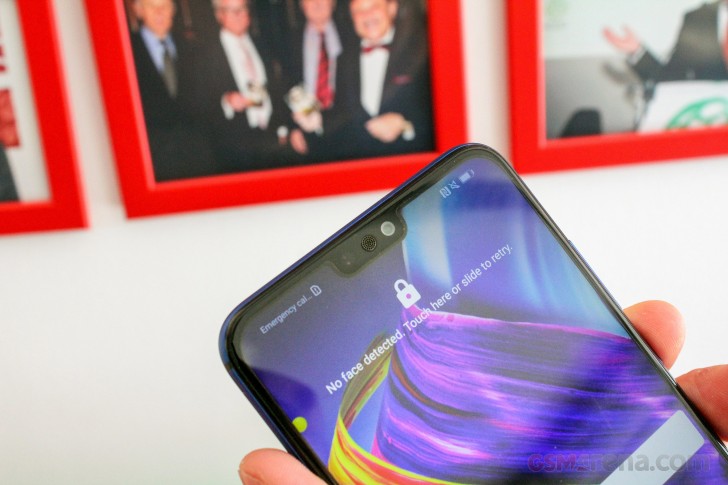 Mind you, like many of its siblings, the Honor 8X features a particularly tall or wide, depending on which way you look at it, aspect ratio - 19.5:9. Huawei often points out the fact that this comes pretty close to a standard cinematic video ratio. While technically true, we have a few issues with that. Namely the notch, cutting into the video, kind of making the aspect kind of a moot point. And then there is the lack of a large quantity of easily accessible cinematic footage on mobile, in the first place.