EMUI 9.1 on top of Android 9 Pie
The Honor 9X boots EMUI 9.1, which is based on Android 9 Pie. It has all Google services and complete access to Play Store. The Huawei P Smart Z has been certified to receive Android 10 and EMUI 10, which means the Honor 9X is going to be treated the same way.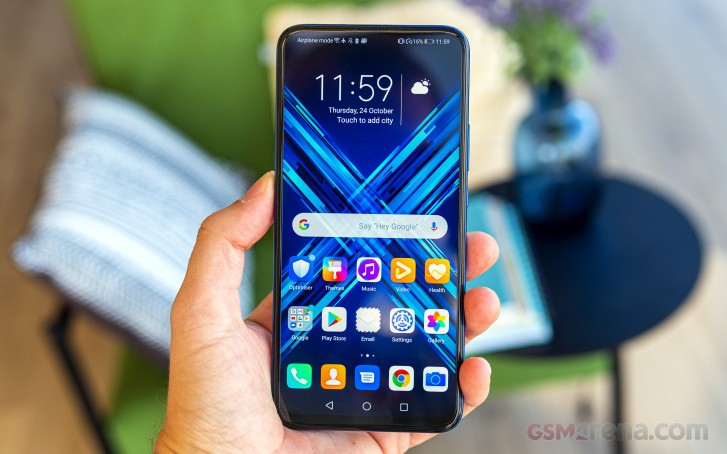 The Honor 9X has a rear-mounted fingerprint scanner, and it's among the best in terms of speed and accuracy. Face Unlock was not available on our Honor 9X.
Like all EMUI-driven devices, you can set up a magazine lockscreen style that changes the picture every time you wake up the screen. Sliding from the bottom will bring out quick shortcuts to some commonly used utilities. As usual, we found it to be useful and a bit annoying at the same time because there were times when we just wanted to unlock the phone, but we brought out the menu instead.
On the homescreen, you will find all of the installed and system apps, but there's a toggle in the settings menu that lets you choose between the standard layout or a homescreen with an app drawer. It's a personal preference, and it's good to be able to choose.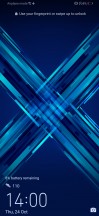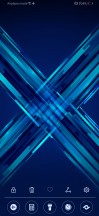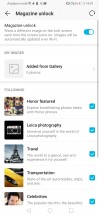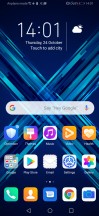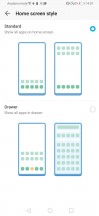 Lockscreen • Tools • Magazine unlock • Homescreen • Homescreen style
Swiping to the right from the homescreen will bring up your Google Feed while swiping down from an empty area lets you search in your apps and contacts. On other makers' launchers that last action could bring down the notification shade, but not here.
You can, however, pull down the shade by swiping on the fingerprint reader, then double-tap to dismiss all notifications and swipe back up to hide the shade - no more reaching for the top bezel when using this tall 19.5:9 screen. This is a setting that you need to enable in the fingerprint ID section of the settings menu, it's not on by default.
The notification shade itself is nothing out of the ordinary. It can fit three rows with five quick launch icons for each row and right under the icons, you will find the screen brightness slider.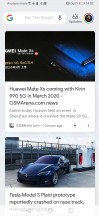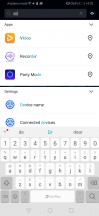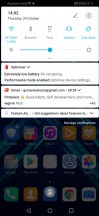 Google Feed • App/contacts search • Notification shade
Multitasking is a familiar affair. Holding the Recent key will let you activate the split-screen mode. You could even have a video playing on top of the two windows if for some reason you find that useful.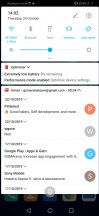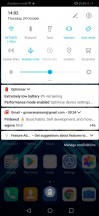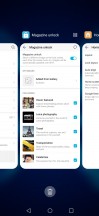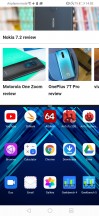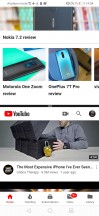 Notification area • Toggles • Recent apps • Split screen • Split screen
As we've seen on other recent Huawei/Honor devices, on the 9X, you can opt for gesture-based navigation if the classic navbar is too 2017 for you. It goes like this - swipe up for Home, swipe up and stop midway for Task switcher, or swipe from the left or right edge of the screen for Back.
From the phone manager app, which is now called Optimiser, you can access shortcuts to storage cleanup, battery settings, blocked numbers, Virus scan powered by Avast, and mobile data usage.
Huawei's Music app offers a way to listen to stored MP3s, while Huawei's Health app offers Google Fit syncing and step counting. The gallery is an entirely custom job, too, but it has the usual chronological and albums views plus an AI-powered highlights selection. There's a file manager app and a note-taking app. And if you don't like any of those - there is an abundance of alternatives in the Play Store.
FM radio support is available on the Honor 9X and you get an appropriate app preinstalled as well.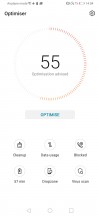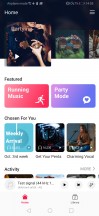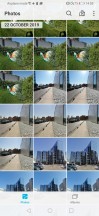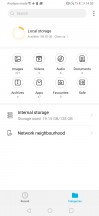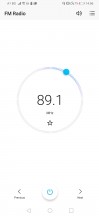 Optimiser • Music Player • Gallery • Files • FM radio
Performance and benchmarks
The Honor 9X is powered by Huawei's own midrange Kirin 710F chipset. It's made on a 12nm process (its efficiency was already proven in the battery chapter), and it features an octa-core CPU in a 4x2.2 GHz Cortex-A73 & 4x1.7 GHz Cortex-A53 configuration. The GPU is a Mali-G51 MP4.
The international Honor 9X is available only with 6GB of RAM.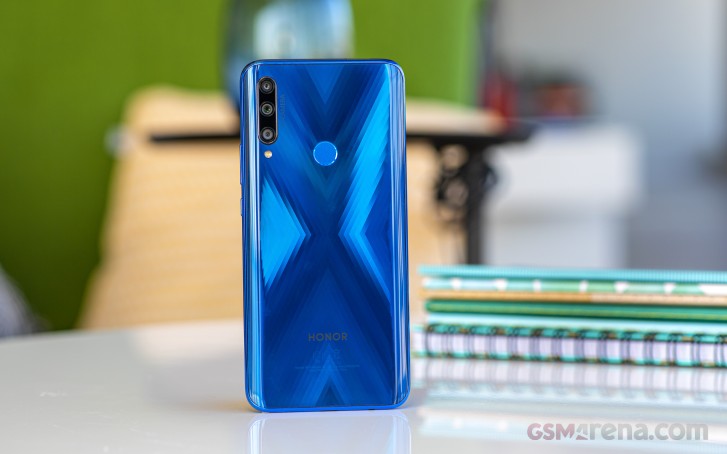 The Kirin 710F is the same chip as Kirin 710 specs-wise. The F stands for FCCSP or Flip-Chip Chip-Scale Package and means the 710F chip has a different integrated circuit package than the first-gen 710 SoC. But as far as performance and specs are concerned - they should be the same.
Huawei has made its Performance mode available to anyone and you can find the switch in the Battery settings of the Honor 9X. The Performance mode may offer a small speed boost in some instances (mostly in raw CPU power).
The good news is the Kirin 710F doesn't make the Honor 9X hot no matter which battery mode is active and how many benchmarks we ran. We got identical scores across all tests in both Balanced and Performance mode and that's just great. You can leave the phone in Balanced Mode and you will still get the maximum punch when necessary.
The performance of a single A73 core is nothing impressive these days - it delivers enough processing power and will do for a smooth experience, but there are better cores out there already.
GeekBench 4.1 (single-core)
Higher is better
Oppo Reno2
2547
Xiaomi Mi 9T
2537
vivo V17 Pro
2382
Realme XT
1899
Xiaomi Mi 9 Lite
1851
Samsung Galaxy A50
1715
Honor 8X
1618
Huawei P30 Lite (perf. mode)
1576
Honor 9X
1559
Realme X
1475
Samsung Galaxy A30
1319
The multi-core test shows the Kirin 710F processor does offer the same performance as the Kirin 710 within the Honor 8X. So, as far as CPUs are concerned - the Honor 8X and 9X are on par.
GeekBench 4.1 (multi-core)
Higher is better
Oppo Reno2
7001
Xiaomi Mi 9T
6863
vivo V17 Pro
6629
Realme XT
6102
Xiaomi Mi 9 Lite
5989
Realme X
5915
Honor 8X
5651
Huawei P30 Lite (perf. mode)
5549
Samsung Galaxy A50
5396
Honor 9X
5345
Samsung Galaxy A30
4146
The Mali-G51 MP4 is still a good GPU and is equipped well for balanced and sustained performance. It is not the most powerful GPU in the mid-range - the latest Xiaomi and Realme phones easily double the Honor 9X scores, but what you'd get here will be mostly enough for smooth experience.
GFX 3.1 Manhattan (1080p offscreen)
Higher is better
Oppo Reno2
30
Xiaomi Mi 9T
27
Realme XT
26
Xiaomi Mi 9 Lite
23
vivo V17 Pro
17
Honor 9X
14
Honor 8X
14
Huawei P30 Lite (perf. mode)
14
Samsung Galaxy A50
14
Samsung Galaxy A30
8.1
GFX 3.1 Car scene (1080p offscreen)
Higher is better
Oppo Reno2
17
Xiaomi Mi 9T
16
Realme XT
15
Xiaomi Mi 9 Lite
13
Samsung Galaxy A50
9.2
vivo V17 Pro
8.8
Honor 9X
7.7
Huawei P30 Lite (perf. mode)
7.7
Honor 8X
7.6
Samsung Galaxy A30
4.5
3DMark SSE 3.1 Unlimited
Higher is better
Oppo Reno2
2573
Xiaomi Mi 9T
2329
Realme XT
2284
Xiaomi Mi 9 Lite
1959
Samsung Galaxy A50
1353
vivo V17 Pro
1221
Honor 9X
991
Huawei P30 Lite (perf. mode)
988
Samsung Galaxy A30
587
The compound AnTuTu test returned a good score although not an impressive one.
AnTuTu 7
Higher is better
Oppo Reno2
214097
Xiaomi Mi 9T
211915
Realme XT
185193
vivo V17 Pro
176791
Xiaomi Mi 9 Lite
175478
Samsung Galaxy A50
144574
Huawei P30 Lite (perf. mode)
141600
Honor 9X
140362
Honor 8X
137276
Samsung Galaxy A30
96550
Obviously, the Honor 9X is not the most powerful smartphone among its peers. It is as powerful as the Honor 8X and will do for lag-free Android operations and stutter-free gaming. This doesn't mean you won't experience a hiccup here and there, but it will be occasional.
The Honor 9X enjoys a good passive cooling system and we had no issues whatsoever - we observed no hot spots and no throttling.