Eine kleine Nachtmusik
HTC 7 Mozart review: Eine kleine Nachtmusik

8MP snapper and Xenon flash are far from impressive
The HTC 7 Mozart has an 8MP autofocus camera with a Xenon flash that snaps photos with a maximum resolution of 3264 x 2448 pixels.
The camera UI is pretty simple – you have your viewfinder and some controls on the right. From top to bottom they are the still/video camera toggle, virtual zoom buttons and an extended settings menu.
A handy trick for checking out the last few photos is that a side slide to the right opens the last picture shot and a slide to the left brings back the camera's live view instantly.
The extended settings menu offers control over resolution, metering mode and flicker adjustment and also effects (fewer than the Photo Enhancer effects) and also Scenes presets.
The shutter key can wake the phone with a single press – that is unlock it and start the camera. But that feature cleverly doesn't trigger if there's something in front of the proximity sensor – like the insides of your pocket or purse.
As for the camera performance, the Mozart turned out to be the worst 8MP cameraphone we've ever reviewed. The post-processing is trying much too hard to hide the digital noise. Fine detail is completely gone and photos are quite soft, despite the sharpening algorithm, which creates pronounced artifacts along edges. Color balance occasionally tended towards green or blue.
Here are some camera samples so you can judge yourself:
The Xenon flash is so small and weak that it's only good at short to medium distances. Low-light shooting is hindered by how the flash works – it doesn't light up when the phone is focusing (even in complete darkness) and only fires when taking the photo. Still, the auto focus didn't have any issues even in the dark.
Here's a scene we shot with both the HTC 7 Mozart and the Sony Ericsson Satio using their xenon flashes as the main source of light. Both images have been downsized to 2MP size. As you can see, the 7 Mozart has pumped the sensor sensitivity (ISO) quite high to compensate for its poor flash power. Not to mention it has used an incorrect white balance resulting in an overall bluish tint of the image.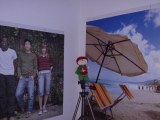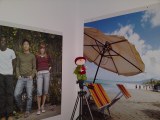 HTC 7 Mozart xenon flash performance compared to Sony Ericsson Satio
Photo quality comparison
We've also added the HTC 7 Mozart to the database of our Photo Compare Tool. The Tool's page has a quick how to guide and also what to look for.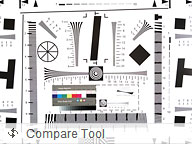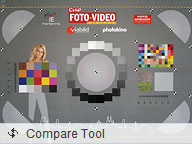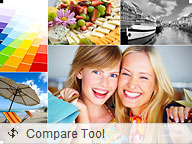 HTC 7 Mozart in the Photo Compare Tool
720p HD video recording
The video camera interface is identical to the still camera one and has plenty of features too. You can calibrate contrast, saturation and sharpness, change the white balance or exposure compensation and also add image effects. Of course, you cannot use the Xenon flash as a video light.
You can record in three resolutions: QVGA, VGA or 720p. The camera defaults to VGA, which is frustrating – if you forget to set it to 720p, the videos you thought were shot in HD will be at the much less impressive VGA resolution.
The video recorder does a decent job. There's not much fine detail in the frames though and we suspect upscaling might have a role to play (note the jaggies on the thin branches). There is a slight stutter when things start moving fast as well.
Here's an HTC 7 Mozart video sample: 720p@25fps.
Video quality comparison
The HTC 7 Mozart was also included in our Video Compare Tool database. Check it out – the tool's page includes a quick walkthrough on how to use it and what to look for.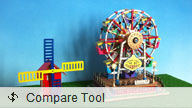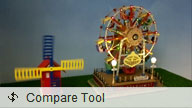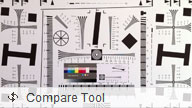 HTC 7 Mozart in the Video Compare Tool
Connectivity: it takes a hack to enable mass storage support
The HTC 7 Mozart has quad-band GSM/GPRS/EDGE support and dual-band 3G with HSPA (7.2Mbps downlink and 2Mbps uplink).
The local connectivity is covered by Wi-Fi b/g/n and Bluetooth 2.1 with A2DP. Bluetooth is currently limited as to what it can do – there's no file transfer support.
Syncing with a computer is done with the Zune computer application. It's the only way to transfer files directly between your computer and your Mozart – Windows Phone 7 doesn't support Mass storage mode. Zune supports syncing over USB and Wi-Fi. There's a Mac version of Zune in the works too. You can check our detailed review of the Zune software here.
There is a registry hack to enable Mass storage, which is relatively easy (you need to change 3 values in the registry) and the internal folder structure that WP7 uses is fairly straightforward.
Another syncing option is the cloud. SkyDrive is a free Microsoft service that gives you 25GB of cloud storage. You can even have your photos automatically uploaded as soon as you snap them.
Web browser still lacks support for both Flash and Silverlight
Internet Explorer on Windows Phone 7 is the best mobile IE yet. But that doesn't do it justice – it's actually a huge leap forward compared to version 6. Coupled with the big screen of the HTC 7 Mozart, it will make you think twice before buying a tablet.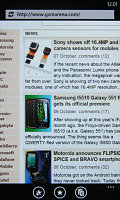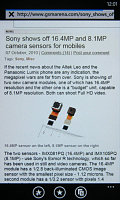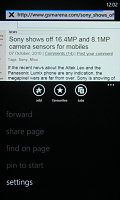 Browsing around GSMArena.com with the new Internet Explorer
Page rendering is perfect and fast, as are panning and scrolling. For zoom, you have double tap and pinch zoom. As an extra guide for navigation there's the Find on page option. Flipping the phone in landscape orientation clears the onscreen controls and gives the whole screen to the webpage.
The browser can handle up to 6 tabs open at once. It's a reasonable limit for a mobile device, but tab-lovers might be disappointed. Anyway, even with 6 tabs open the HTC 7 Mozart zipped through webpages.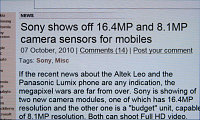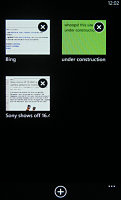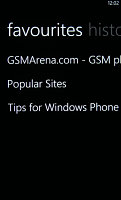 Landscape mode • multiple tabs are supported • favorites and history
History and favorites are supported and you can even pin a favorite site to the homescreen. Another handy option is to let Bing suggest sites as you type in the URL and Internet Explorer will also suggest sites from the history.
There are some things missing though – Flash is one, but we were at least hoping for Silverlight, which didn't work either. Saving files is problematic too – you can only save files that the OS can handle. Text reflow is another feature we missed – if you zoom in as much as possible to make fonts readable, you'll have to pan left and right to read the text.
YouTube is obviously not supported and the current YouTube app is just a bookmark and nothing more. There are alternative browsers in the Marketplace but they still use IE for rendering (so they don't have Flash or Silverlight either).