Web browser
The HTC Desire 816 has a Sense-ified version of the stock Android browser and Chrome out of the box. It packs the usual features of Incognito tabs Find in page and Desktop view. Note that GIF animation needs to be enabled from the settings.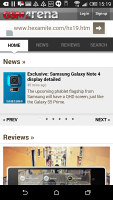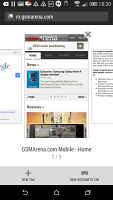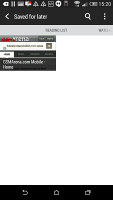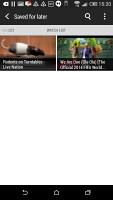 Stock browser • tabs • pages and videos saved for later consumtion
Besides the usual bookmarks, you can keep a Reading list of pages to read later and a Watch list of videos. Pages are saved on-device so they can be read offline, but videos are not. The Watch list feature works on sites like YouTube and Vimeo. It detects multiple videos per page (so you can add them all) and when you're ready to watch it shows just the video with no distractions from the page it was on.
Google Chrome is becoming the most popular mobile browser should be fairly familiar. It has advantages over its vanilla buddy, including switching between tabs with a wide swipe from either the left or right of the top bar.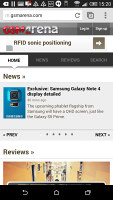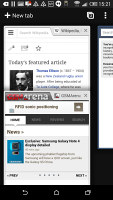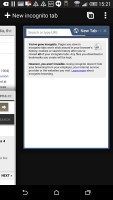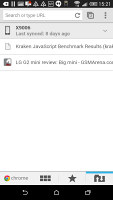 Google Chrome • tabs • incognito tabs • syncing with other devices
Chrome has Incognito tabs, too. Speaking of tabs, it can sync what you have open on other devices (desktop, tablets) with the phone. This feature also syncs your bookmarks and favorite sites and can remember passwords and login data.
The Reduce data usage option sends web pages to be compressed on Google's web servers before loading them on the device to save data and speed up slow connections. This doesn't work for SSL-protected pages and Incognito tabs for privacy reasons.
Other pre-installed apps
The HTC Desire 816 comes with Polaris Office 5, which can view and create Word, Excel and PowerPoint files, it can display PDFs too. The app handles files stored locally along with ones in your Google Drive account. The View Together option lets you do a presentation on multiple devices by connecting them together wirelessly.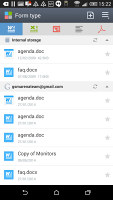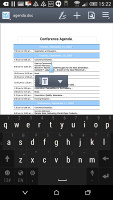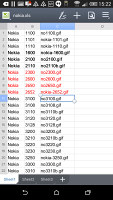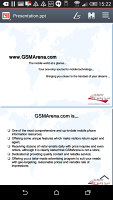 Polaris Office 5 with Google Drive integration
HTC has skinned the calendar to match Sense 6 looks. Adding an event lets you specify time (with a warning if there's a conflict with another event), who will attend and where the meeting will be held. Multiple online calendars are supported.
The Tasks app is another way to organize time. It can handle multiple separate lists of tasks and syncs with your Google account. Each task can have a due date and a location associated with it. Map view lets you easily find nearby tasks, though we would have loved a "Navigate to" button here.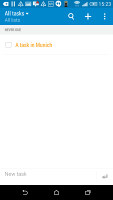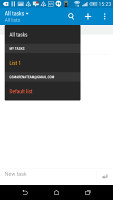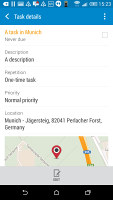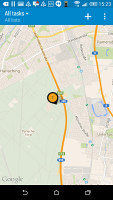 HTC Tasks • multiple lists are supported • putting tasks on the map
HTC Backup can do manual or scheduled backups of your apps, messages (texts and emails), contacts and accounts (mail and social). The data is sent either to Google Drive or Dropbox and you can limit the app to transfer over Wi-Fi only.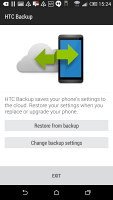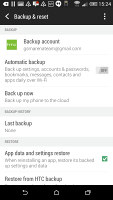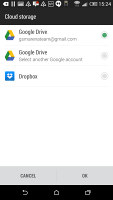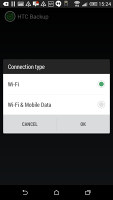 HTC Backup • backup settings • backup location • Wi-Fi only data transfer
The alarm clock application can handle multiple alarms, each with its own start and repeat time. The stopwatch and timer are self-explanatory.
HTC also preloaded Stocks and Weather apps powered by Yahoo! And AccuWeather respectively.
Google Maps is the default navigation app and is the only one a typical user needs. It allows you to download offline maps of an area and even plan routes without a data connection. It can plan driving, public transport, cycling and walking routes. With a connection it will also display traffic alerts.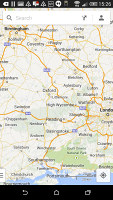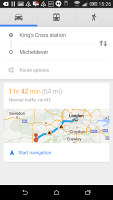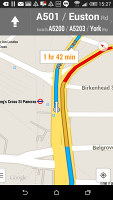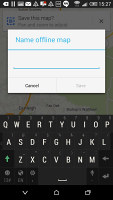 Google Maps • planning a route • navigating • saving part of the map for offline usage
Finally, Google Now integrates with your Google account and can access your daily routine, internet searches, email, etc. and give you information relevant to your interests and daily needs.
It provides traffic information to your work or home, knows the scores of sports teams you follow and gives you the weather forecast for your location. It's great for at-a-glance info, but can handle voice input as well. It also has a dedicated homescreen/lockscreen widget.
The HTC Guide app is an excellent app for beginners. It contains tips and help, troubleshooting info and a display of the vital phone stats the support call center might ask you about. The Phone health option offers some self-help tools like running diagnostic on individual components (speakers, backlight, buttons).
The app will also help you manage the storage with a handy option to clean unwanted files and trackers for call minutes, texts and data plan megabytes.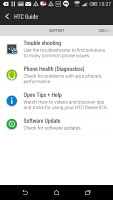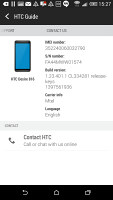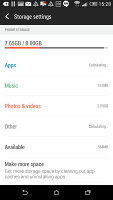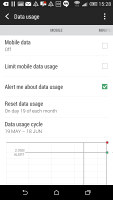 HTC Guide • vital info • managing storage • tracking voice call and data plan usage
Another great support tool is Android Device Manager. It's available for all Android devices with a Google account can help you find your Desire 816 by ringing it and if it's not at the house, by finding it on the map. If it's stolen, you also have the option to lock the device and delete all data (so make sure you have HTC Backup set up so you don't lose your data).