Undercover flagship
HTC Desire Eye review: Undercover flagship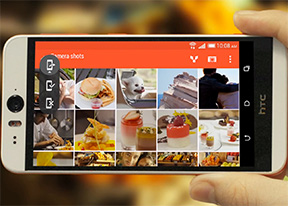 Phonebook
In the People app, you get the dialer, contacts, groups (including favorite contacts), as well as a call log. You can reorder tabs and remove the ones that you don't need (Groups or Call history).
Selecting a contact displays the basic details: name and photo, numbers, emails and such. That's just the first tab - the other tabs hold further details and means of communication, including email and a call log.
The second tab holds the texts, emails and call history between you and the given contact. The next one displays a contact's social networking updates.
Telephony
The dialer on the HTC Desire Eye combines your keypad, recent call list and contact list in one application accessible via a single icon. You switch between the view modes with side-swipes. There's smart dialing and it works as well as expected. Once you start typing on the keyboard, contacts will be filtered by name or by phone number. You can use a QWERTY keyboard for searching as well.
The smartphone packs a neat set of call-related tricks such as automatically silencing the ring of an incoming call just by putting the phone face down or raising the volume if the device senses it's in a pocket.
As for call quality we can't complain with the HTC Desire Eye. The sound from the earpiece was clear and sufficiently loud and callers on the other end said we sound natural and clear.
The BoomSound enhancement is constantly on when you are listening to something via the loudspeakers.
The BoomSound speaker loudness isn't all that impressive. The HTC Desire Eye didn't perform very well when it came to mids or vocals. The only place where it was able to score good loudness is the high pitch ringing. We got an overall Average score when we measured its loudness with our digital loudness meter. Check out more about our tests and our loudness test in particular.
| | | | | |
| --- | --- | --- | --- | --- |
| Speakerphone test | Voice, dB | Pink noise/ Music, dB | Ringing phone, dB | Overall score |
| HTC Butterfly 2 | 64.5 | 64.7 | 68.6 | Below Average |
| Sony Xperia Z3 | 69.7 | 66.6 | 67.2 | Average |
| HTC Desire Eye | 65.7 | 65.3 | 74.2 | Average |
| HTC One (M8) | 65.8 | 64.7 | 75.7 | Average |
| Samsung Galaxy S5 | 66.9 | 66.6 | 75.7 | Good |
| Samsung Galaxy S5 mini | 73.5 | 67.7 | 78.7 | Very Good |
| OnePlus One | 74.8 | 73.5 | 80.2 | Excellent |
HTC Desire Eye is capable of handling all sorts of messages - SMS, MMS, email. There's also Google Hangouts, which can connect you to Google contacts via either texts or video calls.
SMS and MMS messages are displayed in threads - you see a list of all conversations, each one is listed with the contact's photo, name and the subject of the last message, as well as a part of the actual message. Tapping a conversation brings up the entire message history with that contact.
Sense 6 intuitively lists all of your conversations in a single thread - whether you're texting the same person on a new number and then go back to the old one - it's all chronologically listed in a single thread.
HTC Desire Eye comes with two email apps - the traditional Gmail app and the HTC Mail app. Gmail recently received a major update, which brought material design and support for non-Google email accounts.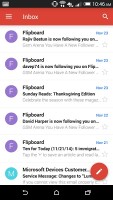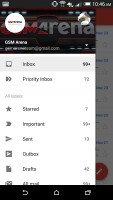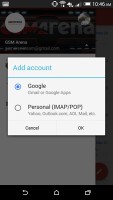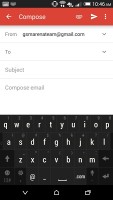 Gmail is even more talented now
The HTC email app uses a navy blue top bar and merges it with the status bar for a nice design accent.
As for typing, the Desire Eye's on-screen keyboard offers well-spaced keys, but the overlay doesn't include any gaps between them. During use we found that this is only a cosmetic feature and poses no discomfort. The 5" display diagonal offers enough space for comfortable typing.
Trace keyboard is also available. You drag a finger over the desired keys and the phone predicts what you're trying to type. It works really well but language support is limited.