We love this phonebook
The HTC Desire Z features the same powerful phonebook we first saw on the Hero. It features heavy social networking integration and manages to keep things neatly in order, even though it's juggling everything from SMS to Facebook photo albums.
Selecting a contact displays the basic details: name and photo, numbers, emails and such. What you'd notice though is that there are another five tabs and you're just viewing the first tab.
The next tab holds the text messages received from the contact – it would have been a lot more useful if it held the entire conversation, but for that you'd have to go to the full-featured Messaging app.
The third tab holds a list of emails you've exchanged with the contact.
The next two tabs is what really turns the Desire Z into a powerful networking tool. The first holds Facebook contact updates, and the other called "Albums" pulls the albums that contacts have created on Flickr and Facebook.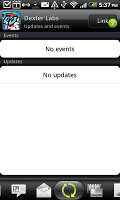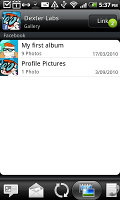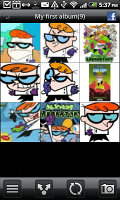 Facebook updates • Facebook and Flickr albums
The final tab shows the call history for the contact.
The entire People app (the phonebook) is tabbed too and with more tabs than the stock Android. You have all contacts, groups (including favorite contacts there), as well as a call log and "Online directories". The latter holds information for all your friends' online profiles.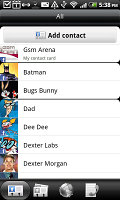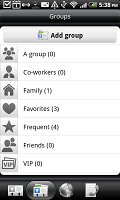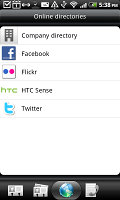 Phonebook • groups • online directories
The contact editing screen features no plus key to add a new detail of a certain type, just a delete detail key. This saves some space (one line per each category) but you have to scroll down to the bottom every time you want to add a new detail.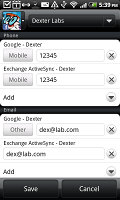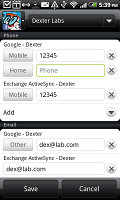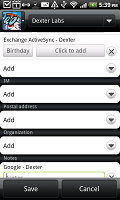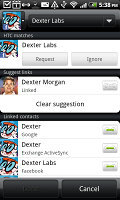 Editing a contact • Linking Dexter with his Facebook account
There is a lot of information you can store per contact as usual, and searching the phonebook is very easy – just press the search button.
If you're switching from another phone don't worry – you don't even need a computer to pull out your contacts, messages and calendar items from the old phone into your new Desire Z. The Transfer Data app supports many phones from major manufacturers and pulls the data over Bluetooth.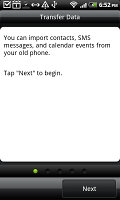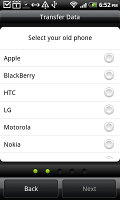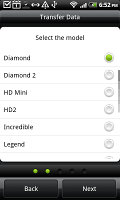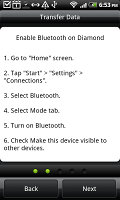 The Transfer Data app will easily copy your contacts from your old phone
It's an old trick (Symbian-powered Nokias have been doing this for ever) and most people would probably go with syncing the contacts over the cloud, but still it's a handy tool to have.
Telephony
While the in-call sound quality is crisp and loud, we did experience some reception issues with the HTC Desire Z. Sometimes it would fail to place a call or gets disrupted audio in areas of weaker signal (though not that weak).
The on-screen dialer features a keypad, a shortcut to the call log and a list of contacts beneath (you can hide the keypad). Smart Dialing is enabled and you can use the alphabet scroll too.
The alphabet scroll has an interesting change: it puts the Recent calls and Favorite contacts just before the contacts starting with A. This has consequences on contact ordering – if you've recently called Dexter, he won't show up under "D".
Thanks to the built-in accelerometer, turn-to-mute also works like a charm. You can mute the ringer by simply turning the phone face down. Another feature that works thanks to the accelerometer is Quiet ring on pickup – once you move the phone, the ringer will quiet down (but not stop). Another option is pocket mode – the ringer volume will increase if the phone is your pocket (the proximity sensor takes care of detecting that).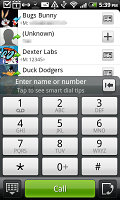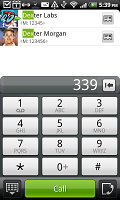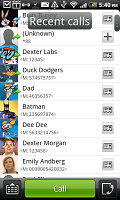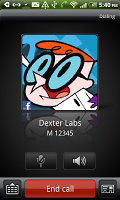 The dialer has smart dialing • calling Dexter
Voice dialing is enabled on The HTC Desire Z – just press and hold the search key.
A handy app is the Blocked Callers app – it lets you block certain callers (you can pick from the recent call list or the phonebook) and remove blocked callers from the list. It's a simple but potentially very useful utility – some Nokia Eseries phones have a similar app, though it has more options (e.g. redirects, only blocked during certain hours, etc.).
Another very handy feature is that when someone calls, their latest Tweet or Facebook update will show up – possibly reminding you what the caller wants. You can see how that can be useful.
We ran our traditional loudspeaker test and the HTC Desire Z scored Very Good. Here is how it ranks among some other handsets we've tested.
| | | | | |
| --- | --- | --- | --- | --- |
| Speakerphone test | Voice, dB | Pink noise/ Music, dB | Ringing phone, dB | Overall score |
| BlackBerry Torch 9800 | 65.9 | 65.8 | 65.5 | Below Average |
| Samsung I9000 Galaxy S | 66.6 | 65.9 | 66.6 | Below Average |
| Motorola Flipout | 69.7 | 64.6 | 69.2 | Average |
| HTC Desire HD | 69.7 | 66.6 | 78.3 | Good |
| Motorola MILESTONE | 71.1 | 66.1 | 75.9 | Good |
| Nokia N8 | 75.8 | 66.2 | 82.7 | Very Good |
| HTC Desire Z | 72.7 | 72.7 | 82.5 | Very Good |
| HTC Desire | 76.6 | 75.7 | 84.6 | Excellent |
Messaging powerhouse
The HTC Desire Z is well equipped for all kinds of text messaging – it can handle all standard types of messages like SMS, MMS and email. Social networking is covered by several apps and widgets, and there's Gtalk, which can connect you to Google's chat network and compatible networks too (like Ovi Chat).
Like on other Android phones, if you only have one SMS message, a line in the notification area displays the sender and part of the message itself. If you have two or more messages, you are simply informed of the number and the messaging menu is opened once you hit the icon.
SMS and MMS messages use the threaded layout – you see a list of all conversations, each one is listed with the contact's photo, name and the time of the last message, including a part of the actual note. Tapping a conversation brings up another list – the entire message history with that contact.
It uses contact photos too (yours and the contact's photo), so the whole thing looks almost the same as a chat app. When viewing a thread, the most recent message is placed at the bottom, just like on the iPhone.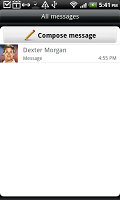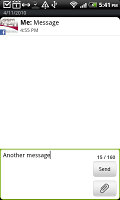 All threads • viewing a specific thread
The compose text box used to be a major annoyance – it only fits one or two lines and you can see only a small portion of what you were typing. On the HTC Desire Z, the box is much bigger – especially in landscape mode where it takes half the screen. Composing messages is much more comfortable.
To add recipients, just start typing a name or number and choose from the contacts offered – the phone will find the contact you want even if you misspell it (e.g. "drx" matches Dexter).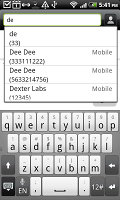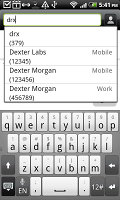 Adding recipients works even if you misspell the contact's name
A tap-and-hold on the text box gives you access to functions such as cut, copy and paste. You are free to paste the copied text across applications like email, notes, chats, etc. and vice versa.
Text selection has become very iPhone-like – and that's a compliment. When you press and hold, a "magnifying glass" appears, enabling accurate cursor movements. Text selection works the same way.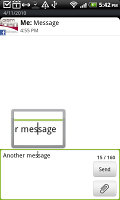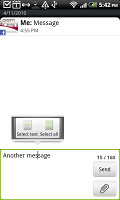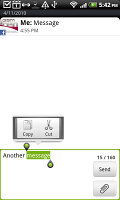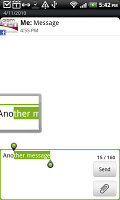 Copy, cut and paste are very iPhone-like
Converting SMS into MMS is as simple as adding some multimedia content to the message. You can just add a photo or an audio file to go with the text, or you can get creative with several slides and photos.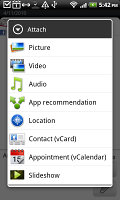 Attaching a multimedia file turns the SMS to MMS
Email
The HTC Desire Z comes with two email apps – the traditional Gmail app, which looks the same as usual, and the generic HTC Mail app, which merges all your accounts into a single inbox.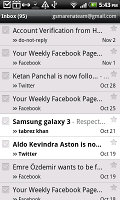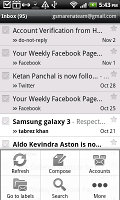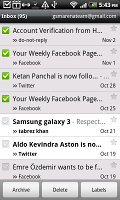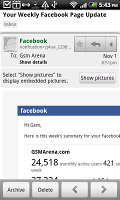 Batch operations lets you manage multiple conversations
The Gmail app features the trademark conversation style view and can manage multiple (Gmail) accounts. Batch operations are supported too, in case you need to handle email messages in bulk.
The standard HTC Mail app has been slightly tweaked up too. The general Inbox displays the last sync time, the sort order, the current email account and of course the actual messages.
At the bottom, there are several tabs that can filter the inbox: you can opt to display conversations, emails with attachments only, unread mail only or invitations. You can mark emails too – they will show up in the marked mail tab.
The conversation view tries to mimic the original Gmail client threaded view, which is otherwise missing in the generic inbox. The option to only display emails with attached files is a good one to have on hand (they are not automatically loaded by default).
The HTC email app can handle several accounts and not just from Gmail. When you add multiple accounts, you can view each inbox individually or go into the All accounts section.
Each account is color coded, so you can quickly associate each message with its relevant account.
Email sorting is possible (in either ascending or descending order) by date, subject, sender and size. The currently applied filter is displayed in the top right corner of the display.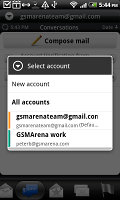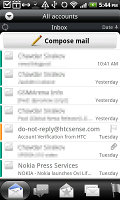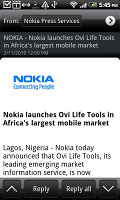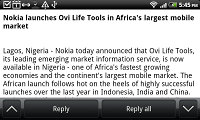 The standard mail with new looks and features • Sorting email and viewing email folders
There's hardly anything the HTC Desire Z lacks in terms of email capabilities. The settings for popular email services are automatically configured. POP/IMAP accounts and Active Sync accounts are supported.
With a hardware QWERTY keyboard, the email and messaging apps will likely see a lot of use. And it's a good keyboard – it's wide so you can easily type with both thumbs without getting them tangled and keys are nicely sized and spaced.