Effortless threaded messaging
Android and the HTC Incredible S are capable of all sorts of text messaging – SMS, MMS, email, chat and social networking messages. We'll cover those one by one starting with basic messaging.
The notification area will display a line of an incoming SMS or just the number of messages if there's more than one. You can set the notification light to signal unread messages too.
SMS and MMS messages use the threaded layout – you see a list of all conversations, each one is listed with the contact's photo, name and the time of the last message, including a part of the actual message. Tapping a conversation brings up the entire message history with that contact.
Conversations contact photos too (yours and the contact's photo), so the whole thing looks almost the same as a chat app. When viewing a thread, the most recent message is placed at the bottom.
To add recipients, just start typing a name or number and choose from the contacts offered – the phone will find the contact you want even if you misspell it (e.g. "drx" matches Dexter).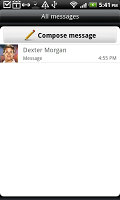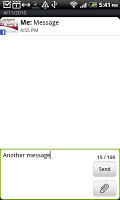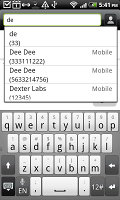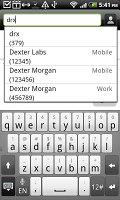 All threads • viewing a specific thread • Adding recipients works even if you misspell the contact's name
The compose text box is big and along with the virtual QWERTY, it covers quite a bit of the screen. A tap-and-hold on the text box gives you access to functions such as cut, copy and paste. You are free to paste the copied text across applications like email, notes, chats, etc. and vice versa.
Text selection is similar to what Gingerbread uses, so you're not missing out on much here. When you press and hold, a "magnifying glass" appears, enabling accurate cursor movements. Text selection works the same way.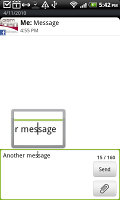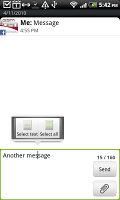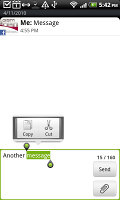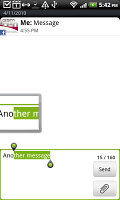 Copy, cut and paste are very iPhone-like
The text input method that the Incredible S offers is an on-screen QWERTY. While it's still not as good as a hardware one, it's the next best thing – the 4" screen has enough real estate for big, well-spaced keys, which are easy to hit. The HTC software keyboard is excellent too. Going landscape makes the keys and their spacing even larger.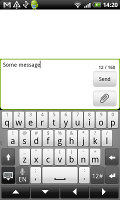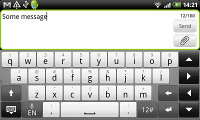 The on-screen QWERTY keyboard in portrait and landscape modes
Converting SMS into MMS is as simple as adding some multimedia content to the message. You can just add a photo or an audio file to go with the text, or you can get creative with several slides and photos.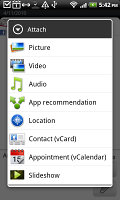 Attaching a multimedia file turns the SMS to MMS
Email has combined inbox, conversation view
The HTC Incredible S comes with two email apps – the traditional Gmail app, which looks the same as usual, and the generic HTC Mail app, which merges all your email accounts into a single inbox.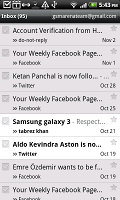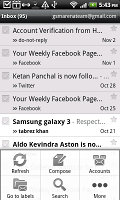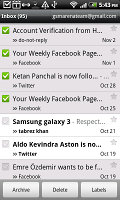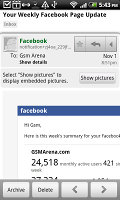 Batch operations lets you manage multiple conversations
The Gmail app features the trademark conversation style view and can manage multiple (Gmail) accounts. Batch operations are supported too, in case you need to handle email messages in bulk.
The standard HTC Mail app features several tabs that let you filter the inbox: you can opt to display conversations, emails with attachments only, unread mail only or invitations. You can mark emails too – they will show up in the marked mail tab.
The conversation view tries to mimic the original Gmail client threaded view, which is otherwise missing in the generic inbox.
The HTC email app can handle several accounts and not just from Gmail. When you add multiple accounts, you can view each inbox individually or go into the All accounts section.
Each account is color coded, so you can quickly associate each message with its relevant account.
Email sorting is possible (in either ascending or descending order) by date, subject, sender and size. The currently applied filter is displayed in the top right corner of the display.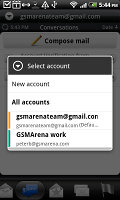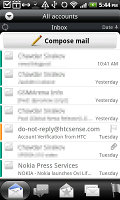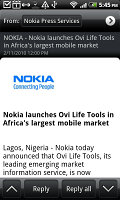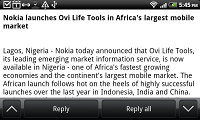 The standard mail with new looks and features • Sorting email and viewing email folders
There's hardly anything the HTC Incredible S lacks in terms of email capabilities. The settings for popular email services are automatically configured. POP/IMAP accounts and Active Sync accounts are supported.
Image gallery can read pics over DLNA too
The gallery has the usual list-with-thumbnail structure. The Albums app automatically locates images and videos, no matter where they are stored. Images and videos stored in different folders appear in different sub-galleries that automatically get the name of the folder – which is an effective file management solution.
Each sub-album has a thumbnail of the latest image. There is also a camera shortcut, but it's only available once you start browsing any of the sub-folders.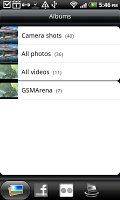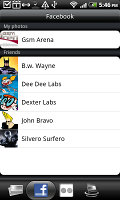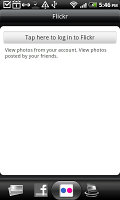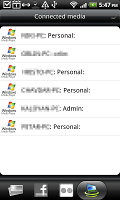 The Albums app works with Facebook, Flickr and DLNA too
At the bottom of the main album there are three virtual buttons – one for the actual folder list, another for Facebook and, one for Flickr. These two display images from either account or those posted by your friends.
And finally, the Connected media button lets you pull multimedia content from a DLNA-enabled server (your PC with Windows Media Player will do just fine).
Sharing a photo from the HTC Incredible S is very easy – tap the share button and pick your preferred sharing method. There's everything from sharing via Bluetooth or email, to posting on Facebook, Twitter or photo sharing sites like Picasa and Flickr. Direct posting of videos on YouTube is also enabled.
In the HTC Incredible S image folders you can choose between grid and filmstrip layout (flip the phone horizontally and the accelerometer will take care of the rest). You are also able to mass delete images, but still no mass copy-and-paste options.
You can't copy/paste images from folder to folder either – you'd need a proper file manager for that.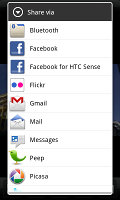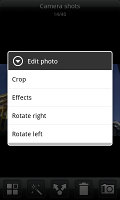 Sharing images is easy • Basic image editing tools
HTC Incredible S supports multi-touch and you can take full advantage of it while browsing your images. You can zoom to 100% with a simple double tap on the screen. The implementation here is extra smooth too.