HTC has launched the One S in its home country Taiwan but it is not the same phone being launched elsewhere. HTC has swapped the processor on this model and it now features a dual-core overclocked 1.7GHz MSM8260 Snapdragon S3 instead of the 1.5Ghz MSM8960 Snapdragon S4 on the international model.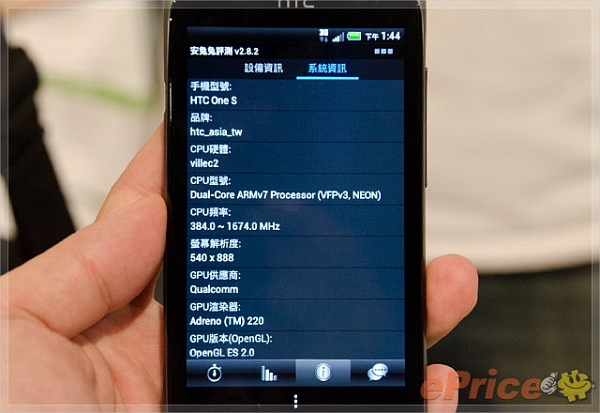 The reason for this could be the shortage of the Snapdragon S4 processor, which has been a cause for concern for several OEMs, eventually forcing them to choose from other chip makers. This is why HTC could have gone with the older generation processor. Obviously, to match the performance of the newer S4, HTC also had to overclock the S3 to 1.7GHz. ePrice who managed to run a few benchmarks on this new model noted the AnTuTu score to be on par with the international model.
HTC has been careful enough to not mention this change in their specifications, choosing to go with only "dual-core" on their spec page. We are interested to know how this overclocked processor based on the older (and less efficient) 45nm technology affects the battery life but apparently HTC says it is on par with the international model, even though the actual battery capacity is the same.
You can check out some hands-on pictures in the source link below.
E
In Malaysia, HTC launch One S with S3 processor but the price is very expensive, not much different with SGS3 & One X. Why pay more with old S3. I love this phone, plan to buy but HTC use S3. I hate this phone & HTC. How to differentiate betw...
?
The gs3 is super Amoled no matter witch version you get. If what you ate looking at just says Amoled then its because sometimes people just say Amoled instead of the whole name to keep it simple. Or someone lied.
s
In Romania also S3 and Amoled display instead of Super Amoled https://www.orange.ro/magazin-online/telefoane/htc-one-s and http://www.htc.com/ro/smartphones/htc-one-s/#specs . Very big disappoiment, I was a big HTC fun, but now I'll go with another p...
ADVERTISEMENTS