Bing search on Windows Phone
When you search on Bing, one of the things that might be offered as a relevant result is an app from the Marketplace. For example, searching for "travel" will offer a travel tool app. This feature is called App connect.
Bing also grew two new search modes - song recognition and barcode scanner. Those are features popular with apps, but with WP7.5 you get those natively as part of the OS.
The camera scanner can also snap a photo of text, perform OCR and translate it into another language.
Marketplace just now catching up
The Windows Phone Marketplace is playing catch up with the Apple Appstore and the Android Market. Currently it has north of 38 thousand apps available. It's organized into four main sections – applications, games, music and the HTC apps store. A fifth section called Updates shows up when one of your installed apps has received an update – there's an Update all button, which will save you the hassle of updating each app individually.
Anyway, each app will be listed with a short description, a rating and user reviews, and a few screenshots. If the app can use something that can potentially breach your privacy (e.g. location information) the Marketplace will let you know.
It's not as comprehensive as the Android Market (which lists just about everything the app can use) but on the upside it only warns you about the important things.
Big downloads (anything north of 40MB) need a Wi-Fi connection to work. Alternatively, you can download those jumbo apps using the desktop Zune software.
The Application section starts with a featured app, then it's on to the categories (including all and free), followed by the top apps, a list of new ones and a longer list of featured apps.
The Music section is actually the Zune Marketplace. Its structure is similar to the Application section. First, a featured artist of the week, three more featured artists, then a list of new releases, top albums and genres.
Genres themselves are separated into sections too – new releases and top artists/albums/songs/playlists. For each song, you get a 30 second preview (same as iTunes). If you have a Zune pass, you can stream the entire song, just like you would on a Zune player (it's 10 US dollars a month).
HTC apps features free HTC-created applications for Windows Phone, like the HTC Hub, Photo enhancer, Notes, the well-known Flashlight app (as seen on Android too) and more. There's a total of 10 apps there but the list should grow in the future.
The Games section is divided into Xbox Live, New, Featured and Genres, which is the categories version. A great thing about games in the Windows Phone Marketplace is the try option, which is available to many games and apps. It gives you a trial of a game before you decide to buy it.
The new and featured sections act as a what's new/hot reference.
The Marketplace on Windows Phone can be accessed via your WP device, the Zune software on your PC and the windowsphone.com website.
Search is available for the Marketplace but right now it pulls together search results from all sections – games and apps alike. Microsoft have fixed the issue where songs would get mixed up in the search too, which was annoying.
Xbox LIVE gaming
Xbox Live is at the heart of the Games hub. It carries over many features from the Xbox – from your avatar to your scores and achievements. The Spotlight feature is available too (it shows info on new stuff) and also Requests – which shows you game invites from your friends.
Anyway, the games themselves are housed in the Collection section. Nothing much to see here, the installed games are arranged in a square grid and there's a Get more games shortcut, which launches the Marketplace.
Not all games support Xbox Live – the ones that do are in the corresponding section in the Marketplace. We did test games like Need for Speed, Kinectimals, Angry birds and had no problems with the HTC Radar, the 1GHz processor and Adreno 205 GPU were more than adequate in handling more complex graphics.
Bing Maps lights your path
Bing Maps is the heart of the Windows Phone "getting around" scene, until Nokia's WP devices come along with full-fledged voice guided navigation for free via Nokia Drive.
Maps is a core part of the Windows Phone experience and there's a new feature that makes version 7.5 a must-have - driving (and pedestrian) navigation for free.
Now, it's not quite voice-guided navigation. Here's how it works: first you set up a route and listen to the first instruction, then when it's time for the next instruction, the phone will beep and highlight it. If you tap it, the phone will read it out to you, but only then.
The Maps app uses a big font with white letters on black background that make reading easy. It still requires you to take your eyes off the road though, it won't put SatNav apps out of business.
Real-time traffic information is also available.
That's not all the new Maps can do for you though. The app will locate nearby points of interest with the new feature called Local Scout and it will even show you indoor maps of malls.
Local Scout has a tabbed interface to sort the various points of interest - eat+drink, see+do, shop and highlights. You can pick items from a "I care about" list to get the relevant options only.
A really cool functionality of Local scout is you can pin places to your homescreen. So let's say you like a pub and like to check it out from time to time, read reviews, call for a reservation - it's right there on your homescreen - that's neat.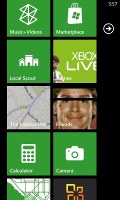 Pin a location to the homescreen
We like Bing maps and are especially fond of the Nokia maps integration coming soon - it will heat things up for Google maps. As for Nokia Drive, the full-fledged voice-guided navigation on Windows Phone, we're also eager to check that out. It could land on all WP devices some day.