User interface by Windows Phone 8
HTC doesn't have as much leeway for customization as Nokia, but there are a few touches here and there that remind us where the 8S came from. We'll point them out to you as we go along.
Overall, it's largely a vanilla Windows Phone 8 interface, which we've previewed for you in the following UI video.
The HTC Windows Phone 8S is powered by a 1 GHz dual-core Krait processor paired with Adreno 305 GPU and 512 MB of RAM. While anything less than 1GB of RAM these days may seem to be a bit on the low end, Microsoft has taken steps to minimize the WP8 memory footprint.
With Windows Phone 8 Microsoft has made several significant improvements to the Windows Phone OS, and there's no better place to start than the lockscreen.
HTC has included a custom lockscreen, which, in addition to displaying the current time and date, calendar events, emails and missed calls, also gives you a glimpse of the weather in your location (if you have location services enabled). Pushing the volume rocker in either direction will bring the sound switch and music controls on top of the screen.
The lockscreen is accessed by pressing the unlock button on the top right. Swiping the lockscreen up unlocks the device or you can just press and hold the camera shutter key to unlock the phone straight into the camera app.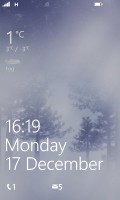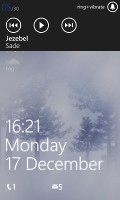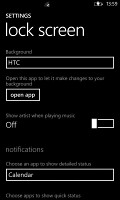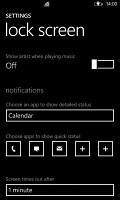 The lockscreen includes music controls and notification customizations
With Windows Phone 8, the Live Apps service allows apps to add notifications and images to the lockscreen. You can set one app to display big notifications (detailed status), with up to five more apps showing less detailed info (quick status).
The lockscreen wallpaper can also be controlled by apps - one of the installed apps can be set to choose the image (e.g. Bing's beautiful background images or photos from your Facebook account) or you can let the music player change the lockscreen image to the album art of the currently playing track.
The Modern UI is a vertical grid of Live tiles, which can be reordered any way you like. Almost anything can be pinned to the homescreen - apps, contacts, web pages.
Windows Phone 8 introduces resizable live tiles - a tap and hold on a tile will display an additional resize button that lets you opt between quarter, normal and double size tiles. If you select the smallest one (quarter), the tile will be just a static icon.
In our mind, the process of resizing live tiles could've been better. In order to switch from big to normal and then small you have to hit the same toggle several times - it would've made more sense if there were separate toggles to make a tile bigger and smaller or simply resize tiles by dragging the corner like in Android.
Most Live tiles display relevant info such as the current date, pending calendar events, missed calls, unread emails and more (third party apps do it too). The Marketplace tile displays the number of updates available, while the Pictures tile is essentially a slideshow of your photos. It's nice to have all that info always available at-a-glance. You can look at them as homescreen widgets of sorts, but that's oversimplifying.
WP8 can do multitasking - well, not true multitasking, but an iOS-like approach instead. Apps not in the foreground are suspended, but the OS has ways to take over and carry out the task for them (e.g. continue playing music). But just like iOS, if an app needs to run in the background (navigation clients, messengers, etc.) it can. WP offers both kind of multi-tasking and it's up to developers to choose how their apps behave.
The multi-tasking interface is the same as in WP7 - to switch between apps you press and hold the Back key. You'll get thumbnail snapshots of the apps, ordered chronologically left to right.
Scrolling is done horizontally, and tapping on an app will bring you back to your running or suspended app. You can't "kill" any apps from here though - to exit one you must expand it and use the Back key to terminate it.
If you start frantically hitting the back key it will start closing all of the open apps, which is very unnatural, especially when you've got an open Internet Explorer, which has to go all the way back to the first loaded page before it closes. Overall, it's best to let the OS manage the apps and not worry about which ones are opened or closed.
Opening the settings menu displays two sets of options: like on the start screen, you can swipe between System and Applications. System covers all the settings you can think of like sounds, color theme, Wi-Fi, Bluetooth, Accounts, etc., while Application settings let you configure each app you have on the device.
We would've liked to see some kind of quick toggles in Windows Phone 8 to spare you the need to go all the way to the settings menu to enable Wi-Fi, Bluetooth, GPS and the likes.
Another feature we feel is missing is a place where you can see all of your notifications from various apps. Live tiles manage to show notifications from each app to some extent, but they don't really have enough room for things like e-mail subject and such, while Android and iOS notification areas do. Microsoft has expressed that it's working on just such a feature and that we should see it in a future update to WP 8.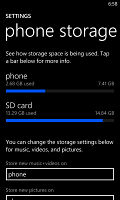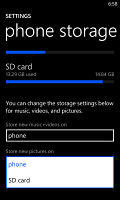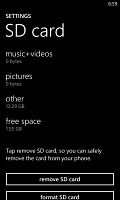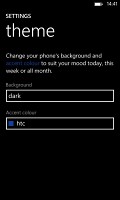 Settings for the phone's storage • customizing the system's color
Windows Phone 8 also can be controlled via voice only - you can dictate or have the phone read text out, you can initiate searches and so on. Other OS's are doing it too - Android's got Google Voice Actions, Apple has Siri and there are a number of third party "virtual voice assistants" available. Unfortunately, the Windows assistant is still far behind the competition in terms of functionality.
A unique feature brought by WP8 is the Kid's corner. The Kid's corner lets you select the apps and the types of media content that goes in and password-protect it, so you can safely share your smartphone with kids without worrying that they will mess up your settings or access inappropriate content. When activated, the Kid's corner is accessible by swiping left of the lockscreen. If you've secured it, your kids won't be able to return to your standard lock and home screen without the password.
Microsoft is trying to appeal to business users too - a company can create its own Hub where employees can find news, calendars and other info to help them with their work. Companies can also create their own apps that only employees can install.