Huawei at IFA 2015
Huawei Mate S, G8, Watch hands-on: Huawei at IFA 2015
The Huawei watch has definitely been a major tease. Ever since its unveiling at MWC, all the way back in March 2015, the wearable has mostly eluded consumer markets with an occasional cameo at events.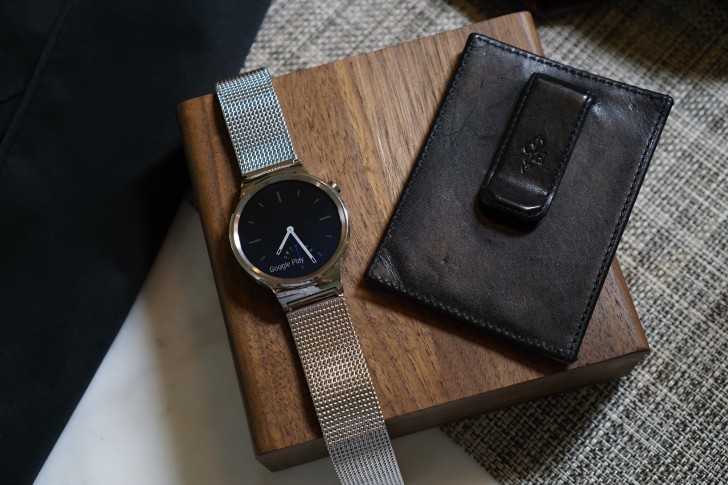 Now it's official, the Huawei Watch finally is launching within the US! Pre-orders are now live on Amazon, the Google Store, BestBuy and GetHuawei.com. Units should start shipping on September 17, so the long wait is finally over. Canada should get it by the end of the month.
Europe is also included in the road map and the watch will be available in Germany, France, Spain and Italy later this month. The UK, Japan and UAE will follow shortly with even more markets planned down the road. So, we are definitely looking at a global roll out.
In light of this announcement, we were compelled to take another stab at the Huawei Watch and see it is still just as impressive among the smartwatch crowd as it was a few months ago when we first made a hands-on review.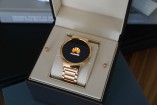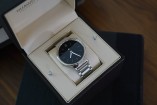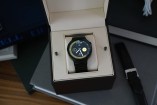 Fitting presentation for a luxury watch
Back in March, the Huawei Watch came out mere hours after the LG Watch Urbane and definitely managed to outstage it and get the hype going. Now, the long overdue launch coincidentally happens to follow the announcement of Samsung's first round wearable and surprisingly enough, Huawei's creation still seems to offer a superior package.
The fact is that the young wearable niche is still amidst some major soul-searching. The most practical and logical course of development is rather unclear and new devices from the likes of LG, for example, seem to be rehashing old hardware with only slight aesthetic changes. This is definitely the safer route for feeling out the market preferences and desires, but it takes a little extra courage and initiative to stand out and push the envelope.
Huawei definitely seems to be going the extra mile with its wearable, so much so that it is still arguably superior in both looks and hardware to the latest generation of competitor wearables, like the Samsung Gear S2 and even the eagerly-anticipated Moto 360 (2nd gen). The Huawei Watch is undoubtedly a gorgeous device and one that excels at seamlessly blending traditional watch design with modern smart tech.
It is made out of cold-forged stainless steel. The case measures 42mm in diameter - compact for a smartwatch and about average for a regular watch - and is 11.3mm thick. It's quite light as well, which may not be your thing if you prefer heavy watches. This might sound bulky, but it is actually overall smaller than the LG Watch Urbane and yet has a bigger and sharper screen.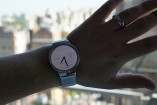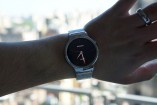 Easily visible even on a bright day
This is what we mean by pushing the envelope, the Huawei Watch might not be groundbreaking or revolutionary, but it is arguably the most premium offer in the round smartwatch realm. Its screen is a 1.4" AMOLED, perfectly round, with 400 x 400px resolution and 286 ppi. It tops the competition, although, there isn't really any striking difference in contrast or sharpness when we compare the Huawei with an LG Watch Urbane for example. Still, if you are after the best possible hardware, this seems to be it for the time being.
But the premium aspects of the Huawei Watch don't stop there. Unlike most of its competitors, it comes with a scratch-resistant two-layer sapphire glass option, which is incredibly important for something you will most-likely have dangling on your wrist throughout the day. The 316L cold-forged stainless steel body construction is also something usually associated with premium watches. This does come at a price and naturally the option is only reserved for the high-end variants. If, however, you promise yourself to be extra careful, you could pick one up for as little as $349 (€399 in Europe). This price tag however can be stretched quite a lot to a maximum of $799 (€699 in Europe) for the most premium model. This is far from what an Apple Watch Edition can go for, but is still a pretty penny for a wearable.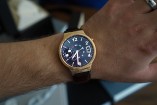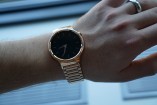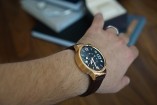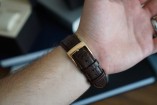 Into gold and leather? Huawei has you covered.
Speaking of options, Huawei definitely has you spoiled for choice. Stock customization might not be as abundant as with the Apple Watch or the Moto Maker, but six initial models are more than enough and definitely not as limiting as what LG or Samsung have to offer. Furthermore, all the pre-made combinations are aesthetically pleasing and convey a sense of elegance. No baby blue or duck-like orange in sight. Here is what you can currently choose from:
| Watch Body | Band | Pricing |
| --- | --- | --- |
| Stainless Steel | Black Leather | $349 |
| Stainless Steel | Steel Link Bracelet | $399 |
| Stainless Steel | Stainless Steel Mesh | $399 |
| Black DLC-coated Stainless Steel | Black-plated Link Bracelet | $449 |
| Rose Gold-plated Stainless Steel | Alligator-pressed Brown Leather | $699 |
| Rose Gold-plated Stainless Steel | Rose Gold-plated Link Bracelet | $799 |
Also, it is worth noting that the band is a pretty standard 18mm one, which means the Huawei Watch can easily be fitted with a lot of aftermarket options as well. We have also seen a few more OEM wristbands from Huawei in the past, so customizing shouldn't be a problem.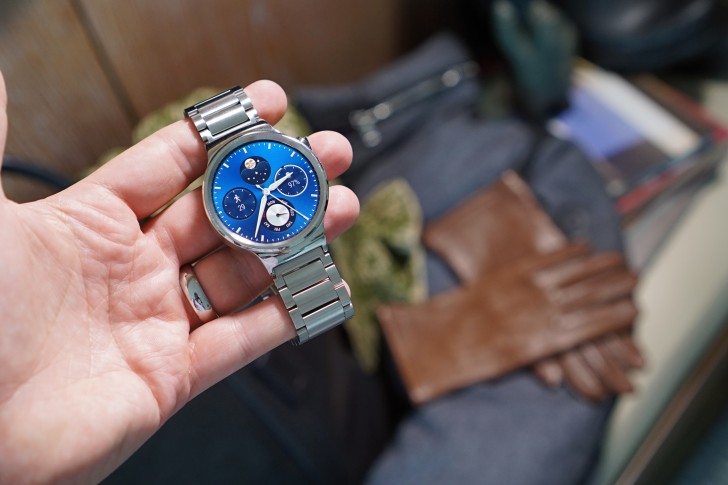 The band placement on the Huawei Watch actually contributes quite a lot to its traditional watch design. It is neatly tucked inside the body with no visible gap. The angle on the strap assembly is also pretty steep. This all adds up to a nice and comfortable wearing experience, where the watch simply sits flush on the wrist. This might sound like nitpicking, but the way the LG G Watch R strap fits, definitely makes it feel like more of a strapped-in screen than a traditional watch. This only got worse with the Watch Urbane, which has a slightly elongated body and tends to sit unnaturally on the hand. But, we digress.
The main point is that Huawei has obviously put a lot of thought and effort into constructing an elegant and ergonomic gadget that won't get in the way and it has definitely paid off.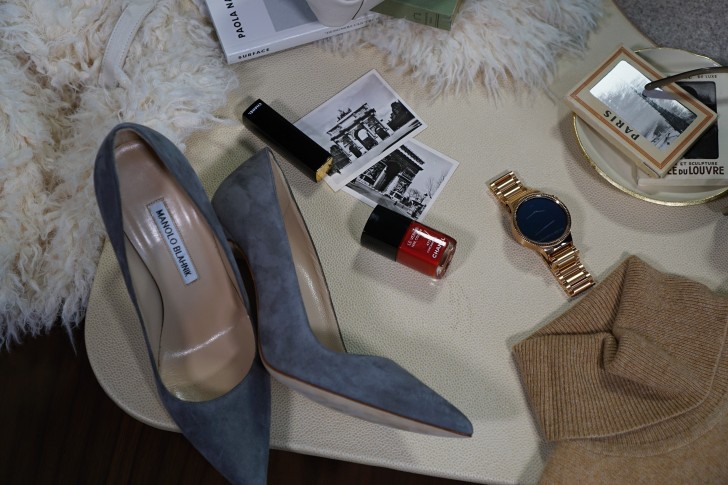 On to the rest of the hardware and software, powering the Huawei Watch. Apart from the aforementioned beefed-up display, there is nothing really special about the device's specs sheet. It follows the current wearable trend and is based on a Snapdragon 400 SoC with 512MB of RAM. It is also fitted with a 6-axis gyroscope, an accelerometer, a PPG heart rate sensor on the bottom and even a barometer, so you could say it is fairly aware of its surroundings and wearer. It does have a microphone, like most other Android Wear devices, which is definitely nifty for using Google's voice input. Its 300 mAh battery can easily get you through 1.5 to 2 days of moderate use. Fast charging can top its battery up to 80% in just 45 minutes and all the way to a hundred in 75min.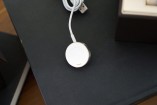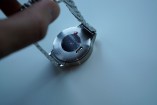 Equally elegant magnetic charging station
As for the software, we already mentioned that Huawei has decided to go with a standard-friendly approach and runs the latest version of Android Wear (1.3).
Google's wearable platform has come a long way in its relatively short lifecycle and is now better than ever with an easier menu structure, autonomous Wi-Fi operation capabilities and more-interactive watch faces.
Furthermore, a recent development made it clear that the Wear platform is no longer limited to Android users. iPhone owners can now use the Huawei Watch, as well as most other Wear devices without the need of convoluted and unstable hacks. The experience might not be quite as feature-rich as on an Android device, but now the Apple Watch definitely has some tough competition to compete with on its home turf.