Performance
The Huawei P10 is powered by the same Kirin 960 SoC we first met in the Mate 9. It is developed in-house by Huawei's chipmaker HiSilicon. Kirin chipsets have been around for a while now, but there are a lot of firsts that come along with this particular chipset - most notably, new ARM CPU cores and a new GPU.
The main processor within the chipset consists of a quad-core Cortex-A73 cluster clocked at 2.4GHz, plus a quad-core array of the familiar Cortex-A53 cores ticking at 1.8GHz. The Cortex-A73s boast a 30% power efficiency compared to the previous A72 design, while also promising improved performance.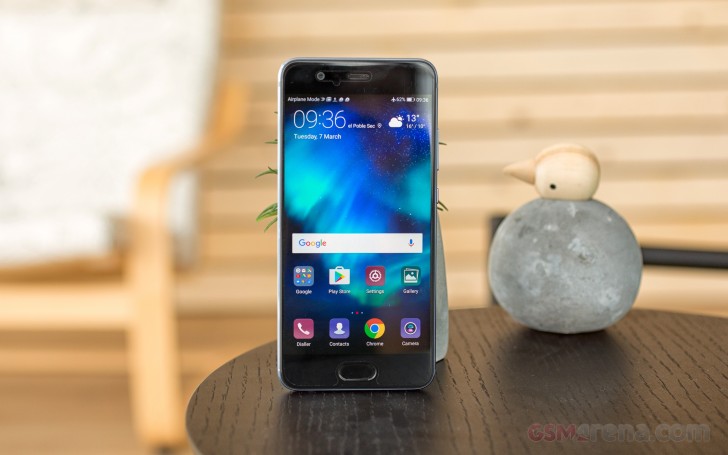 The P10's processor is the first focus of our benchmark tour, and this means some Geekbench-ing. Indeed, a single A73 core is better than any other available processor we've tested so far under Android, but Apple's Hurricane cores are still above anything else.
GeekBench 4 (single-core)
Higher is better
Apple iPhone 7
3488
Huawei Mate 9 Pro
1939
Huawei P10
1927
Huawei Mate 9
1898
Samsung Galaxy S7
1854
Xiaomi Mi 5s Plus
1815
LG G6
1733
Xiaomi Mi 5s
1682
Sony Xperia XZ
1578
Put four of those A73 to work though, and you get the best performing processor today on the mobile market.
GeekBench 4 (multi-core)
Higher is better
Huawei Mate 9
6112
Huawei P10
6069
Huawei Mate 9 Pro
5845
Apple iPhone 7
5654
Samsung Galaxy S7
5245
Xiaomi Mi 5s Plus
4333
LG G6
4209
Xiaomi Mi 5s
3987
Sony Xperia XZ
3868
The Kirin 960 choice of graphics - the Mali-G71MP8 is an enormous improvement over the previous generations of HiSilicon chips and is finally flagship worthy. And from what we saw so far, it does admirably when running 1080p content, so the P10 should be perfectly fine.
The BaseMark X app is a perfect demonstration of the GPU performance at 1080p resolution, and the Huawei P10 aced this test.
Basemark X
Higher is better
Huawei P10
39433
Huawei Mate 9
36519
Xiaomi Mi 5s
36240
Xiaomi Mi 5s Plus
36062
Samsung Galaxy S7
32345
LG G6
30507
Sony Xperia XZ
29548
LG G5
29456
Huawei Mate 9 Pro
27600
Huawei P9
16942
Moving on to GFXBench and the framerates, the P10's GPU raw performance didn't quite leave us raving, posting only average scores at the offscreen tests. It trails behind the current crop of flagships, but not by a large margin (unless we count the iPhone 7).
GFX 3.1 Manhattan (1080p offscreen)
Higher is better
Apple iPhone 7
43
Sony Xperia XZ
31
LG G5
30
Xiaomi Mi 5s Plus
30
Samsung Galaxy S7
28
LG G6
26
Xiaomi Mi 5s
26
Huawei Mate 9
22
Huawei Mate 9 Pro
22
Huawei P10
22
Huawei P9
10
GFX 3.1 Car scene (offscreen)
Higher is better
Sony Xperia XZ
20
Xiaomi Mi 5s Plus
18
LG G6
16
LG G5
16
Xiaomi Mi 5s
16
Samsung Galaxy S7
15
Huawei P10
14
Huawei Mate 9
13
Huawei Mate 9 Pro
12
Huawei P9
6.5
But some of those flagships are using 1440p screens, and they need the better performing GPU to handle the pressure from the higher resolution. When putting the Huawei P10 next to these devices, with all running in native resolution, it takes a nice spot on the ladder among these beasts.
GFX 3.1 Manhattan (onscreen)
Higher is better
Apple iPhone 7
60
Sony Xperia XZ
32
Xiaomi Mi 5s Plus
32
Huawei P10
30
Xiaomi Mi 5s
26
Huawei Mate 9
23
Samsung Galaxy S7
15
LG G5
15
Huawei Mate 9 Pro
12
LG G6
12
Huawei P9
11
GFX 3.1 Car scene (onscreen)
Higher is better
Xiaomi Mi 5s Plus
19
Sony Xperia XZ
19
Huawei P10
16
Xiaomi Mi 5s
16
Huawei Mate 9
14
LG G5
8.8
LG G6
8.5
Huawei Mate 9 Pro
8.2
Samsung Galaxy S7
7.9
Huawei P9
7.1
The final GPU test we did is the BaseMark ES 3.1, and the P10 scored an excellent mark - very close to the Galaxy S7 and the leading Android smartphone - the Mate 9.
Basemark ES 3.1 / Metal
Higher is better
Apple iPhone 7
1547
Huawei Mate 9
794
Samsung Galaxy S7
732
Huawei P10
716
Huawei Mate 9 Pro
616
Xiaomi Mi 5s
588
LG G5
587
Sony Xperia XZ
577
Xiaomi Mi 5s Plus
538
Huawei P9
341
Let's move to the compound benchmarks, which give a better understanding of a smartphone's overall capabilities. The Huawei P10, thanks to its superb processor and excellent graphic skills, topped the BaseMark OS charts beating all other Android smartphones. In Antutu it's just on par with the competition.
Basemark OS II
Higher is better
Huawei P10
3393
Huawei Mate 9
3280
Huawei Mate 9 Pro
2843
Xiaomi Mi 5s Plus
2677
Xiaomi Mi 5s
2507
LG G5
2425
Sony Xperia XZ
2273
Huawei P9
2190
Samsung Galaxy S7
2004
Basemark OS 2.0
Higher is better
Apple iPhone 7
3416
Huawei P10
2910
Huawei Mate 9
2637
Huawei Mate 9 Pro
2496
Xiaomi Mi 5s Plus
2434
Xiaomi Mi 5s
2378
Sony Xperia XZ
2151
Samsung Galaxy S7
2128
Huawei P9
2068
LG G5
2065
AnTuTu 6
Higher is better
Apple iPhone 7
174532
Xiaomi Mi 5s Plus
155185
LG G6
143639
LG G5
134541
Samsung Galaxy S7
132084
Xiaomi Mi 5s
131666
Huawei Mate 9 Pro
128719
Huawei P10
126629
Sony Xperia XZ
124266
Huawei Mate 9
122826
Huawei P9
98069
Huawei P9 used to struggle in the graphics department, but the Huawei P10 reigned almost all tests we threw it in. The Kirin 960 has the most powerful processor currently available, and the P10 has harnessed all this power. Its graphics skills are equally impressive, scoring excellent marks across the benchmarks. Indeed, Huawei P10 is more than adequately equipped for its flagship status, and will age well without a doubt.
There are some issues we just can't ignore, though. The P10 never gets unpleasantly warm under maximum load, and there is a reason for that - performance throttling. We noticed that the P10 suffered from a 30% drop in performance once its starts getting hot under the collar. You'll probably never spot this under normal circumstances, but it's a fact worth noting nonetheless.