iOS 9.3 most stable release from Apple, more stable than Android 6.0
According to a new report by app analytics firm Apteligent, Apple's latest iOS 9.3 build is the most stable new release by the Cupertino-based company in years. The report revealed a 2.2% crash rate for iOS 9.3 in the past eight days.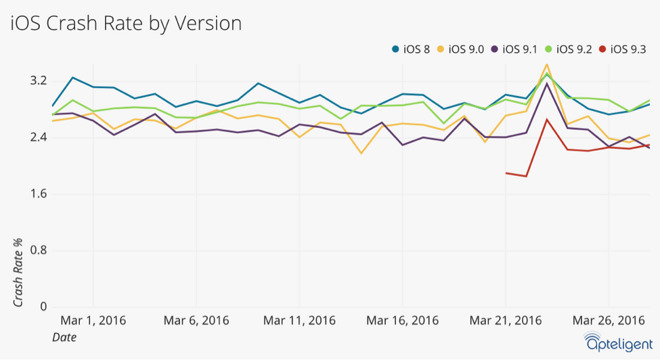 Other major releases, including iOS 8, 9, and 9.2, had their crash rate cross the 3.2% mark in the same time-period. In addition, the report revealed that iOS 9.3's rate of crash was also better than that of Android 6.0 Marshmallow, which saw a crash rate of 2.6%.
It's worth mentioning that iOS 9.3 has also had its own share of problems - it's roll-out was temporarily put on hold for some older models due to an issue with the update procedure.
?
Same here with a G3 that was on 5.0 and now on 6.0. Not a single app crash in the month since i upgraded to 6.0
?
Haha. Your opinion, not fact. If you choose to remain ignorant and ignore the tests available here on gsmarena and other websites thats your choice.
O
I guess they meant to say iOS is finally not crashing. Kuddos!
ADVERTISEMENTS