Twice the hype
iPhone 3G review: Twice the hype, half the novelty

iPhone 2.0 changelog
Now, we are not going over the whole user interface of the Apple iPhone 3G - it doesn't differ much from the original, so we are just going to cover the new stuff in the relevant categories. But before we do that, we'd like to give you a brief scoop on what has changed and what sadly seems to have been neglected by Apple developers for unknown reasons.
Changes in version 2.0
Parental restrictions (apply to the iPod, Safari, YouTube, iTunes and AppStore)
Screenshot capability right out-of-the-box
Numerous interface localization options: languages/dual language keyboard
A dedicated contact list icon (available to jailbroken iPhone 1G too)
Import SIM contacts function (available to jailbroken iPhone 1G with unofficial third-party software)
Contacts list search in both first and last name
A number of email enhancements: push email support, Microsoft Exchange support, mass mail delete, mass mail move, saving attached images enabled
A number of Safari web browser changes - photo download, show inline YouTube videos on web pages, new domain extensions available to the .COM button on the keyboard (.net, .edu, .org), entering passwords is more user-friendly showing the last character
Camera now sports geotagging
AppStore is a ground-breaking application download/install manager (but still not pioneering, a similar system was available to jailbroken iPhone 1G via Installer and Cydia)
Scientific calculator
Maps benefit from the built-in GPS receiver
Stuff that still needs attention
The 2.0 software is still buggy and unstable (presumably fixed with the latest 2.01 firmware)
Screen auto rotation is slower than on the iPhone 1G (presumably fixed with the latest 2.01 firmware)
No copy/paste functionality
No landscape QWERTY keyboard except in the web browser
No vibration feedback when typing
Still no option for turning Predictive typing OFF
No multi tasking (Apple background notification service is in the works to remedy that one)
Numerous messaging features lacking: no MMS, no SMS forwarding (might be solved by a system-wide copy/paste functionality), no deleting individual messages
Numerous email features lacking: no bulk "mark as read", no search, no sorting of any kind, no ZIP or RAR support in mail, can't send full resolution camera images via mail (they get resized to 800x600)
No call duration recorded in the Calls Log
Cannot snooze appointments and cannot set repetitive alerts for reminders
No search in the iPod music library
No video recording
No voice dialing
No Bluetooth file transfer or stereo Bluetooth music streaming
No GPS navigation software
No FM radio
Long and tedious back up upon sync with iTunes (presumably fixed with the latest 2.01 firmware)
No syncing of Notes and TO-DOs
Our wish list
Smart dialing - even feature phones have that now
The Lock screen can accommodate some info plug-ins such as upcoming appointments and events, weather, stocks, news, RSS feeds, etc.
A Wireless manager would make turning on/off 3G, GPS, Wi-Fi, Airplane mode, and Bluetooth much more user-friendly
Hardware button for camera would also be nice (but we guess next iPhone)
General user interface
The flat (no submenus) interface should be all too well familiar by now. Tap an icon to open an application, then press the hardware Home key to close the application and return to the Home screen. That's that.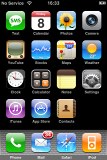 The Apple iPhone 3G Home screen
No multi-tasking is available whatsoever. So you can't have an instant messenger running online in the background while you browse your photos for example.
Apple are supposed to be remedying that with their background notification service, which however is still in the works. With it, apps such as instant messengers still won't be running in the background, but you'll get notified of new events or incoming messages so you can start the application to check them.
The iPhone 2.0 firmware that comes pre-installed on the iPhone 3G, and is available as a free update to iPhone 1G, is responsible for all software enhancements that we see. Unfortunately, it seems a bit buggy with random crashes and hold-ups but usually a simple phone restart fixes that. Some of the issues are reportedly gone with the latest 2.01 bugfix update but we can't really confirm that.
There are also performance issues with the out-of-the-box OS too - the automatic screen rotation is slower than the one on iPhone 1G and many users are also reporting typing lags where the actual typing doesn't produce characters on the screen until a few seconds. But all these reportedly seem to be fixed with the latest firmware upgrade, so let's move on to the actual enhancements.
A nice little perk is the screenshot capability right out-of-the-box. You just hold the Home key pressed and the simply press the On/Off key once. The new screenshot goes directly to your camera album - neat indeed.
Additionally, there are now parental controls - you can set password-protection to some tasks and applications such as the iPod, Safari, YouTube, iTunes and the AppStore.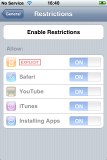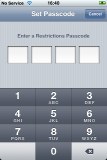 Setting restrictions on stuff used on the iPhone 3G
The interface now also has numerous interface localizations mainly due to the wider iPhone availability across the globe. The localization includes both the interface language and the keyboard - it's good that you can use several keyboard layouts - switching between them is seamless. Speaking of the keyboard, it's a bit of a downer that you still can't turn predictive typing off - there's no setting for that.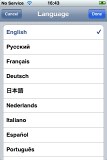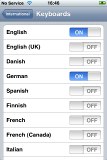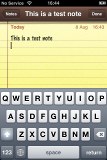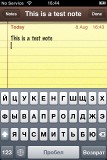 There are a lot of user interface languages and a variety of localized keyboards that can be used together • an English and a Russian keyboard
And no, copy/paste is still not available. That's another feature that seems simple enough and easy to implement but it hasn't hit the iPhone 3G either.