Whether you've got your iPhone X, are still waiting for your pre-order or just biding your time, let us share with you some tips and tricks that will help you make better use of it.
In fact, some of those are general iOS 11 tips, so they might be of interest to other iPhone owners too.
iPhone X New Gestures and Button Combos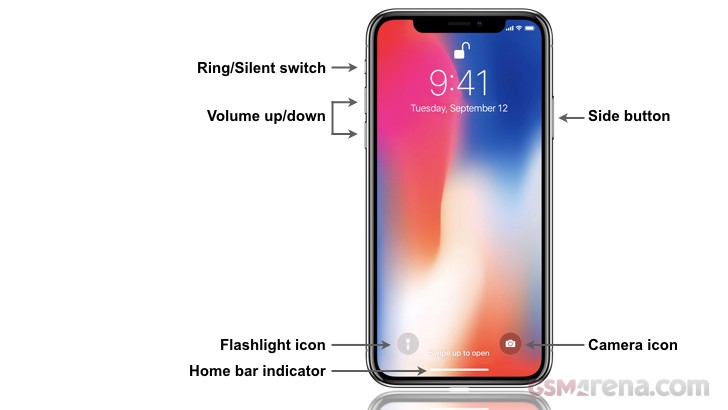 iPhone X buttons & lock screen layout
Waking your phone: In addition to pressing the now enlarged side button and Raise to Wake, you can now tap the screen to wake the iPhone X. Enabled by default, go to Settings > General > Accessibility select Tap to Wake to enable/disable.
Power Down: Press both the side button and either volume button until the slide to power off slider appears, then slide to power off.
While not unique to the iPhone X, Apple introduced a new way to shutdown your iPhone with the iPhone 7 & 7 Plus with their new haptic Home Button. Go to Settings > General and scroll down to the bottom, select Shut Down to power off.
Lock Screen: Turn the flash Light on and off by force pressing the camera icon. The camera can be invoked by either the traditional swipe to the left or by force pressing the camera icon.
Lock Screen Notifications: Now by default, notification content that appears on the lock screen is kept secret until the owner looks at the phone and Face ID identifies you. Dependent on the circumstances you may want to see the notification content appear, for example whilst you're sat at a desk without having to pick up your phone so Face ID can identify you. To always see your notification previews Go to Settings > Notifications > Show Previews and select Always.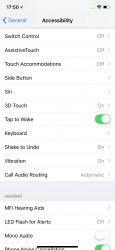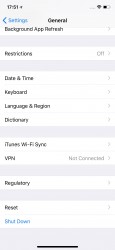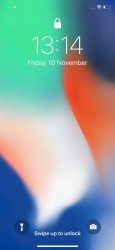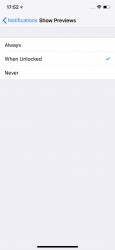 Tap To Wake setting • Shut Down • Lock Screen • Notifications setting
Siri: In addition to saying 'Hey Siri' you can now press and hold the side button to invoke Siri.
Re-arranging Home screen icons: Lightly press and hold any app icon to enter 'wiggle' mode. Move and arrange your icons as required. Press Done in the upper right.
Some people don't see this immediately due to the notch and this seems to be a non standard use of the space by the notch.
Apple Pay: Double-clicking the side button now invokes Apple Pay and displays your default credit card. Glance at your iPhone X to authenticate with Face ID and then hold the iPhone X near the card reader.
Magnifier: Due to the loss of the home button this is now selected by pressing the side button three times quickly. To enable, go to Settings > General > Accessibility > Magnifier select Magnifier to enable. In addition you can select Auto-Brightness to adjust the brightness and contrast based on the ambient light settings.
Emergency SOS: By default, pressing and holding the side button and either volume button will activate Emergency SOS. You can enable the ability to rapidly press the side button five times for even more convenience requiring only one hand. To enable, go to Settings > Emergency SOS and select Also Works with 5 Clicks. If you have a Medical ID created, your emergency contacts are also alerted along with your location.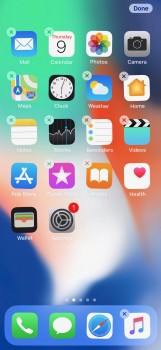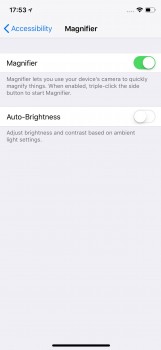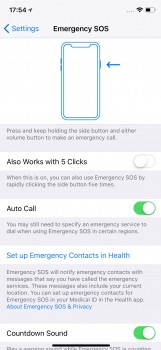 Wiggle mode • Magnifier • Emergency SOS
Phone Status: You now see less status information along the top of the screen due to the loss of real estate taken up by the now infamous notch. Upper left shows time and location services icon. Upper right shows cellular, Wi-Fi strength indicators and the battery icon.
Control Center: Swipe down from the upper right. You can also use this gesture to peek at additional status information that was traditionally always shown, including your cellular carrier name, battery percentage, Bluetooth and alarm status.
Battery Life Widget: Apple iOS has a built in battery widget, unfortunately it only shows once you have paired a Bluetooth compatible device that feeds back its battery status to iOS - for example, Beats X headphones. Alternatively, several battery widgets are available to download from the app store.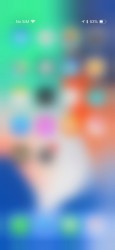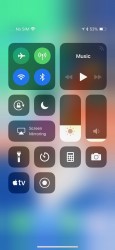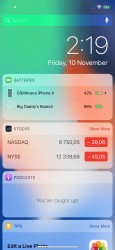 Pull down Control Center to 'peek' at iPhone status • Control Center • iOS Battery Widget
Face ID Unlock: Once your iPhone X is awake, unlock by glancing at your screen and swipe up from the bottom of the Lock screen.
Home Screen: Go to the Home screen at any time by swiping up from the bottom edge of the screen.
Multitasking: Swipe up from the bottom edge of the screen and pause halfway up the screen, your current app will be joined by the other open apps, now let go. Navigate and select the app you wish to switch to. To close apps - touch and hold an app until red circles with minus signs appear on the top left of each app - either press minus sign om each app to close or swipe app up off the screen.
App Switching: In addition, when in a App, swipe right on the Home Bar (black or white dependent on the screen background) / bottom of the screen to navigate to the last used app. This even works on the Home screen when the Home Bar isn't shown. Swipe left and right on the home bar to move through your open apps. Once an app has been selected, the option to swipe to the left is no longer available.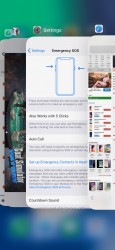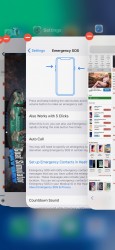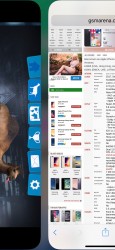 Sliding up enables multi-tasking • Open apps • Close Apps • App Switching
Reachability: Since the iPhone 6 came to be, you had the option to pull down the screen to reach the top elements without re-adjusting your grip by double touching the Home buttons Touch ID sensor. Apple still offers that reachability on the iPhone X even with the button gone. Turned off by default, to enable go to Settings > General > Accessibility and select Reachability to enable. Be warned, this takes some getting used so keep persevering until you nail it.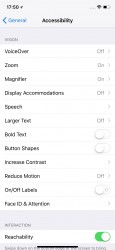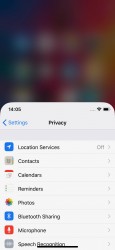 Reachability Setting • Reachability in action
Screenshot: Take a screen shot by pressing and holding the side and volume up buttons.
YouTube: Make sure you've got the latest version of the YouTube app. The recent update allows content to be zoomed to fill your iPhone X screen by a pinch gesture. You'll be seeing the central part of the video with bits on top, bottom and the left missing, but some clips work fine that way.
Animoji: Animoji's are currently limited to 10 second clips, but you can string several clips together. Save you recorded Animoji from the iMessages app by lightly force touching on the Animoji and sliding up to reveal the options. Select Save. This will save the clip to photo's app. Clips are recorded at 640 x 480 at 60fps so quite usable.
Record and save as many clips (Karaoke Animoji) as you would like.
Download the Apple iMovie app (or a similarone) and create a new project, select the Animoji videos you require from the Videos photo Album and create your next Animoji Taylor Swift video.
Virtual Home Button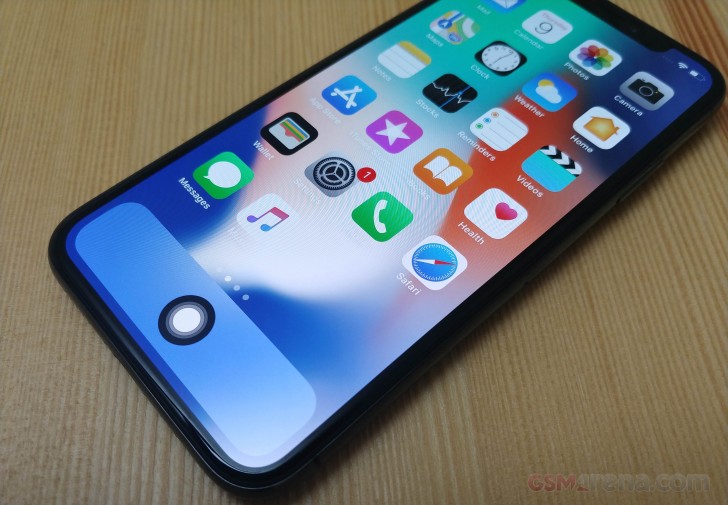 The virtual home button
Can't live without the home button? Here's a pseudo virtual home button for you. This not new but now may be more relevant than ever. Go to Settings > General > Accessibility > AssistiveTouch select AssistiveTouch to enable.
Now select Customise Top Level Menu…. This allows you to specifiy the number of floating buttons the appear on the screen. Press the minus button at the bottom of the screen until 1 icon remains.
Touch the one remaining icon and select Home and press Done.
Select Back, we will now assign the traditional pre-iPhone X Home button actions.
Select Single-Tap and select Home and press AssistiveTouch to go back. Select Double-Tap, select Reachability. Select Long Press and select Control Center - snuck this one in to get even easier access to Control Center. Select 3D Touch and select Siri.
You could swap the Long Press and 3D Touch actions around based on your personal preference.
You can make the button more prominent by selecting Idle Opacity and moving the slider to 100%
Drag the virtual Home button to place at the bottom of the screen or in a location of your choice. If needed, there is nothing preventing you from dragging the icons out of the dock at the bottom of the screen to give your new virtual home button room to breathe.
Face ID & Attention-Aware Features
Safari Autofill: If you use Apple Keychain to store all your credentials you can use Face ID to verify your usernames and passwords within Safari.
iWork: Apples office suite Apps which include Apple Keynote, Numbers & Pages now use Face ID to secure files.
Notes: As per iWork, individual notes can be secured with Face ID.
Just like Touch ID, while not recommended, you're not forced to use Face ID to unlock your phone. To disable Face ID go to Settings > Face ID & Passcode. Enter your passcode. Select iPhone Unlock to disable Face ID. From here you can also disable the use of Face ID for iTunes & App Store purchases and Safari Autofill.
I always recommend to make your passcode more robust by changing your passcode from a 4-digit numeric code to either a custom numeric code or a custom alphanumeric code. Go to Settings > Face ID & Passcode > Change Passcode. Enter your old passcode. Before you enter a new passcode select Passcode Options just above the keyboard. Select either a Custom Alphanumeric Code (Letters and Numbers) or Custom Numeric Code (Numbers only).
Require Attention for Face ID: This is an additional level of security by verifying that you are looking at the iPhone X before unlocking. This is focusing on the eye area and not just the face. You can disable this if you don't want Face ID to require that you look with your eyes open at the iPhone X. In theory this could speed up recognition and helps with blind users or users that have low vision. To disable go to Settings > Face ID & Passcode and select Require Attention for Face ID to toggle on or off
Attention-Aware Features: While you're looking at the display, the screen will not be dimmed and the volume of alerts will be lowered. To disable go to Settings > Face ID & Passcode and select Attention-Aware Features to toggle on or off.
These features work even if you haven't enrolled in Face ID and as they're related to Accessibility they can also be accessed from Settings > General > Accessibility > Face ID & Attention.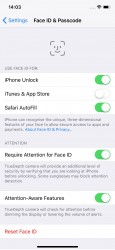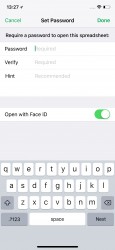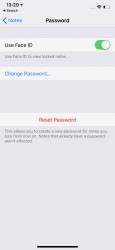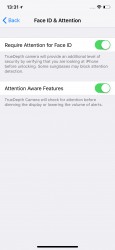 Face ID settings • Face ID within iWork apps • Secure Notes • Face ID & Attention settings
Wallpapers to help disguise the notch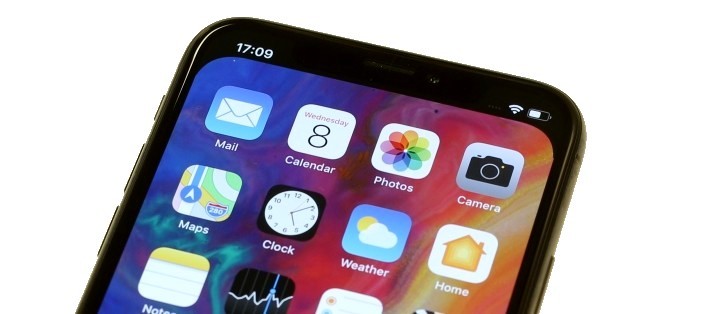 What notch?
I've already covered this in my recent article iPhone X: Here is how to get rid of the notch but here's a little more detail.
Some of you have embraced the notch, others - not so much. To make it less obvious, you can create a lock screen and home wallpaper that draws less attention the notch. However, when you're in apps the notch visibility will still be wholly dependent on whether full screen content is being viewed, in what orientation and dependent on how developers are updating their apps to cater for the new screen layout.
I created a wallpaper template with a black layered mask at the top of the screen to emulate the curved edges symmetrical to the ones at the bottom of the iPhone X OLED screen. In the case of the demo I applied this 'layer' over a new iPhone X specific wallpaper from iOS 11.2 Beta 2.
Once your new wallpaper is on your iPhone X you need just a little patience when setting your new wallpaper within Settings > Wallpaper, as a little moving and pinching is required to align it perfectly to just obscure the notch but it's worth the effort for the effect.
To further complete the effect, when setting your wallpaper, select Still as opposed to Respective and reduce iOS animations by selecting Settings > General > Accessibility and select Reduce Motion to turn on.
When both these options are selected the notch is virtually invisible when on the Lock and Home screens.
The full wallpaper we used is shown below. You can download it by following this link.
To create our notchless wallpapers, we used Pixelmator on a Mac to create the template. You can download it by following this link.
We exported a Photoshop version which you can download by following this link.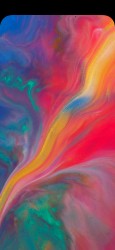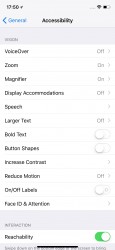 Wallpaper disguising the notch • Turn Reduce Motion on for a better effect
Dark Mode
Well not exactly. Remarkably for their first OLED iPhone, Apple has yet to see fit to introduce a true dark mode. OLED screens use less power when the content being displayed is black due to those pixels being truly turned off. So, until we see this feature appear in iOS 12 you can utilize iOS 11's Smart Invert. As this isn't a true dark mode your results may vary.
Go to Accessibility > Display Accommodations > Invert Colours and select Smart Invert to enable.
Black Wallpaper
Additionally, setting your iPhone X Lock Screen & Home Screen to a black wallpaper will turn off those battery draining pixels more often. Go to Settings > Wallpaper > Choose a New Wallpaper > Stills and scroll down to the bottom of the screen and select the all black wallpaper. For maximum effect, select Set Both to set both the Lock Screen and Home Screen to black.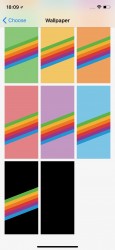 Choose the black wallpaper to help battery life
We have not yet performed a test to see how much extra battery life you are gaining with those last two tips, but we'll try and do one next week and get back to you.
Screen Recording
If you use iOS 11's new Screen Recording option from with Control Center you may have noticed that your recorded videos have a red recording bar along the top of the screen. For the iPhone X the recording bar is now a red bubble filling the top left of the screen.
While convenient to record your screen this way you may not want to see the red recording bar or bubble in your creation. If you have a recent Mac however you can record your iPhone or iPad screen directly. Simply plug your iPhone/iPad into your Mac with an approved lightning cable. Launch QuickTime Player. Select File > New Movie Recording. When the recording window opens, select the down arrow 'v' located just next to the record button. From the pop-up you can select your iPhone/iPad to record from, sound source (great for voice overs) and the video quality. The resulting video has no red recording & time left indicator.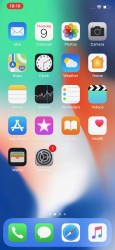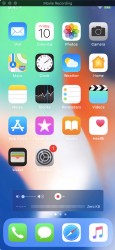 iPhone X Screen Recording - red bubble top left • Quicktime Recording on a Mac - no red bubble
Apple Maps & ARKit
One of the lesser known ARKit implementations within iOS 11 can be found in Apple Maps. If a city is 'Flyover' enabled, when you select flyover you are immersed in a Augmented Reality version of Flyover. As you move the phone around you can zoom and out with a pinch gesture.
You'll need a steady hand and a fast connection but it's a good technology demo if nothing else.
Touch the screen and select Start City Tour to start the 'flyover' tour of your selected city. See the video below for a demo of this. The video was recorded using the previous tip to record an iPhones screen via a Mac.
iPhone video recorded via a Mac and demonstrating ARKit in Apple Maps
w
Can't speak for Android crowd, but pretty sure they had something like QI three years ago, long before apple.
?
Too many kids on here trying to convince people they're not. They get caught out because they use primary school playground lingo and show just as much lack of understanding. An android device for 300-400 is very dear especially if you're buying i...
D
Unless yu break it. Be sure that new back panel cost 550 eur. Which is too much. Well enjoy your phone and try to dont have green lines on bottom or problems with sound like was said on GSM arena where people were complaining lot of problems wit...