Camera
The Jolla phone has an 8MP main camera with an LED flash and a 2MP front-facing camera. The main camera can record 1080p video @ 30fps. Those specs don't sound too impressive to the Android and Windows Phone crowd, but the iPhone 5s has basically the same specs. It's the image quality that counts, anyway so let's not rush to any conclusions.
Before we get to that, let's talk camera interface. The camera can be launched from the lockscreen (pull down until you highlight "Camera" and release) or from a shortcut. The interface is pretty clean - just a virtual shutter key and row of indicators.
Those indicators show the current settings and you can tap any one of them to bring up the settings overlay or use the pull down gesture that is standard across the rest of the UI.
The first one is a camera mode - still or video. In video mode you also get a time indicator when you record. Flash can be set to auto, off or forced and there are a few white balance settings. In the lower right there's a front/back camera toggle.
The autofocus option offers continuous autofocus, infinity (which is not good for close ups, but prevents unnecessary refocusing when shooting distant objects) and finally the traditional tap focus.
A gesture borrowed from Android allows you to swipe from the side to view captured images and videos. Just make sure you swipe in the right direction, because you might end up opening the settings instead or worse, exiting the camera. There's no swipe to delete though, you have to pull down and select delete, then wait out the 2 second timer (during which you can cancel).
There's no geo-tagging option and the photos we took were not geo-tagged. We'll dig into this issue further for the review, as the Jolla phone has an A-GPS, GLONASS-enabled receiver built-in so it should be possible to geo-tag photos.
Another thing we missed are shooting modes - there's no HDR or panorama mode, for example, not even night mode. Note that by default the camera shoots 6MP 16:9 photos and you can't change that from the camera. You have to go into the Settings, then apps, then camera to change the aspect to 4:3 and gain the full resolution shots.
The several camera samples we took were in fairly poor weather, so we'll wait for clearer air to snap photos for the review. Even so, there are a few obvious flaws. The photo have a noticeable red/purple tint to them, though color rendering seems accurate. The exposure can use a little tweaking too as the Jolla phone tends to overexpose photos.
These should be easy enough to fix with a software update. The camera itself seems a decently capable 8MP shooter - not quite iPhone 5s levels, but it will be good enough after a few tweaks.
We also shot a video too. The camera records at 1080p @ 30fps with 12Mbps bitrate. That's not very high for FullHD video, the iPhone 5s and Galaxy S4 do 17Mbps, for example, but we've also seen lower. Audio is captured in stereo at around 114Kbps bitrate.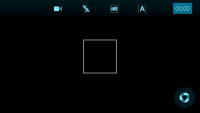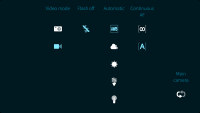 The interface is virtually unchanged in video mode
We were disappointed by the front-facing camera, which only captures 720p video at 15fps despite its 2MP resolution.
The video itself looks good enough - again, it's not as sharp as the best of the best 1080p phone cameras out there, but it gets the job done. We'll take a closer look at the video quality in the full review. Until then, here's a video sample to gauge it for yourself.
Note that the audio is garbled, even after we installed the latest update available. This problem isn't limited to just our unit either. Another issue we encountered is that the framerate drops significantly when shooting video in the dark, as low as 12-13fps. You can't turn on the LED light either, so low-light video recording is a no-go at this point.
Hopefully there will be a software update soon as this just doesn't work like a finished product should.