Latest Android distribution numbers are out - both Oreo and Nougat grow
Android distribution numbers for this month are out. A quick look at the pie chart reveals that Oreo has nearly doubled its share, capturing 0.5% of the market (up from 0.3% last month).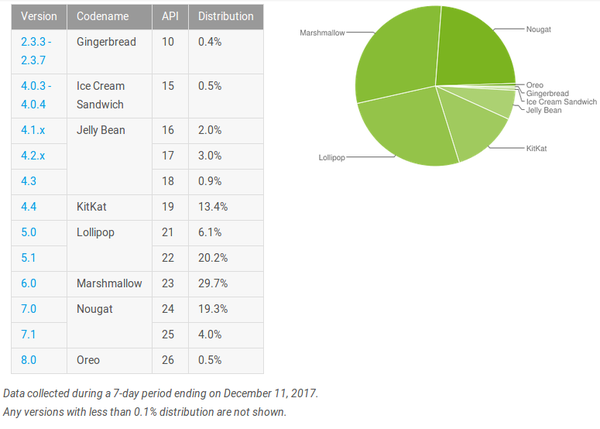 Nougat's share is also up, standing at 23.3%, compared to 20.6% in November. All other major flavors have witnessed a decline - Marshmallow down to 29.7% from 30.9%; Lollipop 26.3%, compared to 27.2%; and KitKat down to 13.4% from 13.8% last month.
As for the remaining, the combined shared now stands at 6.8%, down from 7.2% last month.
F
I'm on board with you. I have the LG Optimus L90 phone from T-mobile, still running KitKat. I passed on the Lollipop upgrade, and I'm darned glad. I've heard horror stories. I don't see a need for anything more, for a very long time. Cheers!!
?
I'm one of the 0.5% using ICE CREAM SANDWICH!! LOL.. as long as essential apps still works there is no need to upgrade to the latest version.. For me less update is better.. Only update when it is needed AND truely stable.. Not update to add some g...
ADVERTISEMENTS