A new report offers more details about the Sony Xperia 1's camera prowess. For the first time, it appears that Sony has found a new partner to manufacture the module on its smartphones, despite the fact that the manufacturer supplies sensors for the majority of all major smartphones, including flagships, these days.
An image of the triple camera module has leaked on a Chinese website and upon closer inspection, the word "MILVUS" can be spotted on the module's circuit ribbons. It just so happens that Zeiss offers a lineup of lenses with the same name, thus suggesting that each of the three lenses (wide, zoom, and ultra-wide) will be manufactured by German lens manufacturer, Zeiss.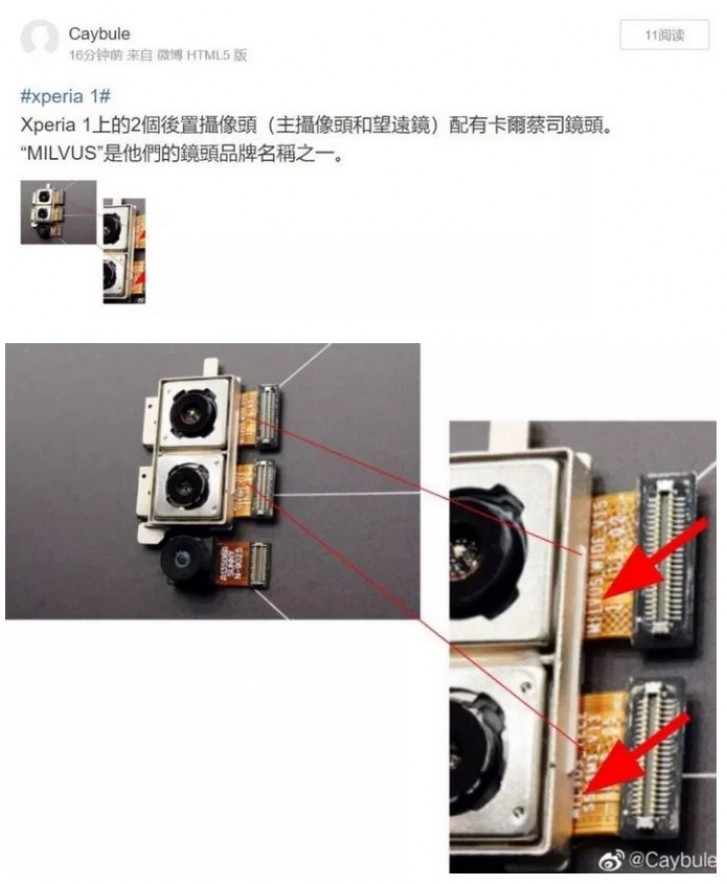 Sony has worked with Zeiss in its other businesses, particularly in its consumer point-and-shoot Cybershot cameras. It also made lenses for Sony's higher-end Alpha series mirrorless cameras. The same report also points to a Samsung-made camera sensor with possible Sony Alpha know-how to make a top-of-the-line camera experience.
The Sony Xperia 1 is expected to make a splash for the Japanese hardware maker this year. The phone was first announced back in February during the MWC and we've yet to hear about its availability. Currently, the phone is rumored for June.
The Xperia 1 will have a 4k+ resolution, 6.5-inch OLED display on a 21:9 aspect ratio. We're also expecting to see a 5G variant come at some point. Check out our hands-on from this past MWC where we got to take a full look at the hardware.
V
Dead on arrival, while they announicng it, other companies just delivers latest tech with better price tag. Who would care about 4k on tiny screen, which does not make any difference for your eye? I bet cameras will be avarage too as usual from Sony ...
?
much better than your satay photo. aahaahaah