Behind the curtain
Lenovo Phab2 Plus preview: Behind the curtain
Software
One of the advantages of Lenovo acquiring Motorola has been that some of Motorola's software qualities have been rubbing off on Lenovo's R&D team. The last few Lenovo phones saw the influence of the company's Vibe UI reduce significantly. With the Phab2 Plus there really is no mention of Vibe UI anywhere in the product's promotional material. This doesn't mean it is running quite the same thing as stock Android, but it's closer than ever.
For starters, the launcher is pretty much identical to the Google Now Launcher, except for the Google Now side panel. The drop down notification shade is similar in design, if not identical, and features some additional functions not found in stock Marshmallow along with the ability to customize and rearrange them.
The multitasking menu again looks similar but with an option to clear all apps. The Settings app? That's practically identical to stock Android except for very few additions.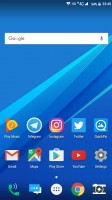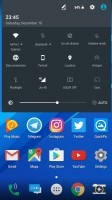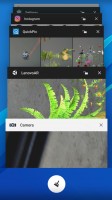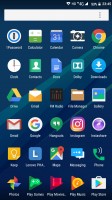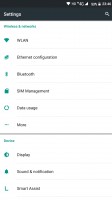 The Android UI on the Lenovo Phab 2 Plus
Lenovo, unfortunately, still does not use the same apps that Google or Motorola use, so the phone, contacts, messaging, camera, etc. are all different apps, for better or worse. There are also a few additions, such as a gallery app, a universal search app, a voice recorder, and an FM radio.
The camera application is perhaps the only notable one to talk about here. Apart from the standard auto mode there's also a manual mode that lets you adjust the white balance, focus, ISO, shutter speed, and exposure compensation.
Then there is a panorama mode and a group selfie mode, which is essentially a panorama mode but for taking selfies for a group of people using the rear camera.
Lastly, there are the two marketed features, the AR mode, which injects 3D creatures into the camera viewfinder creating an augmented reality effect, similar to what Sony introduced many years ago on the Xperia camera. The feature is nowhere near as advanced as what Google offers as part of the Tango system, which was pioneered on the similarly named Lenovo Phab2 Pro.
And then there is the dual camera mode, which uses the second lens as a depth sensor to create a fake shallow depth of field effect (bokeh) similar to the HTC M8 or the iPhone 7 Plus.
If you switch to the front camera, you get the same aforementioned modes along with a beauty mode slider and a flash, which is more of a light that just stays on.
Apart from that, one of the best changes that Lenovo has made is the switch to high DPI setting on the Phab2 Plus. This is one of the things that we noted on the Mi Max to be missing, which resulted in the phone showing roughly the same amount of content as a phone with a 5.5-inch display. This proves to be a tremendous waste of space and also makes everything look unnecessarily large. The Phab2 Plus, on the other hand, fits a lot more content on screen at once, making an excellent use of the available screen real estate while maintaining usability of the UI.
Overall, the UI of the Phab2 Plus is clean and simple, and is definitely one of the better features of the phone and the lack of heavy customization should make it appeal to a broader audience. As for software updates, you can look forward to firmware updates from Lenovo but major Android updates could be few and far between.
Performance
Despite a clean and light layer of software, the performance on the Phab2 Plus was underwhelming. This is largely because of the MediaTek MT8783 processor that seems perpetually out of breath. You can clearly see the phone struggling most of the time with even basic tasks such as opening and closing apps or just scrolling. It really puts a big damper on the overall usability of the phone - the poor responsiveness does not make you want to use it as much.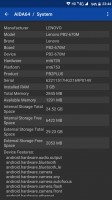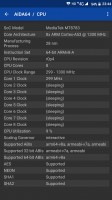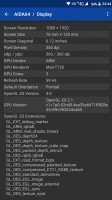 Lenovo Phab2 Plus system hardware properties
With basic functionality struggling, there was no point in trying out any games, but we did anyway. As expected, the more demanding games were largely unplayable, and only the simpler 2D titles worked fine.
In comparison, the Xiaomi Mi Max, with its Snapdragon 650, absolutely flies in every task. Using it feels effortless and the phone never feels out of breath regardless of what you are doing. The Phab2 Plus feels like it is dragging a ball and chain around.
GeekBench 4 (multi-core)
Higher is better
Lenovo Phab 2 Pro
3426
Meizu m3 max
2625
Lenovo Phab2 Plus
2466
GeekBench 4 (single-core)
Higher is better
Lenovo Phab 2 Pro
1469
Meizu m3 max
687
Lenovo Phab2 Plus
615
AnTuTu 6
Higher is better
Huawei Mate 8
91609
Lenovo Phab 2 Pro
83557
Xiaomi Mi Max
74488
Sony Xperia XA Ultra
50109
Lenovo Phab2 Plus
39028
GFX 3.0 Manhattan (onscreen)
Higher is better
Huawei Mate 8
18
Xiaomi Mi Max
15
Lenovo Phab 2 Pro
9.7
Sony Xperia XA Ultra
7.5
Meizu m3 max
5.5
Lenovo Phab2 Plus
4.5
GFX 3.1 Manhattan (onscreen)
Higher is better
Huawei Mate 8
11
Xiaomi Mi Max
9.4
Sony Xperia XA Ultra
5.1
Lenovo Phab 2 Pro
5
Meizu m3 max
3.6
Lenovo Phab2 Plus
2.9
Basemark OS 2.0
Higher is better
Huawei Mate 8
2017
Lenovo Phab 2 Pro
1596
Xiaomi Mi Max
1362
Sony Xperia XA Ultra
987
Meizu m3 max
335
Lenovo Phab2 Plus
272
The audio performance isn't particularly exceptional. The single loudspeaker at the bottom gets sufficiently loud but sounds a bit tinny and unbalanced when you hold the phone in landscape and the speaker is on the far right. The headphone output doesn't get loud enough, which means you will be left wanting for more volume on files that aren't loud enough.