A company VP showed off the Lenovo Z5 Pro, focusing on its notchless, all-screen front (with a slide-out camera). But this invite suggests that the back of the phone will be even more interesting: it will have four cameras!
They are arranged in a square, similar to the upcoming Huawei Mate 20. Lenovo's arrangement differs by the placement of the cameras (in the four corners) and the LED flash (in the middle of the square). The flash on the Mate 20 is in the upper left corner, leaving the other three corners for the cameras.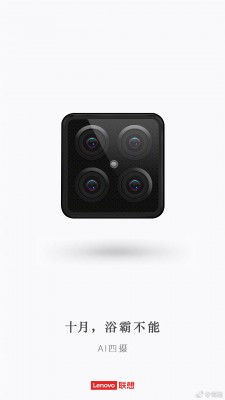 Lenovo Z5 Pro teaser image shows a four camera setup
The small text below the image reads "AI 4 shots" and (if Google Translate is correct) the Lenovo Z5 Pro is set for an October launch. You can bet that there will be more official teasers between now and then.
Besides Huawei, LG is readying a phone with 3 cameras on the back (the LG V40 ThinQ), HMD may go as high as 5 cameras for the Nokia 9. Then there's Google...
N
Marketing my friend, today smartphone is all about market value to attract the mass, they can put bigger, but most people didn't really care in this powerbank equipped society, but 4 cameras? Now that give a lot of marketing hoax to the table for the...
Lenovo.. please for the love of God .. stop playing with our expectations.. -_-
?
Oh god, no more of these jokes! Please GO AWAY!
ADVERTISEMENTS