Full-featured organizer
The G Pad 8.3 comes with the usual set of organizing apps and one of the most advanced document viewers and editors we've seen yet.
The app in question is Polaris Office 5. The app will automatically list all the files found on your device and attached storage, sorted by type. You can of course view documents - Word, Excel and PowerPoint documents and PDF files too, and there's an option as well to export Word and PowerPoint docs as PDFs.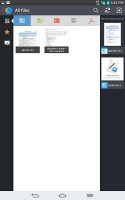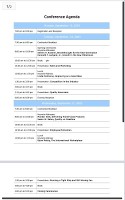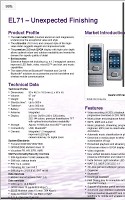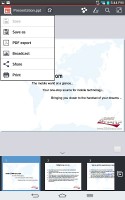 The Polaris Office app does a splendid job
Edit mode offers almost a full set of options - text style, justification, paragraph formatting, bullets, and even creating tables. If you're editing an Excel file, you get a formula wizard, resize rows/columns, border style, cell merging and so on. Full-featured PowerPoint presentations can be created too, and there's handwriting markups supported across all document types.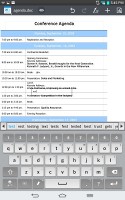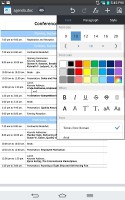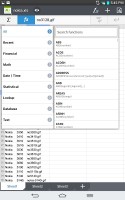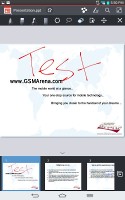 There are tons of options for editing Word, Excel and PowerPoint documents
The calendar app has a split screen interface - the top part is reserved for the monthly calendar and one on the bottom for the agenda/daily/weekly view. This way you will always have your monthly view visible. While the border line between the two sections is not fixed, it only lets you snap it to the top, bottom, or slightly below the midline.
The calendar supports QSlide so you can check your schedule while writing an email without having to switch between apps all the time.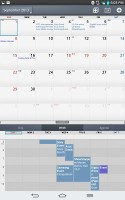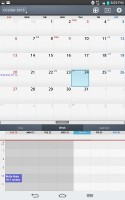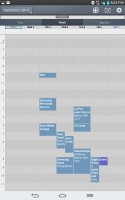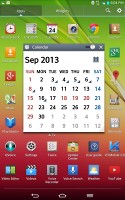 The calendar app • calendar in QSlide mode
In case you want to enjoy the calendar full screen without anything getting in the way, just turn the tablet landscape. The G Pad is syncable with multiple online calendars.
The LG G Pad 8.3 features an alarm clock application, which lets you set multiple alarms, each with its own start and repeat time, and ringtone. You can enable application autostartup, so the calendar/email/music player/ tasks/weather app launches when the alarm goes off.
There's also a clever feature called puzzle lock, which will make you solve a simple puzzle to disable the alarm. This way you will only be able to stop the ringing when you have properly woken up.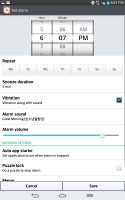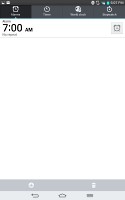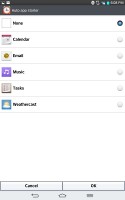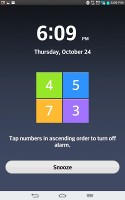 The alarm app now features application link and puzzle lock
The Timer, World Clock and Stopwatch features are also part of this app.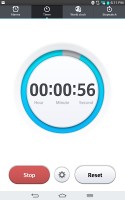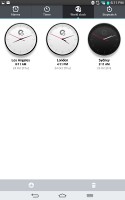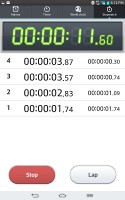 The timer, world clock and stopwatch
The organizer package also includes a useful voice recorder and a nicely touch-optimized calculator. The calculator is QSlide enabled to always be at hand.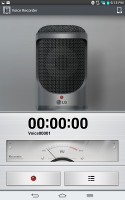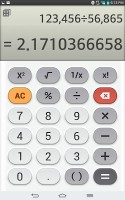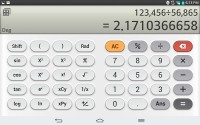 There's voice recorder and calculator preinstalled as well
The Memo app lets you take notes and add media to them, such as images, audio, or location.
Notebook is more advanced and let you create books with multiple pages, add multimedia, draw, and even export as PDF and email them.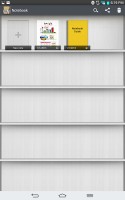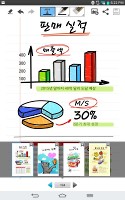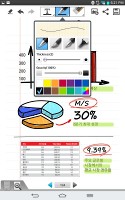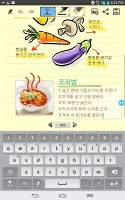 Notebook creates beautiful multi-page "books"
The QuickMemo function is integrated in the phone's OS, allowing you to capture screen shots of anything (including the lockscreen!) and scribble notes over them like you would on the LG Optimus G Pro and Vu. You can save the result as an image or add it to the Notebook app.
You can quickly access QuickMemo by holding down the volume up and volume down buttons simultaneously.
The Kweather app shows you the forecast by the hour or for the whole week.
There's also a QTranslator app, which uses the camera to scan text (a word, line or block at a time) and translate it from one language to another. It's a bit slow and requires a data connection, but it can help you out if you're abroad and don't speak (or read) the language. The OCR (scanning the text) sometimes runs into trouble and produces garbage, but the translations are fairly good by automatic standards - that is to say, sometimes it works, sometimes it doesn't.
Google Maps and Navigation
The LG G Pad 8.3 managed to get GPS lock in less than half a minute from cold start without A-GPS. A-GPS can speed up the lock but it involves an active data connection. Wi-Fi positioning is also available if all you need is a rough location.
Google Maps is a standard part of the Android package and we've covered it many times before. It offers voice-guided navigation in certain countries and falls back to a list of instructions elsewhere. You can plan routes, search for nearby POI and go into the always cool Street View.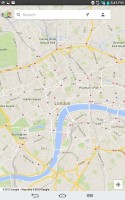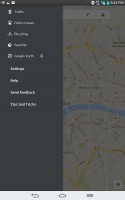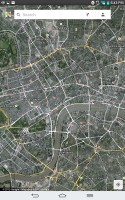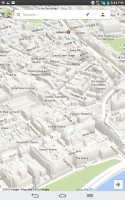 Google Maps is well familiar and as functional as ever
3D buildings are shown for some of the bigger cities and you can use two-finger camera tilt and rotate to get a better view of the area.
You can also plan routes, search for nearby POI and go into the always cool Street View. The app will reroute you if you get off course, even without a data connection. Initial route planning requires data to be enabled, though.
Google Play for all your app needs
Google Play is the place to get various apps for your device. The version found on the G Pad 8.3 features a special section for tablet essentials as determined by Google - a collection of mostly free apps that are optimized for use on Android-powered tablets.
Upon launch of the Market app you're greeted with the tiled interface of the Home window. A swipe to the right takes you to the Categories view. Swiping to the left takes you through Top Paid, Top Free, Top Grossing, Top New Paid, Top New Free and Trending. New sections are available such as Staff Picks, Editor's Choice and more.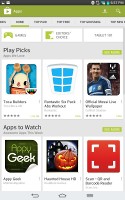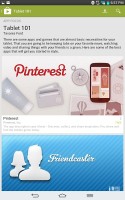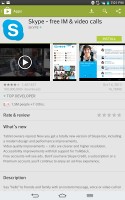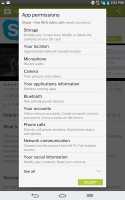 Google Play is where the apps come from
Downloads are easy and won't take more than a couple of seconds. Before you agree to download an app, the Market will show you what features the app requires access to (e.g. Internet connectivity, access to the file system, etc.). You can also see if updates are available for your currently installed apps by going to My Apps in the contextual menu.
The LG SmartWorld app store is also on board. It's similar to the SamsungApps market - there you can find various content and promotions exclusive to LG users.