Games & Apps
The preinstalled Picsel viewer handles Word, Excel, PowerPoint and PDF files. Zooming in and out is done by - you guessed it - pinching.
There is a useful option to fit the contents in a single column but it only seems to work for doc files. The viewer makes full use of the accelerometer and auto rotates to take advantage of the wide screen.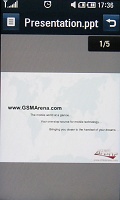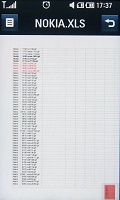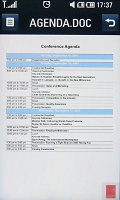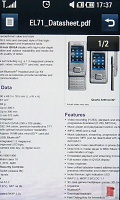 Office documents and PDF are supported
Google Maps also comes preinstalled on the LG Crystal but the lack of a GPS receiver limits the use of those.
The preinstalled games on the LG Crystal are all motion-based - Flying Dice, Wheel Mania, Tepong, Dart and Golf Slope.
Flying dice lets you pick a board and play against another player. You take turns to roll two dice (by shaking the phone of course) and then release them on the table. You move round the board and can either land on a good or a bad square. Landing on a bad square can actually mean whatever you and your gaming partner agree on.
Wheel Mania also lets you choose a template - cards, foods, drinks, activities, cars and more. Then you spin the wheel and wait to see your fortune.
The third game is ping-pong and we spent most of the time on it. It's simple enough - you must hit a ping-pong ball with increasing power and score more and more… until you hit an airplane (no kidding).
Finally, the Golf Slope is a useful app for those of you who play real golf. It uses the accelerometer and three saved positions to create a virtual layout of the terrain. We can only assume this is supposed to help you in your golf game.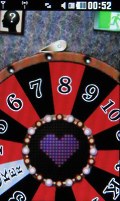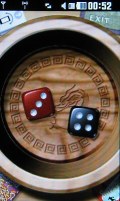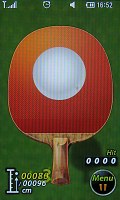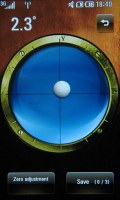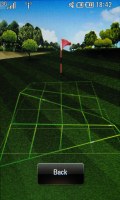 Wheel Mania • Flying Dices • Tepong • Golf Slope
If those aren't enough (and they really aren't if you are into mobile gaming), you can install Java MIDP 2.0 games and applications.
Final words
The LG Crystal is the first device that feels like it's from the future. At heart it is the same as the LG Arena and Viewty Smart, but sliding it up reveals something far more impressive. The transparent glass sensor keyboard is something genuinely new and innovative. Typing, browsing or viewing photos is a complete different experience and make you feel like you are in a sci-fi movie. Currently there are almost no competitors with this particular form factor, so let's at least look at those in the same ballpark.
The LG Arena is the first released S-Class handset and apart from some GPS limitations we could find little to fault it. In terms of features the two devices are essentially the same, except for the reduced megapixel count on the Arena's camera and the lack of a glass keyboard. It's currently priced at 300 euro, which is quite tempting for customers seeking the standard S-Class experience and who have no need of the fancy glass thing.
The Samsung S8000 Jet has just hit the shelves but is already winning many customers. The new 3D TouchWiz interface may well be a match for the S-Class, especially given the powerful hardware on the Jet. The compact design and equally matched feature set (including full DivX/XviD support, full Flash support, Smart Unlock, excellent 5MP camera) make the Jet quite a threat, regardless of the lack of a transparent glass keypad.
Competition-wise, if it's a point & shoot camera with telephony you're after, you should have a look at our 8 megapixel shootout. The contenders there are all aging gracefully and their prices are falling.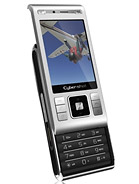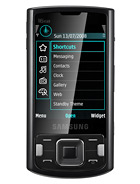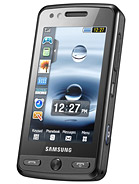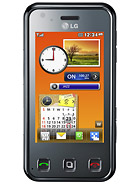 Sony Ericsson C905 • Samsung i8510 INNOV8 • Samsung M8800 Pixon • LG KC910 Renoir
The Samsung S8300 UltraTOUCH is probably the best among the new crop of slim 8 megapixel cameraphones and if imaging capabilities are a priority, you should definitely check it out. Its touch interface may be slower, but it's got the same form factor and its camera is little short of perfect.
At the end of the day the LG Crystal left a really positive impression on us. It certainly has a wow-factor to it with its unique look, style and transparent glass keypad, and is well-equipped comes with the most common features such as 3G, Wi-Fi, a fancy UI and 8 megapixel camera. Yes, the snapper may be a bit of a disappointment, but the rest is a wonderful and unusual experience. If the price seems reasonable for what you'll get, then we recommend that you go for it.