File manager is a no-go
File management in LG KF600 is disastrous. It's almost unable to handle user-created folders and the files in them simply don't get displayed. Basically you will need to place every file in its designated folder if you want to use it. If you have misplaced a file you will have to use a card reader to sort it out. And as the memory isn't hot-swappable it really gets on you, big time. We've come across quite a mixed bag of file managers, and the one on LG KF600 is undoubtedly among the worst.
Gallery is good
The gallery of the LG KF600 leaves a nice overall impression. It is accessed through the My stuff icon in the main menu and offers two view modes. The thumbnail view can show 9 thumbs at a time, while the list view can fit only 7 items on the screen. It's no surprise we liked the first one better.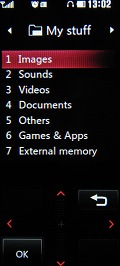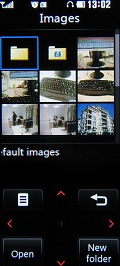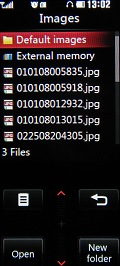 The Gallery offers list and thumbnail view modes and we liked the second option better
Single pictures can be viewed in both landscape and portrait mode and can also be displayed fullscreen. You can also zoom in to see further detail on the photos. Be warned that the first zooming step is a little slow. However the following zoom steps complete in an instant and panning is also very fast.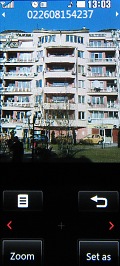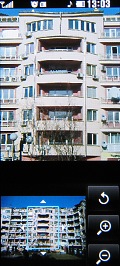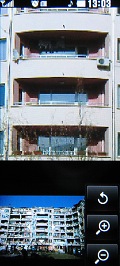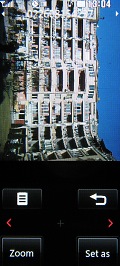 Zooming in on a photo • image in landscape mode
The InteractPad is also enhancing the gallery experience greatly. When you zoom in on a picture a mini map appears on it and you can see what part of the picture you are looking at. You can also use it for panning and, as it turns out, it's the best panning solution we've seen so far. Besides, it is admirably fast.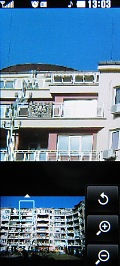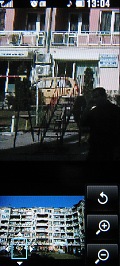 Panning works like a charm with the InteractPad
The final extras of the gallery include picture sorting (by name, date or type) and slide show, along with deleting multiple files at a time. Truth be told, we weren't particularly fond of the slide show in LG KF600.
LG KF600 gallery video
Camera is nice
Obviously LG KF600 is a phone aimed at the young. That makes a good camera essential and LG have got it right. The 3 megapixel camera with autofocus and LED flash sounds more than decent at least on paper.
The camera interface has rich settings, from white balance and effects to quality settings. It's not a match for the best 5 megapixel shooters in terms of features but it has most of the stuff it needs. The interface itself manages a decent level of user-friendliness.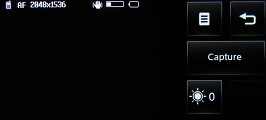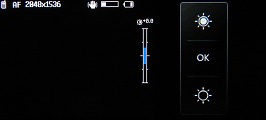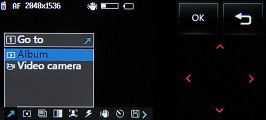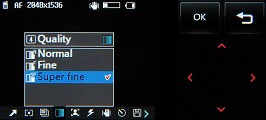 The camera user interface is comfortable to work with
The picture quality is also quite good. The images have enough sharpness and precise colors and, overall, the KF600 camera stays on the better side of 3 megapixel shooters. There is still a significant amount of noise here and there but we've seen far worse.
In terms of speed, the camera of LG KF600 failed to impress us. It is not the slowest we've seen but it does take about 5 seconds to save a photo, which is not a dream achievement by any means.
LG KF600 camera interface video
As far as video recording is concerned the handset supports QVGA resolution. Not much of a boast but videos might occasionally turn usable. Zooming is also available and so are white balance and exposure settings. Videos are saved in 3gp format and can use the LED flash for better results in darker environments. The LG KF600 is still short of being a serious video recording device.
Here is a sample video from LG KF600's camera.
| | |
| --- | --- |
| "...Obviously LG KF600 is a phone aimed at the young. That makes a good camera essential and LG have got it right. The 3 megapixel camera with autofocus and LED flash sounds more than decent..." | ADVERTISEMENTS |
Connectivity: 3G would have been good
LG KF600 features USB v2.0 support and Bluetooth v2.0 with A2DP support. The phone also supports mass storage mode in USB connections. We are also pleased with the Bluetooth connectivity as we had no problems pairing with any of the devices at hand.
As far as network connectivity is concerned, the phone features GPRS and EDGE. We are definitely missing 3G support for faster data transfers. This leaves us with EDGE as the best option here.
Finally, we've got the memory card slot but lack of hot-swap ruins it all. Having to power down your phone every time you want to access the memory card is a nuisance.