This summer, in 3D
LG Optimus 3D review: This summer, in 3D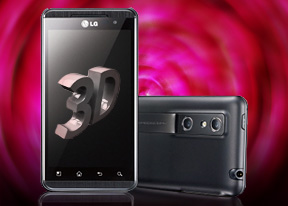 Two 5MP cameras do okay
LG Optimus 3D comes with a dual 5MP megapixel shooter, which sounds pretty decent on paper. The maximum resolution for 3D shots however is limited to 3MP, which we found odd.
On a positive note, the camera user interface is convenient, though many of the important settings are inside the extended settings menu, so they take a while to toggle. The 2D interface is standard LG camera UI, except for the 3D toggle.
In 3D mode, you get some extra dials - like a slider to adjust the 3D depth and there's 3D focus mode too.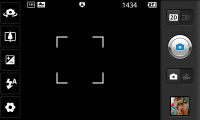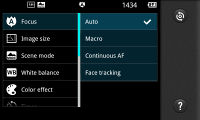 LG Optimus 3D camera UI (2D mode)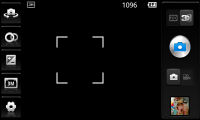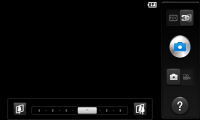 [3D screenshot] LG Optimus 3D camera UI (3D mode)
The camera features are pretty good with face detection, continuous autofocus, touch focus and geo-tagging on board along with preset scenes and effects. The shot-to-shot time is about a second for both 2D and 3D modes - a good improvement as some recent LG phones we tried took some good 2-3 seconds between the shots.
The key that's positioned where the shutter key usually is actually a 3D toggle. There's no option to turn it into a shutter key (at least not with the stock software).
As a 2D 5MP shooter, the LG Optimus 3D isn't very impressive. Noise levels are kept in check but only at the price of most of the fine detail. Contrast is low in some photos and colors often come up a bit dull.
Dropping down to 3MP for the 3D shots doesn't really improve performance, 3D shots suffer from the same drawbacks as the 2D ones. Note that depending on how you view photos on another device (e.g. TV), there might be some more reduction in quality (mostly for non-3D TVs and anaglyph glasses).
Here are some 2D camera samples from the Optimus 3D so you can judge the image quality for yourself.






LG Optimus 3D camera samples
And here are the 3D samples. You should use the Wiggle view mode (available as a switch in our pop-up viewer) to get a basic idea of the 3D effect without the need for glasses or a 3D screen. If you happen to have any of the supported anaglyph glasses at hand, you might want to go for the Anaglyph view mode too. Interlaced 3D screens are also supported.







3D photo samples from LG Optimus 3D
Alternatively, you may wish to download the jps files on your PC and open them with any JPS viewer that you want. Those are the untouched 3MP camera samples straight from the LG Optimus 3D.
Photo 1 Photo 2 Photo 3 Photo 4 Photo 5 Photo 6
Photo quality comparison
We've included the LG Optimus 3D camera samples over at our Photo Compare Tool. The tool's page will give you enough info on how to use it and what to look for.
The Optimus 3D does okay in synthetic tests, though the oversharpening is very obvious (first poster). The noise reduction on the other hand smudges highly-detailed portions of the image (grass and gravel in second poster). Colors are not as lively as other cameras would have made them.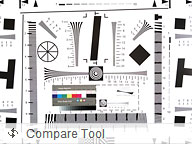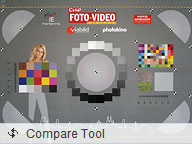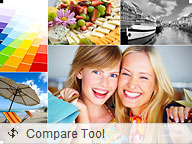 LG Optimus 3D in our Photo Compare Tool
HD videos enter the third dimension
The LG Optimus 3D records video in two modes - 2D and 3D. In 2D, the phone can go up to 1080p resolution at 30fps, but as with the still camera, the 3D mode is a peg lower in resolution - 720p.
The video camera UI looks just like the camera UI. Here you get the same 3D depth slider, the 3D focus mode plus an image stabilization option.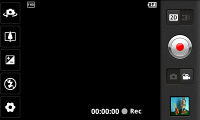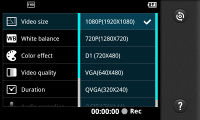 Camcorder UI (2D mode)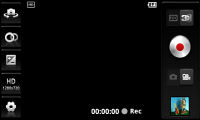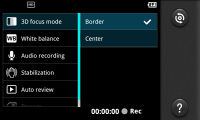 [3D screenshot] Camcorder UI (3D mode)
Video quality, much like the still image quality, isn't anything to get excited about. 1080p videos are shot in MP4 files and the bitrate is just over 8Mbps, which sounds quite good. None of the 30 frames per seconds shot by the camera are repeated either so the videos are smooth. The frames image quality however is not that good - they have a soft, overprocessed look.
720p videos are shot in MP4 files too, with a little over 6Mbps bitrate and no repeated frames. Frames here look sharper, with more fine detail. If you stretch both a 1080p and a 720p video to the same size (i.e. on the same TV), the results would be hard to tell apart.
The Optimus 3D constantly adjusts the exposure during capturing (a nice thing), but it does so too quickly - and videos appear to 'pulsate' (which can be downright annoying.)
3D videos are limited to 720p resolution and they use the same 6Mbps MP4 recipe as their 2D counterparts. However, due to how videos are stored (the left and right frame are put side by side into a single 1280 x 720) frame, they have only half the horizontal resolution. This worsens the overall result.
Here are the video samples. We have untouched 2D and 3D samples or you can check out the samples we uploaded to YouTube below.
Get the 2D 1080p@30fps (9s, 9.4MB) and 2D 720p@30fps (10s, 7.6MB) untouched videos here and a 3D 720p@30fps (11s, 8.1MB).
YouTube supports a wide array of 3D viewing methods, which makes it a great option for sharing 3D videos.
Don't forget to click 1080p and go into full screen mode.
And here are the 3D YouTube video samples - there's an option to adjust the 3D viewing method to match whatever you have (from fancy monitors to simple anaglyph glasses). And don't forget to choose 720p.
Video quality comparison
The LG Optimus 3D is among the first phones in our Video Compare Tool database that can record 1080p. The Tool's page includes a quick walkthrough on how to use it and what to look for.
Our video quality comparisons show that the practical resolution in videos is not very good. The resolution chart (the 3rd one) shows that the Optimus 2X has much more detail in its 1080p videos (which aren't that good anyway). Still, the Optimus 3D produces videos with a smooth bitrate and does well in the dark.