User interface overview
We won't get into too much detail with the user interface as it's very similar to LG's previous takes on Android, we'll only give some of the highlights instead.
Check out our hands-on video to give you a better feel for the device:
The LG Optimus G is running Android 4.0 but will be upgraded to 4.1 Jelly Bean later on. Powered by the Qualcomm Snapdragon S4 Pro chipset, a first for a smartphone, the software is very fast and responsive.
The lockscreen is unlocked with a swipe in any direction and as you swipe, a "dew drop" grows, revealing the wallpaper underneath. This is similar to how the lockscreen on the LG Optimus 4X HD worked, but LG has used the extra muscle provided by the Adreno 320 GPU to add a nice 3D effect (the way it would've looked if this "drop" was actual water).
There are four shortcuts on the lockscreen and swiping away from them will launch the respective app.
The notification area features a side-scrollable list of toggles, the screen is big enough to fit 5 toggles at a time. You can use the Edit button at the end to add or remove toggles as you please.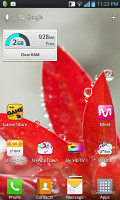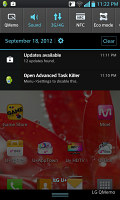 The home screen and the notification area
Most of those things were already available on the 4X HD, but LG has added another usability feature - you can pinch zoom in some apps to adjust, say, the text size in the phonebook or the thumbnails in the gallery.
Unusual enough, the LG Optimus G's homescreen can work in landscape mode too.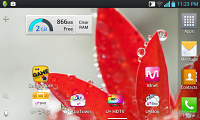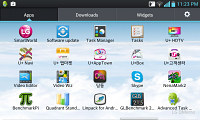 The homescreen and app launched work in landscape too
You can replace the shortcut icon of any app you like with one from a gallery provided by LG (with several styles available) or you can even load a custom image. The Optimus G also gives you the option to double the size of a shortcut to make it that much easier to hit.
And if all those shortcuts and widgets are getting in the way of your beautiful wallpaper, you can pinch out to hide them (and pinch in to bring them up again).