Today, we got a pretty good look at what the LG G6 should look like in the form of leaked case maker renders. Even so, the smartphone has still not been announced nor is it official. LG's MWV invitation is a reminder of that.
LG had already sent out save-the-dates, but the actual event invitation (officially) shows us a little more about the device than we (officially) already knew.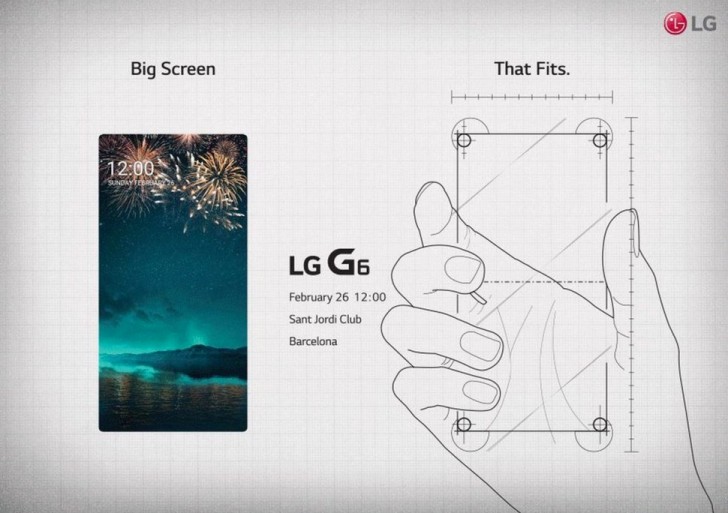 The invitation shows the same home screen that we saw in the save-the-date. Though this time, LG calls it the "Big Screen" while a sketch to the right of the screen shows where the LG G6's screen is supposed to fit, but LG conveniently left out any dimensions.
We also aren't too sure what the center of the circles on the sketch are supposed to mean, they are likely there to represent the radius of the display's curved corners. Meanwhile, the curves that come out of each corner of the display appear to be representative of the bezel that surrounds the phone's display.
As a refresher, the LG G6 is set to be revealed on Feb 26 at MWC and will feature LG's newest hardware and will no longer feature a removable battery, but will feature a water-resistant build, with a new 18:9 aspect-ratio and is said to be powered by a Snapdragon 821 CPU.
R
After my lg g3 I got the LG g5 with most of the accessories. I can only say its a super phone with "now"a super price! Now 50% down!!!!! Never buy a phone on the first day of arrival.
D
I'm happy with my V20 that I received as my replacement from tmobile & at no extra charge when my G4 went into bootloop. I was extremely shocked when it came. Being a lover of the G series, I with a heavy heart will not purchase the G6. I love ha...
?
big screen that bootloop
ADVERTISEMENTS