Today Google has announced that a new batch of Chromecast-enabled games are available both on Android and iOS. Such titles are games you install on your mobile device, but since they work with your Chromecast you can actually play them on your TV (the one to which Google's HDMI streaming dongle is connected).
On the list is Angry Birds Friends from Rovio (pictured below), which lets you compete in weekly tournaments. Driver Speedboat Paradise by Ubisoft makes you race your boat through different canals and waterways from across the world.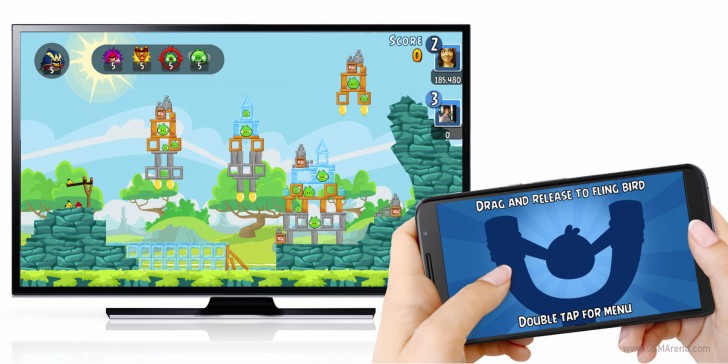 Other titles are Monopoly Here & Now, Yahtzee Blitz, The Game of Life, Scrabble Blitz 2.0, and Risk. Do note however that these are only out in the US and Canada.
Some of these games have a smart split-screen experience to offer. For example, in Monopoly Here & Now, the moves you make are shown on the TV, but only you can see your cards. The full list of games that work with the Chromecast is available here.
A
Does this necessarily need a Chromecast or can work with any screen cast or mirroring enabled tv?
?
wow.... innovative.... hope all games will available for chromecast
F
I got the first gen very early and alot of function and other features wasn't available yet(i guess many updates fix many things over the time). So it isn't really a phone problem, i believe. And i was using a S3 back then. Xperia Z3 now, but my Z3 g...