A social phone
The custom MOTOBLUR UI on the Motorola DEFY does a great job of integrating social networking with the rest of the phone features. We've already seen the social phonebook, the gallery with easy upload to social networking sites, and the SNS enabled music player.
There're lots of social widgets on the homescreen and a couple of dedicated apps.
The first one is Social Networking – the app behind the eponymous widget. It can display status updates from all your social networks (or just the ones you pick) and it can be used to set your status on some or all social networks.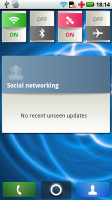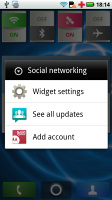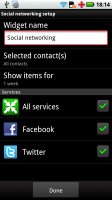 The Social Networking widget • setting up accounts
It doesn't offer much in the way of browsing profiles – you can add comments, post on the Wall and like a profile, but to view the full profile you'll need to use the browser. Not much of a problem, the browser is good enough.
The difference between Social Networking and the Social Status widget is that while SN is primarily for reading status updates, the Social Status is for posting. It also displays the last status update you've posted.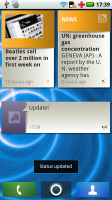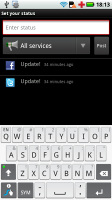 Updating your status on one or all social networks through the Social status widget
The Messaging app has support for both Facebook and Twitter. Its main job is sending messages between contacts more than posting general status updates.
The interface looks deceptively similar to the SMS messaging UI. It displays conversations in threaded view, with speech bubbles when viewing a single thread.
This is great because it makes sending texts no different than sending a tweet or a Facebook message. On most other phones, the two things are separate concepts with separate UIs.
The Status' live folder is also here – it's small and space efficient, but when you tap it, it expands to fill the screen with the latest status updates from your preferred social networks.
Organizer
Just like most of its Android siblings, the Motorola DEFY comes with a rich set of organizer features and a document viewer to boot. Not that getting one off the Android market is impossible but it's nice of Moto to have saved you the effort.
Quickoffice is their app of choice and it has support for viewing document files (Word, Excel, PowerPoint). For editing, you will need to upgrade to the paid version though and there's no support for PDF.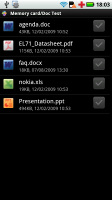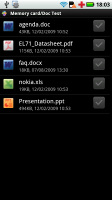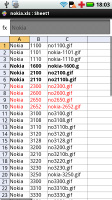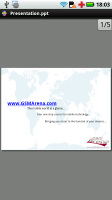 Quickoffice comes preinstalled but only supports document viewing
The best part about it is that the viewer integrates with the Gmail app as well, which makes viewing attachments easy. Unfortunately, you are unable to save them to the phone memory (that only works for images, we guess). Attaching saved files (and we mean all kind of files) is possible though.
The calendar has four different types of view - agenda, daily, weekly and monthly. Adding a new event is quick and easy, and you can also set an alarm to act as a reminder. It is also integrated with the status bar and also offers pop-up notifications.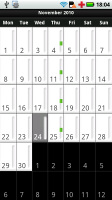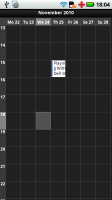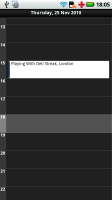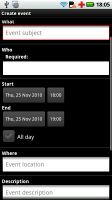 Browsing the calendar and setting up a new event
The calculator is nicely touch optimized – the buttons are big enough and easy to hit.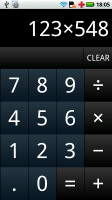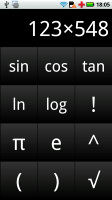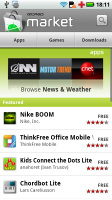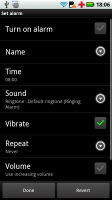 The calculator offers large buttons • You easily can set multiple alarms • Timer
The DEFY features a decent alarm clock application which allows a huge number of alarms to be set, each with its own start time and repeat pattern.
Finally, the YouTube app is easier to use than the YouTube site, considering the small low-res display.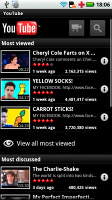 The good old YouTube app is here too
GPS and navigation with Google Maps
The Motorola DEFY comes with a GPS receiver which locked onto satellites in about a minute with A-GPS turned off.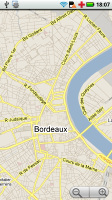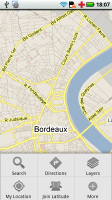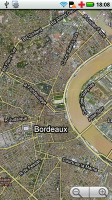 Google Maps goes without saying on Android handsets
Google Maps is the titular application and its Street View mode is probably the best part of the deal in places where turn-by-turn voice navigation isn't yet offered. If the Street View is available in the area you're interested in, you can enjoy a 360-degree view of the area. When the digital compass is turned on it feels like making a virtual tour of the surroundings!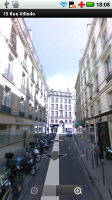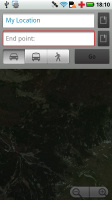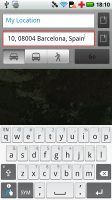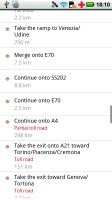 Street view is rather cool in compass mode • Navigation
Voice-guided turn-by-turn navigation using Google Maps Navigation is only available in select countries and unless you live in any of them the best you can do is plan a route in advance and keep an eye on your current location during travel.
You could of course hit the Android Market – it will offer both free and paid alternatives, which can do more than just voice guided navigation. Some apps can record GPS data, training apps keep track of your lap times and so on.
The Android Market is open for business
The Android Market is split into two major sections – Apps and Games. Both sections are divided into subcategories (e.g. Communication, Entertainment etc.) so you can filter the apps that are relevant to you. You can tap Top Free or Just in if you're just browsing for something new that might be useful.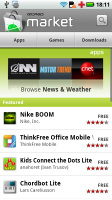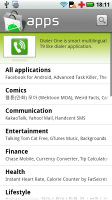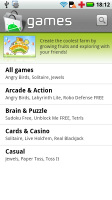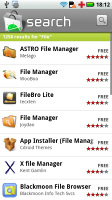 The Android Market will give you access to more than 50 000 applications
Keep an eye on the Downloads section – when an update is released for some of your apps, there's an "Update available" label next to the app. Tap it, hit update and your app is up to date, it's that simple.
Searching is very easy – just tap the search button and type what you're looking for (e.g. "navigation"). From then on, it's pretty easy to choose – each app has a rating, a short description by the author, user comments and screenshots.
There are all kinds of apps in the Android market and the essential ones are well covered (file managers, navigation apps, document readers etc.). It's not (yet) as rich as the iPhone's App Store, but it's getting there. Mostly, it's the games department that's a bit thin.