While almost all handset makers have introduced a QHD flagship, Motorola stuck with 1080p for its DROID Turbo/Moto Turbo flagship last year.
Things are about to change however as latest rumors suggest Motorola is working on next generation flagship smartphones that feature the Quad HD resolution and pack Qualcomm's top chips. Currently, two such flagship level devices are being tested in the US by the Verizon.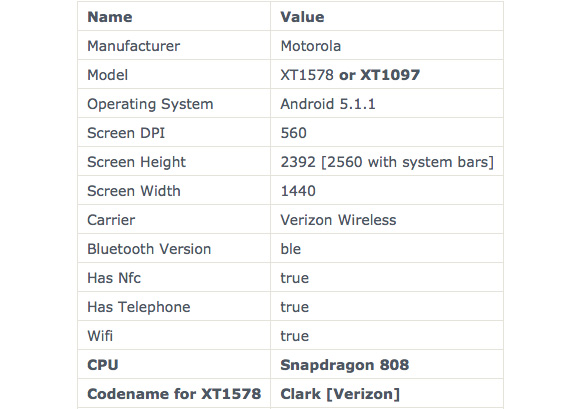 One of the devices has the Moto XT1578 model number and is codenamed Clark. It has a 5.25" QHD screen (1440x2560 pixels) adding up to a pixel density of 560 ppi. It's powered by the Qualcomm Snapdragon 808 chipset with a hexa-core CPU and runs Android 5.1.1 Lollipop.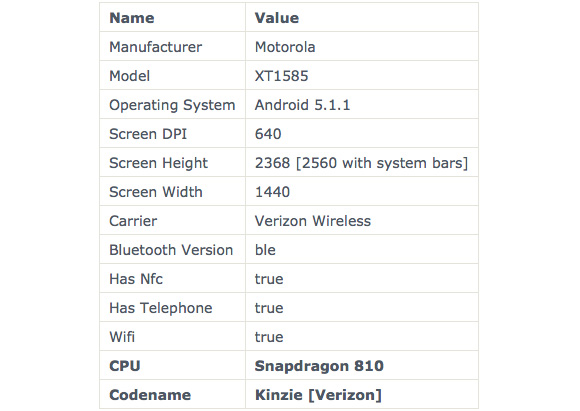 The other upcoming device has the Moto XT1585 model number and bears the Kinzie codename. Its QHD panel is smaller at 4.6" and thus has a higher pixel density of 640 ppi. This phone runs Android 5.1.1 Lollipop on the Qualcomm Snapdragon 810 chipset.
So far, there are no details on when these phones might be announced but based on the testing region, they will probably be part of the 2015 DROID series.
Source
D
For much better and cheaper, motorola 4.6 inch need to contained MediaTek MT6795 chip
.
no need for QHD, 720p or 1080p is enough for me.. QHD means more battery for apps and gaming.. with more ram and storage..
D
This have to be great, but need to contained IPS-Neo & Quantum screen and LPDDR4 ram !!!!!
ADVERTISEMENTS